Distracted driving is rapidly becoming one of the biggest factors for accidents across the United States. According to the National Highway Traffic Safety Administration (NHTSA), about nine people die each day as a result of distracted driving, and another 1,000 injuries occur daily in accidents that reportedly involve a distracted driver. For companies operating fleets, distracted driving is a business risk. And while there are factors beyond a driver's control that can contribute to unsafe situations, a driver's ability to pay attention shouldn't be one of them.
Financial Impacts
Distracted driving also has high potential monetary costs in the event of a crash. Distracted driving accounts for $129 billion, or 15 percent of the overall societal harm caused by motor vehicle crashes. This is a hefty price tag, considering how fleet managers are simultaneously balancing driver safety and the financial health of their business. Distracted driving incidents are a very real problem today and one that could cost businesses in more ways than one.
When searching for solutions, fleet managers should think about their needs and how technology can meet them. As safety continues to be a priority for fleet managers, finding solutions that help mitigate distraction and allow for training on safe driving habits are essential.
Types of Distractions
Distracted driving can be defined as anything that takes the vehicle operator's attention off the task at hand. In general, this takes three distinct forms:
Visual: Eyes not focused on the road.
Manual: Hands are removed from the wheel.
Cognitive: The mind is no longer concentrated on driving.
"Texting while driving is especially dangerous since it combines all three," said Jim Flegel, Special First Lieutenant and Traffic Safety Specialist with the Michigan State Police. "Sending or reading a text message takes an average of about five seconds, which is enough to travel the length of a football field at 55 mph."
The Technology Solution
Whether managing one truck or many, fleet management technologies can help owners and fleet operators build a culture of safety with empirical driving behavior data in combination with proactive training and company safety policies. Moreover, with the rise in popularity of technologies like driver and road-facing cameras, video data helps empower managers with more contextual information on what happens on the road and in the cab. This can help protect a business from false claims and allow them to better train their employees on how to guard against distracted driving.
Technology can help fleet managers identify and mitigate distracted driving behaviors. As wireless networks have advanced and can carry more data at faster speeds, fleet managers now have access to video data. Since this video data can provide additional context for fleet operators, it often serves as an invaluable resource for companies. The key becomes how and when to use video data in an effective way that protects the business and drivers. New technologies like in-cabin video, in tandem with fleet management platforms, can benefit fleet managers and drivers by providing visual clarity around distracted driving behaviors where they might not have before.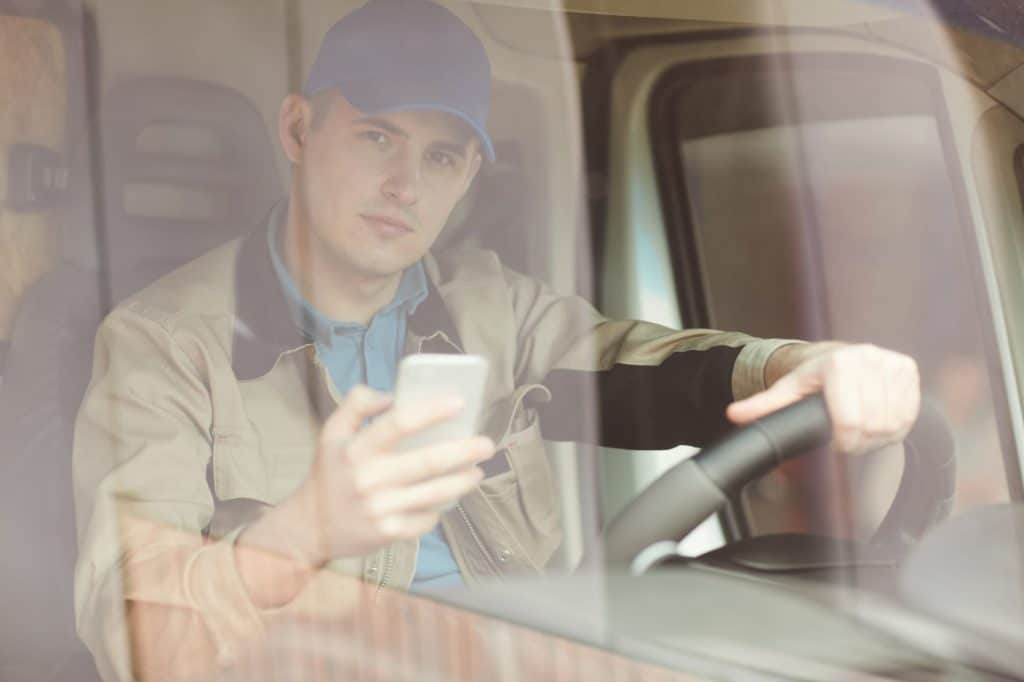 Making It Work
Fiber optic installation company Wolf Line Construction recently implemented road-facing and driver-facing cameras in an effort to promote driver safety, according to fleet manager Donte Allen. The reason for implementing both road-facing and driving-facing cameras came from an incident last summer when one of their bucket trucks was totaled in a collision with another vehicle and no witnesses.
After integrating the cameras at the end of 2020, Allen and the Wolf Line office staff were able to quickly and easily check alerts and safety red flags like "seat belt and texting issues." Having the tech in place, they found a couple of instances where their employees were texting while driving. "Those incidents were a great coaching moment," Allen said. "Our safety team was able to reach out to those drivers and coach them on how to fix the issue."
"When a person drives distracted one time, and nothing bad happens, they think they can do it all the time with the same results," Flegel added. "This is not true as it only takes being distracted for a brief moment before a tragedy can occur."
It's All About Data
Data can be a fleet manager's best friend. It helps tell the story of a given vehicle's movements and what may have caused an incident that could have been avoided, thus shedding light on these types of accidents like never before. Where commercial vehicles tend to be the first to blame during a collision, data from road-facing dash cameras can help exonerate drivers and protect a business in the event of a false claim.
Empirical data, paired with near real-time video recordings provided by fleet management technology, can help create a tailored company safety culture for managers to use during training and seminars aimed at curbing future instances. Fleet managers can tailor their approach to individual employees with specific data and share more effective key learnings and reward them with incentives. Positively reinforcing a team or individual's safety performance can encourage a long-lasting company culture that keeps safety top of mind.
Safer Roads Through Empirical Data
Fleet management technology has evolved into a tool that is more than just vehicle tracking. And with improvement to wireless networks, fleet management solutions can provide fleet managers more data than ever before. In particular, video data provides companies added visibility to understand the context behind accidents when they occur and helps fleet managers and owners proactively curb bad driving habits. And while distracted driving can have a material impact on a company's bottom line, the danger is that it can also put employees' lives and the lives of other road users at risk.