The Continental 3D Display is a new instrument cluster that produces 3D images for the driver, while also easing common manufacturing concerns. The company says the display reduces driver distraction, and is optimized for weight, space, and cost effectiveness. The new 3D display will debut in the forthcoming Genesis GV80, a three-row luxury SUV hitting the market next year.
"With our volume-production display featuring autostereoscopic 3D technology, we are raising human-machine interaction to a whole new level," explained Jens Brandt, head of Human Machine Interface for Continental North America. "We are laying the foundation for intuitive communication in the connected cockpit of tomorrow."
Continental 3D Display: How It Works
Different from current instrument clusters, the Continental 3D Display uses parallax barriers, or rather slanted slats that divide images on the screen. The parallax barriers provide slightly different offset views, which are then picked up by the right and left eyes. As a result, drivers see the display screen in 3D even without special glasses.
A Continental-designed interior camera detects the driver's line of sight and adjusts the 3D views to their exact head position. The camera can also detect moments of distraction or fatigue, and will even alert drivers if they stare too long at the screen. Barring that, Continental says the new display provides vital information to the driver – from ADAS applications to infotainment features – in a more digestible way.
"To ensure that this gain in safety and comfort does not come at the expense of a lean electronics architecture, we integrated various displays in the center console or dashboard into our Cross Domain Hub," Brandt said.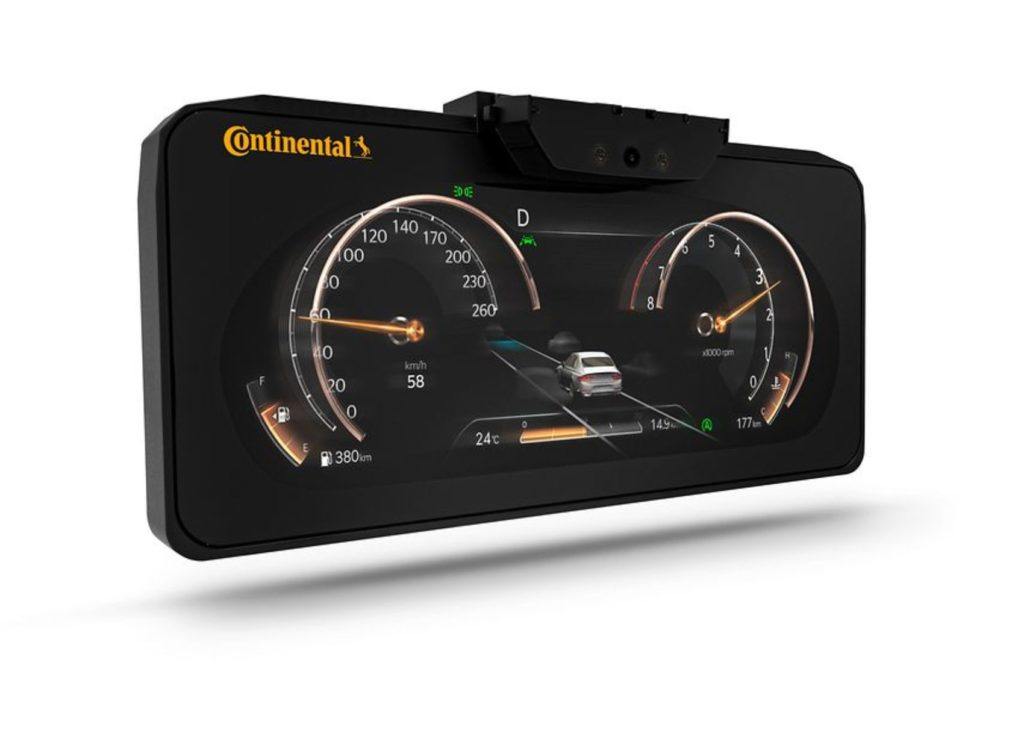 What Is The Cross Domain Hub?
The Cross Domain Hub is a high-performance computer and the basis for Continental's 3D display. The design is purposeful in that it only employs a small number of control units for all in-vehicle input and output devices. The idea is to swap individual controls for computers to reduce weight and complexity.
Continental says all displays will be integrated into a single unit in the next generation of their cross-domain technology. Drivers are able to distribute content across multiple displays by means of gesture control. For example, a driver may drag the navigation map from the front passenger's display to their own screen, or arrange other vehicle functions and settings according to their preferences. In automated driving modes, the displays merge across the entirety of the cabin. Every function and app, otherwise only available to the front passenger, is now open to the driver.
Why It Works In The Genesis GV80
Genesis draws on their South Korean heritage for the GV80's interior with two fundamental concepts: beauty of white space and luxury in space. Both are important and integral themes in South Korean architectural philosophy. Designers deliberately kept the number of physical buttons and switches to a minimum, both for aesthetic purposes and ease of use. "We were able to express a luxurious feel for the interior of GV80 through reductive design and channeling the Korean roots of the Genesis brand," explained SangYup Lee, Senior Vice President, Head of Genesis Design.
Continental's Cross Domain Hub and 3D display follow a similar mantra, placing an emphasis on minimal designs with maximum benefit. It's the same vision Genesis has for their vehicles. "We have created this new Genesis brand with a complete focus on our customers who want smart ownership experiences that save time and effort, with practical innovations that enhance satisfaction," Chung Eui-sun, Hyundai Motor Company Vice Chairman, said in 2015 when the brand was announced.
Photos & Source: Continental AG, Genesis Motor America, LLC.