Trailer Length Indicator, Rear Trailer View, and Jack-Knife Alert. These are the latest ADAS innovations in the truck world. More specifically, they are the latest ADAS features for the 2021 GMC Sierra 1500 and Sierra HD. These particular features may not immediately come to mind when we think of active safety technology, yet they show how ADAS innovations can be designed and engineered to fit the needs of a specific demographic.
The Engine Is King
In the United States, truck buyers are conscious of things like horsepower, payload capacity, and towing capability. They will consider these specifications each time they are looking to purchase a new truck, especially if it's to replace one they currently own. Since most truck buyers will tow a trailer or haul something in the bed, either for work or pleasure, they often look under the hood first.
In the GMC Sierra 1500, buyers can opt for three engines, two of which are easily recognized by loyal customers of General Motors. The 5.3-liter V8 and the more powerful 6.2-liter V8 are mainstays in both the Chevy and GMC truck lineup. Those engines were joined by a 3.0-liter Duramax Turbo-Diesel last year.
Although the Duramax is new to the 1500 series, the Duramax name has been synonymous with GM heavy-duty trucks for nearly two decades. The GMC Sierra HD employs the now-famous 6.6-liter Duramax Turbo-Diesel with an SAE-certified 445 horsepower and 910 lb-ft. of torque (the Chevy Silverado HD uses the same engine).
ADAS Innovations Enter The Picture
While these engines, and their subsequent capabilities, will always make headlines, it's important to note that trucks like the GMC Sierra have expanded in their ADAS offerings. For example, both the Sierra 1500 and Sierra HD offer several different Driver Alert Packages, depending on the trim level. They are as follows:
1SA Driver Alert Package: Includes Front and Rear Park Assist, Lane Change Alert with Side Blind Zone Alert, and Rear Cross-Traffic Alert.
Driver Alert Package I: This package includes Front and Rear Park Assist, Lane Change Alert with Side Blind Zone Alert, and Rear Cross-Traffic Alert.
Driver Alert Package II: This package includes Forward Collision Alert, Lane Keep Assist with Lane Departure Warning, Automatic Emergency Braking, IntelliBeam headlamps, Adaptive Cruise Control – Camera (1500 model only), Following Distance Indicator, and Safety Alert Seat.
Technology Package (1500 model only): Includes HD Surround Vision, Rear Camera Mirror, Bed View Camera, and Multicolor Heads-Up Display.
Trucks Require More ADAS Functionality
These packages look remarkably familiar, as they include ADAS features found on many different vehicles today. However, modern trucks, like the 2021 GMC Sierra, must go a step farther in their ADAS functionality. These "one step farther" ADAS features must directly address a specific core demographic, particularly one that seeks to own a heavy-use vehicle like a truck. In other words, modern trucks will need to have all of the traditional ADAS systems, plus innovations that are tailor-made to address specific use cases that only truck buyers will encounter.
"Trailering is essential for pickup truck customers," explained GMC Marketing Director Rich Latek. "More than half of our Sierra customers use their trucks to primarily tow equipment for outdoor adventures."
According to the RV Industry Association, more than 46 million Americans are planning an RV vacation in 2021. As a result, RV shipments jumped 54 percent in July, with towable RVs making up about 90 percent of those sales. In a similar survey from Chevrolet and Harris Poll, 80 percent of Americans said taking a road trip was one of their happiest moments since the pandemic began. As respondents shared about the places they visited, more than half said the availability of advanced safety features made for an enjoyable road trip.
Major automakers like General Motors, with both their Sierra and Silverado trucks, are poised to meet this growing trend identified by the RV Industry Association. On the one hand, they will meet this trend by doing something they are already quite good at: engineering high-strength steel architectures to handle heavy payloads, building engines with considerable low-end torque for pulling, and devising independent front suspension systems that soften the ride on the highway.
On the other hand, automakers like GM are betting that what they hear in these surveys is the absolute truth. That while consumers are expected to take more road trips and tow more frequently, they also want more safety features available to assist them; that such admissions are born from a genuine need and not simply to humor the marketing focus group.
"We continually listen to customer feedback, which tells us they want class-leading safety, technology and comfort to tow what they need, whether it's a boat, an RV or a trailer hauling off-road toys," Latek said.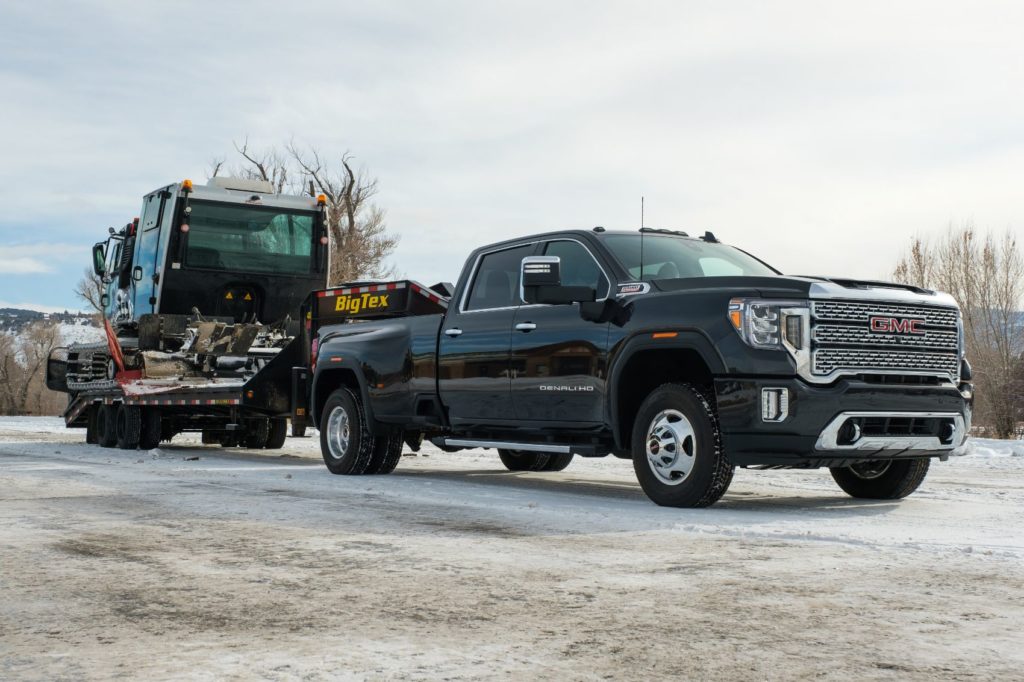 GMC Rolls Out New ADAS Features
In that regard, the 2021 GMC Sierra (both 1500 and HD models) will feature a host of new ADAS innovations to make towing a large trailer more manageable for drivers. The first such feature is called Trailer Length Indicator, which displays in the center screen when the turn signal is activated. Trailer Length Indicator displays a red overlay twice the attached trailer's length in the center screen. The feature is designed to prevent a driver from striking another vehicle as they are changing lanes with their trailer.
Rear Side View Enhancement provides a split view of the left and right sides of the truck and trailer, based on the trailer's angle. This view can be seen either driving forward or in reverse, which will help when maneuvering a trailer in closer quarters. Additionally, Cargo Bed Zoom View and Bed Hitch Guidance are also available for the 2021 Sierra. These features are helpful when aligning and hooking up a gooseneck or fifth-wheel trailer.
Perhaps the most potentially life-saving ADAS innovation on the new GMC Sierra is the Jack-Knife Alert system. Jackknifing happens when the trailer moves or slides to one side of the truck, causing an L or V shape. Professional truck drivers are trained to recognize the signs of a swinging trailer, and often utilize certain braking and acceleration tactics to avoid jackknifing.
For more novice drivers who tow only every so often, the Sierra's Jack-Knife Alert system will be a valuable tool. The system monitors the position of the trailer relative to the truck at all times and will display an alert if the front of the trailer suddenly approaches the rear of the truck. GMC's Jack-Knife Alert will be useful for those in colder climates, as a sudden loss of traction can cause a truck to jackknife.
The Humble Reverse Camera
In 2017 at AutoSens in Brussels, I was fortunate enough to give a talk where I touched on how ADAS features can be designed (and subsequently presented to consumers) according to the use cases of individual vehicles. Trucks, in my professional view, are an excellent depiction of this. The 2021 GMC Sierra, for example, has all of the typical ADAS features we would expect but includes a few extras to accommodate a driver while towing.
When I was selling Ford trucks a decade ago at Sioux Falls Ford, there were no modern ADAS systems on the F-150 as we know them today. Although some Lincoln models had adaptive cruise control at the time, the F-150 did not. However, the F-150 did have an optional reverse camera. The image displayed on the rearview mirror's left-hand side as opposed to the center touchscreen. It was, as I recall for our customers, a game-changer. As a dealership, we had a lot of positive feedback on how helpful that feature was.
Looking back, I want to believe things like a simple reverse camera were a precursor to the increased ADAS functionality seen on trucks today. I grew up around trucks and have spent a good majority of my professional automotive life either selling them, training dealers on how to sell them, or educating consumers about the many different features. I have learned in all of these experiences that, when you have a truck, you spend a good deal of time operating in reverse. Truck owners are always backing up to something, whether to hitch up a trailer or load cargo into the bed.
Thus, a reverse camera was the best feature any truck owner could have asked for.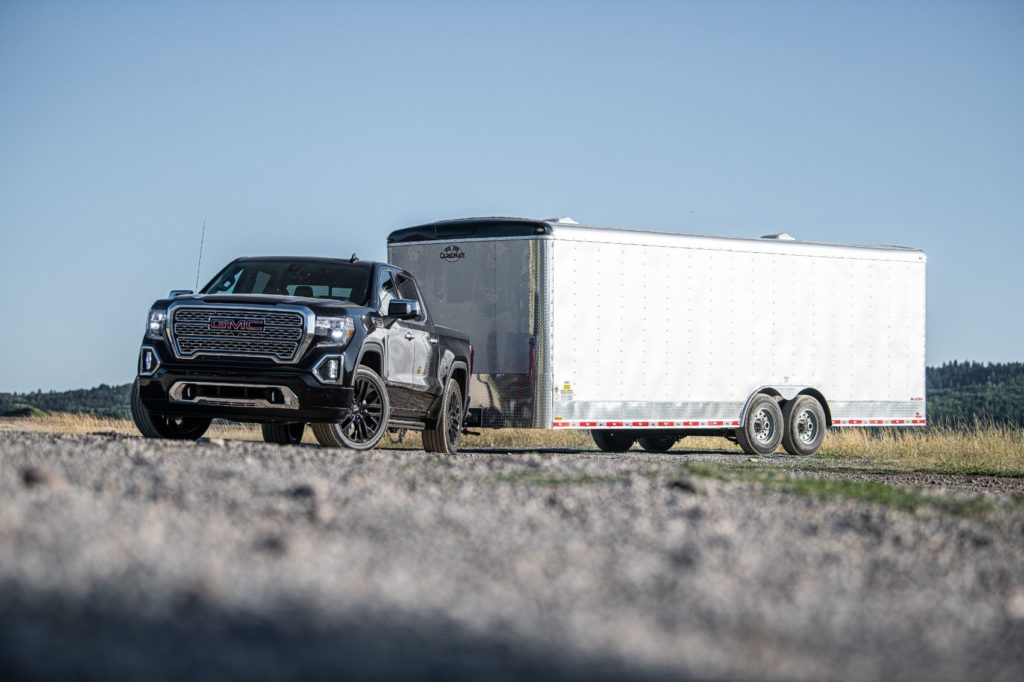 Another Important Step
The new ADAS features on the 2021 GMC Sierra outlined above are exciting to me. In my professional opinion (and speaking somewhat personally here), features like this, provided they function as intended, will give us another important step in our long-term goal of consumer adoption. Instead of seeing ADAS features as annoying or hindering, perhaps consumers will view them more as helpful companions on their journey, be it for work or pleasure.
I always thought of the reverse camera in my 2011 F-150 as a helpful companion. Things have changed a lot in the automotive world since then, but I could not imagine owning a truck today without that feature. This is the level of acceptance I hope we achieve with all ADAS features, and these new towing-specific ADAS applications from GMC make me think we will get there one day.
As I mentioned earlier, truck buyers will often look under the hood first. Once they are convinced the engine has enough power to tow, and the chassis has enough strength to haul heavy payloads, we can walk them around the rest of the truck. At that point, we will have the ability, as an industry, to show them how ADAS technology is a valuable companion to that powerful engine and strong chassis.