VSI Labs is on the road again as part of its ongoing Automated Drive Series, a succession of quarterly, coast-to-coast driving initiatives that test and validate different ADAS technologies. This time around, VSI Labs is embarking on the southern portion of the Automated Drive Series, a 2,500-mile trek from Minneapolis, Minnesota (the home of VSI Labs) to Austin, Texas. The vehicles being driven by the VSI Labs team are equipped with a full stack of sensors, including visible cameras, thermal imaging, LiDAR, radar, and precision localization.
"We want to understand how these systems work in the context of a real vehicle in the real world," said Phil Magney, VSI Labs Founder and Principal Advisor. "There is always an edge case when you are doing something like this, but the only way to really discover what those edge cases are is by driving and accumulating miles."
Filling In The Gaps
The Automated Drive Series was inspired by a project VSI Labs conducted in 2019 called the Automated Drive West. That summer, VSI Labs completed a 2,000-mile journey from Minneapolis to the Drive World Conference in Santa Clara, California. Like the current Automated Drive Series, the 2019 trip west exposed the VSI Labs test car, a late-model Ford Fusion with a Dataspeed by-wire control system, to various terrains and weather conditions. "We aren't out to prove anything here; that's not what we're doing," Magney said at the time. "We're researchers; it's all about discovery, understanding the limits, and finding the gaps when it comes to automated driving."
VSI looked primarily at the combination of HERE Technologies' high-definition maps with Real-Time Kinematics, a ground-based positioning technology on the initial trip to California. Before the end of 2019, VSI Labs would make a second trip to evaluate Trimble's precise-point positioning technology (Trimble RTX), a key component of Cadillac's Super Cruise feature. "Our customers seek VSI because we can do functional validation in the early stages to really understand how these systems work in the context of an actual vehicle," Magney added. "The Automated Drive Series is a means from which we can deliver tangible results to our clients who want to promote their ADAS and automated driving solutions."
It is from these two initial fact-finding journeys that VSI Labs launched the full-scale Automated Drive Series. The current drive south to Austin is the second in the series; the first took place last summer and consisted of a northern route from Minneapolis to Michigan. The destination for that trip was the American Center for Mobility (ACM) near Detroit. Upon arrival, the VSI Labs travel team met with representatives from FLIR to conduct further tests on the synergies between AEB systems and FLIR's thermal imaging technology.
"Thermal is complimentary to visible because it picks up where the visible cameras leave off," Magney said. "And of course, it's especially useful for identifying humans and animals and in challenging conditions, like while driving at night."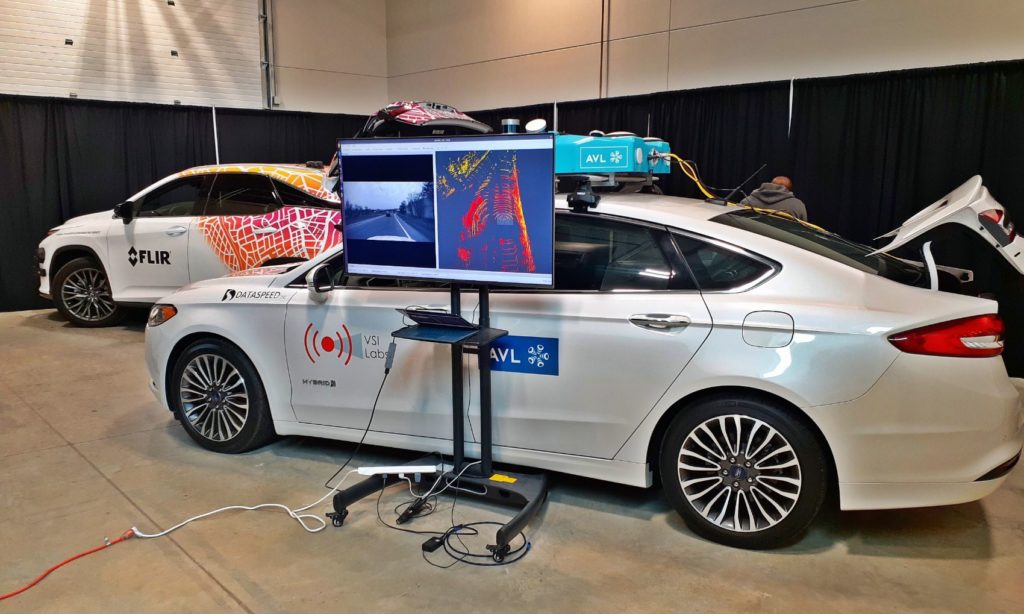 Destination ACM
The American Center for Mobility, located in Southeast Michigan on over 500-acres at the historic Willow Run site, will play a pivotal role for VSI Labs and its industry partners going forward. With the Automated Drive Series now in full swing, the time was right for VSI Labs to launch Destination ACM. Like the Automated Drive Series, each trip will encompass a quarterly long-distance drive that originates in Minneapolis. Once on the road to Michigan, the in-vehicle team from VSI Labs will monitor, evaluate, and safeguard the ADAS technology or innovation designated for that particular trip while simultaneously collecting all relevant data.
"When we leave Minneapolis, there are about six different routes we can take to get to ACM in Michigan," Magney explained. "We have northern routes we can take through the Upper Peninsula and around the Great Lakes, which means we see how these systems react to changing weather conditions, the presence of large animals, and roads that haven't been mapped yet in terms of high definition mapping."
As the Destination ACM name implies, VSI Labs will take up a temporary residence at the facility for further research after the drive. "A lot of this testing we're doing, especially for ADAS, we want to do on a closed course, for safety reasons, but that requires special equipment that a venue like ACM already has," Magney continued. "For example, there's timing equipment that ACM uses that we're able to attach to the vehicle so we can be certain we're doing everything exactly the same. It's a terrific venue because they provide extra test equipment and the personnel necessary to do proper testing of ADAS and automated driving systems."
Important Use Cases & Applications
While ACM provides a number of resources for industry, government, and academia, one feature always stands out. It's arguably ACM's most recognizable and prominent landmark and one that has proven incredibly valuable to the work VSI Labs is doing. During their last visit to ACM, the VSI Labs team set up moveable pedestrian and animal figurines inside the tunnel instead of near the exit points.
"We've tested the vehicle coming out of the tunnel where a pedestrian is standing there or walking across to understand the challenges the sensors have when going from darkness to direct sunlight," Magney explained. "The other use case we discovered is coming into the tunnel with the people standing or walking inside. Now the camera is trying to adjust in the opposite way, from having a lot of potentially direct sunlight to now a very low-light setting all of a sudden. When we use the thermal cameras, we can detect the pedestrians and animals in this use case."
Follow The Automated Drive Series
VSI Labs is inviting the ADAS community to follow along on this latest automated drive via the official tracking site. The tracking site shows all sorts of interesting vehicle and telemetry data. At the time of this writing, the VSI Labs team was in Topeka, Kansas.