Ashley Hudson is no stranger to hard work. Growing up with entrepreneur parents, she saw firsthand the value of making sacrifices and putting in long days to build something out of nothing. "I was a year-round athlete and very competitive," she recalled. "However, both sports and school did not come naturally to me, so I learned quickly I had to put in extra time to get where I wanted."
Having worked together on state-led transportation initiatives while I was at VSI Labs, Ashley's work ethic never went unnoticed. Today, Ashley is a Senior Transportation Planner at Bolton & Menk, an engineering firm specializing in public infrastructure. Ashley leads the company's transportation funding team, in addition to serving roles in transportation planning and project design. She works closely with cities and counties to identify opportunities and develop competitive funding and legislative packages. Her leadership in the industry is key to aligning complex funding programs with community visions of all sizes.
Careers In Infrastructure Planning
When we talk about the automotive industry, much of the conversation focuses on the vehicles themselves and their emerging technologies – but equally important is our infrastructure. Given Ashley's unique role in the automotive ecosystem, I was curious to learn about her early career interests.
"Growing up, I was always very into design, visual arts, and reading about all the cities I wanted to travel to one day," she said. "How cities worked, their architecture, outdoor spaces, and varying types of homes that people lived in always fascinated me."
One of Ashley's early career opportunities was an internship at a community air force base, where she had the chance to work on their long-range transportation plan and assist in presenting recommendations to senior leadership. "Within this experience, I started to see how a transportation system impacts a community's quality of life and economy," she said.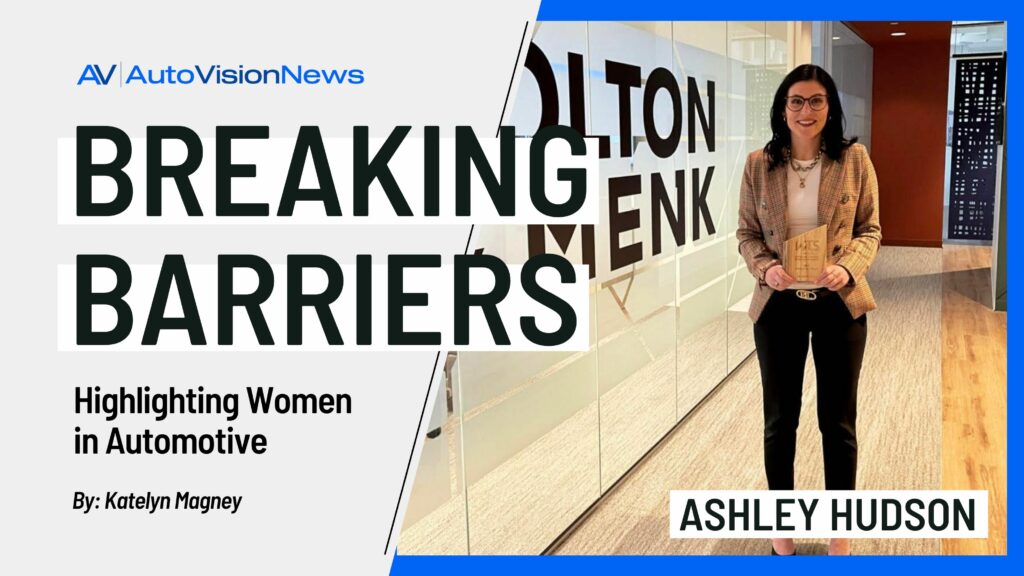 On Sticking With It
I asked her what obstacles she experienced along her career journey, and Ashley shared something many of us are familiar with. She recounted spending several years working on projects that didn't necessarily align with her passions, where she struggled to see the contributions and impact she was making. Over time, though, things changed. "Getting involved with positioning projects and securing funding reignited my competitive nature and allowed me to finally hone my interests and creative skills into a job," Ashley said.
While she found something she was passionate about, there were few others who felt the same. "At the time, the service was still a little undefined, misunderstood, and mostly unknown," she recalled. "I spent the next years working really hard for repeat success, defining strategies, and organizing resources to prove this could be consistent and grow."
Her journey hasn't necessarily been easy, but she attributes much of her success to a colleague and mentor who begin pursuing funding for different transportation projects at their company. "He has been an advocate for recognition of my hard work and contributions to our company," Ashley said. "As a result, I have gained more advocates, and most importantly, the service has gained recognition for the value it provides."
When we think of women empowerment, we often think of women lifting each other up – but equally important is the presence of men empowering other women, which Ashley has experienced firsthand.
Women In Infrastructure
I asked Ashley more about her experience as a woman in the industry. Her perspective is optimistic, saying that she's seen things become less and less male-dominated over time. "I am very grateful that I work with male leaders who are steadfast advocates for woman team members and others throughout the industry," she said. "This makes me hopeful for continued progress towards a future of fair representation, opportunity, and pay."
While she's hopeful for the future, Ashley also acknowledged there's still work to be done and that there are areas of her industry where men still see more promotions than women. She's not wrong – in fact, a new study from Yale showed women are consistently evaluated to have less leadership potential than their male counterparts, making them less likely to be promoted. "I have had experiences that have left me feeling unfairly undervalued," Ashely recalled. "Even though I am surrounded by allies, and I carry so much hope for the future, I would be dishonest in not sharing that at times I have felt impacted where progress still needs to be made."
Career Advice & Competitive Funding
Ashley and I also talked about the advice she'd give someone just starting out on their professional journey, and she brought up a great point – that gaining experience and effective communication skills will take you further than perfect grades, which has been my experience as well. She also stressed the importance of seeking mentors. According to Ashley, "this helps you gain more perspectives, and you never know who will become your greatest advocate."
Before signing off, I wanted to get Ashley's take on the trends she's currently seeing in the infrastructure world. She talked about increased awareness of competitive funding sources thanks to the Infrastructure Investment and Jobs Act. "Everyone wants to utilize these opportunities to benefit their community, and they should," Ashley noted. "The number of competitive sources available coupled with the growing costs and complexities of public infrastructure projects makes it critical to know what's required for each source and understand the most valuable opportunities in each project."
---
Thank you to Ashley for sharing her professional journey with us. To hear more stories from women in the industry, follow us on LinkedIn or subscribe to the AutoVision News newsletter. Or, to be featured, email [email protected].