Sam Lee didn't have a picture-perfect childhood. She grew up in rural Florida – in her own words, "down the street from a swamp entrance." Her father had epilepsy severe enough that he lost his driver's license, and because their area did not have public transportation, he often needed her to drive him to work and to run errands. He was a computer scientist at NASA who wrote launch code for the space shuttle. "On our drives, we had a lot of time to talk and dream about a future in which technology could return his independence." Today, Sam is the CEO and Co-Founder of Meili Technologies. And she credits these drives with her dad as the start of her interest in automotive safety.
Based in New York City, Meili Technologies is a deep-learning software company that utilizes existing in-cabin sensors to detect driver emergencies like heart attacks or seizures. When an emergency occurs, Meili alerts the vehicle to mitigate the risk of a crash and contacts emergency services to aid the driver. Their mission is twofold: to save lives by preventing crashes and to enable mobility for everyone.
On (Not) Dreaming Too Big
I asked Sam more about her upbringing, and she shared that she was taught to make herself small and be happy with what she had in front of her – to never dream too big. "This kind of pressure is not unique for young women interested in engineering and building their own opportunity," she said.
Sam brings up an important point about the messaging young girls often receive. According to the AAUW, "Subtle messages like 'be a good girl' (which reinforces compliant behavior) and 'boys will be boys' (which tolerates aggressive behavior) signal to children that there's an appropriate way to for each gender to act." These types of comments seem harmless on the surface – but they no doubt contribute to deep seeded beliefs about the roles that women should (and shouldn't have).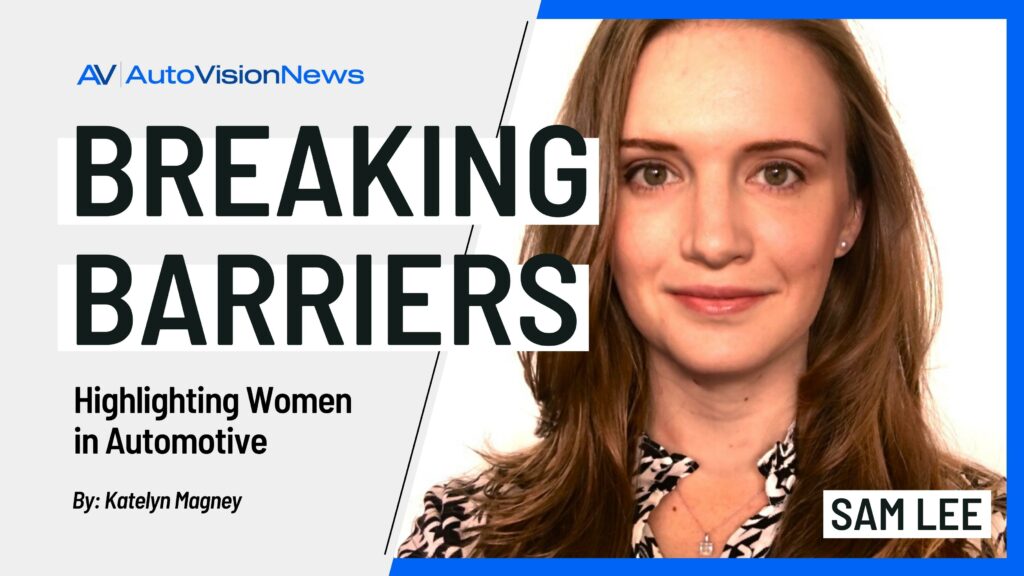 Progress Over Perfection
So how do young women resist this messaging? Sam says it was the help of mentors and her own perseverance that allowed her to suppress outside influences and start dreaming big. She credits her high school history teacher, Beth, as one of the most influential people in her life. Beth helped give Sam a boost of self-confidence by teaching her to celebrate her wins and to aim for progress over perfection. "She encouraged me to reach for the stars and live life to the fullest with her worldly adventures as an example of how accessible the world beyond my county can be."
Mentors like this are so important for students, no matter where they grow up. But it wasn't just Beth who helped propel Sam forward. "This list goes on and on," she added. "So many people have acted as mentors and advisors for me, helping me to develop my perspective and pursue my dreams."
Life As CEO
As the CEO of a company in a predominately male field, I was curious to learn more about Sam's experience being a woman in tech. She acknowledged that progress is still slow for women. On the other hand, though, Sam brought up women in leadership who are paving the path for gender equity in automotive, like Dr. Rana El Kaliouby, Deputy CEO of Smart Eye, and Mary Barra of GM.
"I've had scenarios at trade shows where I'm ignored completely in favor of my male colleagues and also scenarios where I've been provided amazing opportunities in order to amplify women's voices," she said, concluding that although we have a long way to go, we can't operate from a fear mindset and hold ourselves back even more. And she's right – if we focus too closely on the negative, how can we make progress toward greater equity?
When I asked Sam what advice she would give to a woman (or anyone) just starting their professional journey, she shared some advice I wish I had heard earlier in my career. "Find your source for happiness and rejuvenation. The stereotypical relaxation need not be how you rejuvenate. Whether it is or not, find what gives you joy and energy and make the time for it."
Elaborating on this, she added that taking care of your needs allows you to make better choices, manage stress, and have greater foresight in your decisions. "There will be many challenges in your career and general life, and sometimes both at once, from your gender and otherwise. How you handle these challenges will define your success, and taking care of yourself first is the only way to make handling the challenges easier."
Looking Ahead
Before concluding, I took the opportunity to ask Sam about what trends she's seeing in the industry. She talked about electrification, software-defined vehicles, and a focus on the driver experience beyond driving itself, adding that as vehicles become increasingly autonomous, we will see a centralization of systems and sensor controls. "This opens a world of opportunity for combining data from these many different systems in novel and astounding ways," she said, adding, "Meili aims to take advantage of this shift as we are a software solution processing data from multiple existing sensors and triggering existing emergency response systems, when necessary."
---
There's no doubt in my mind that Sam's leadership at Meili Technologies will be something to watch in the in-cabin technology space. Thank you to Sam for sharing her story with us. To hear more stories from women in the industry, follow us on LinkedIn or subscribe to the AutoVision News newsletter. Or, to be featured, email [email protected].