Earlier this year, when Breaking Barriers was in its infancy, Carl and I talked about what it might look like and the stories we might tell. But before anything came to fruition, I knew I wanted to interview Suzanne Deffree. Suzanne is a friend, a role model, a mentor, and many other things. I first met Suzanne at the Drive World Conference and Expo in 2019, where I was exhibiting on behalf of VSI Labs, and she was, well, running the show.
Suzanne is the Group Event Director for Informa Markets Engineering, overseeing influential events like DesignCon and Advanced Manufacturing Minneapolis. DesignCon is a premier high-speed communications and system design exposition offering industry-critical engineering education in the heart of Silicon Valley. Meanwhile, Advanced Manufacturing Minneapolis is a collection of five trade shows covering everything from healthcare to 3D printing. 
But she wasn't always in the event space. "My original career goals focused on public relations and lobbying. I wanted to make a difference in the world and thought influencing government and regulations was the way to go. After being unable to find a job in PR, I landed in journalism, which is an incredible career for someone who is inquisitive and loves to soak up knowledge," she said.
Events, Shows & Shifting Roles
As a journalist, Suzanne had the opportunity to talk to experts at companies like Intel, Nvidia, and AMD. She interviewed Steve Wozniak, Lisa Su, Pat Gelsinger, and countless other tech leaders. "I found that tech, more than politics, was guiding the world, and I, by sharing information with engineers, was a small part of that. I became an industry expert and, oddly enough, did influence some politics with my reporting cited in FCC, FTA, and SEC documents."
From there, Suzanne began planning conferences that her media brands contributed to. Fast forward to today, she now oversees some of those shows and has been able to help educate and inform thousands of engineers and designers through her portfolio of events.
In addition to navigating different industries and roles in her early career, Suzanne faced other challenges as tech evolved. This meant shifting roles and even being laid off. But for Suzanne, this led to a valuable lesson she'd carry throughout her career. "I found the only real job security is knowing you can get another job and that even the most talented people can face unplanned career changes," she recounted, adding that being laid off can be a good opportunity to regroup and really think about what might come next in your career journey.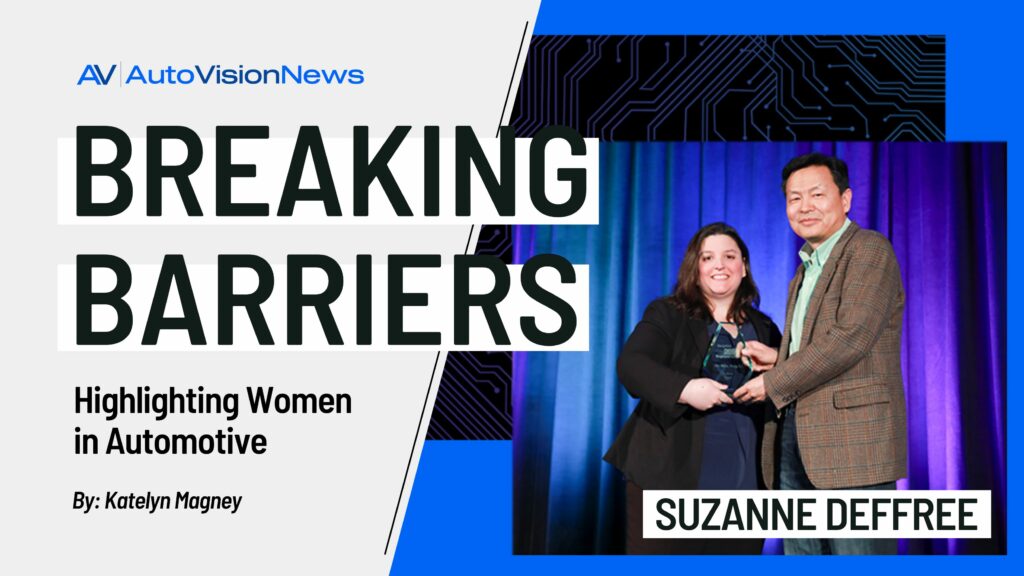 On Lifting Each Other Up
Suzanne and I talked about being a woman in her field, and her experience is not unlike many other women I've spoken with. "In truth, it hasn't always been great. In fact, it hasn't always been fair," she said. Dealing with inequality is an unfortunate reality for many women. According to McKinsey, for every 100 men who are promoted from entry-level roles to manager positions, only 87 women are promoted. That number drops to 82 for women of color.
"When I started in tech during the dot-com era of the late 1990s, there were days it was very isolating and, frankly, demeaning," Suzanne recounted. Of note, it would be over a decade later that the first woman would serve as CEO for an automaker. "But I'm here to have influence, and that influence has meant making sure different voices and ideas were heard and celebrated, including my own," she added.
As someone who has followed Suzanne over the past few years, I can attest to her commitment to amplifying other women's voices, including my own. And we came back to the idea of lifting each other up when I asked Suzanne what advice she'd give others who are just starting their professional journey. "When you are climbing whatever ladder your career is on, always pull up the smart people behind you who may be struggling to get to their next rung. Give them a hand up. If you do, you'll find yourself surrounded by other strong, smart professionals who aren't only co-workers but peers."
Health, Safety & Sustainability
Before we concluded the interview, I asked Suzanne about what trends she's noticing in the event space now that in-person conferences are re-emerging post-COVID. She brought up the fact that although health and safety have always been a priority, they've generally been managed behind the scenes. Since COVID-19, that has changed. "Now there's an expectation that health and safety information be presented and shared. We welcome that and include content in all our communications on the efforts we are taking to make an event safe and secure."
Having been to a few events in the wake of the pandemic, I think we can all appreciate the transparency around health and safety in exhibit halls and public spaces. In fact, I think it's a trend many businesses are tuning in to – not just those in event production.
Similarly, Suzanne and I talked about Informa's focus on sustainability. "One of Informa's top priorities is our Faster Forward program, which is focused on our efforts to become an even more sustainable, positive impact business, including elements that support more diverse groups," she said, concluding that in-person conferences are back for good, and "with these things front and center, we are stronger than before."
---
Thank you to Suzanne for sharing her professional journey with us. To hear more stories from women in the industry, follow us on LinkedIn or subscribe to the AutoVision News newsletter. Or, to be featured, email [email protected].