---
According to a report by Expert Market Research, the global ADAS market reached a value of nearly 25.04 billion (USD) in 2020. According to the report, the ADAS market is projected to grow at a CAGR of 17 percent between now and 2026, trending toward a total market value of 65 billion by 2026. The report identifies LiDAR, ultrasonic, infrared, radar, and laser as significant sensor types during this growth period while naming automatic emergency braking, blind-spot detection, and lane departure warning, among others, as major systems.
"The market growth in the coming years will be defined by the wider adoption of ADAS, lowered system costs, adaptability of the system technology across various vehicular types, and growing automation capabilities in cars," writes Expert Market Research. "The rising electric vehicles industry and the growing inclusion of autonomous driving capabilities in cars are some of the key market trends expected to inform the growth of the ADAS industry."
ADAS Sensors 2021 Conference
To help industry experts say informed and connected as the market grows and changes, Microtech Ventures has prepared its most comprehensive and in-depth agenda to date for ADAS Sensors. The conference, now in its fifth year, will be held online from April 6th through April 8th. Topics on the ADAS Sensors 2021 agenda include the challenges suppliers face, how artificial intelligence plays a role in sensor processing, how to consider new design, reliability, and packaging requirements, and what consumer trends will shape the market in the future.
"The ADAS Sensors workshop is a good place to find cutting edge technology companies for automotive sensor-based systems," explained Joel Gibson, Vice President, Program Line Management, Magna International, who attended the event previously. "I found the content to be informational and relevant."
"Our primary focus is automotive sub-systems, which use smaller sensors and chips than self-driving systems; however, we still learned very valuable information," said Brose engineer Alex Polonsky, who also has attended the ADAS Sensors event. "Some of our key takeaways were what the future of the autonomous transportation space looks like, new emerging sensor and chip technologies, and we even arranged some sensor samples."
Economics & Engineering
The topics of discussion at ADAS Sensors 2021 include a healthy mix of business and economics and engineering and innovation. ADAS Sensors 2021 will cover market projections, M&A developments, startup activity, and supply chain management on the business and economics side. Likewise, on the engineering and innovation side, attendees will see emerging trends with video, radar, LiDAR, infrared, and ultrasonic sensing technologies, new and exciting HMI applications, V2V and V2X connectivity developments, reliability testing methodologies and techniques, component and system packaging strategies, and the overall impact of advanced mobility technologies (among many others).
"In addition to technical talks, there were also several presentations dedicated to the marketplace and the investment landscape," said John Harley, Vice President of Micralyne, who has attended ADAS Sensors before. "These provided a great context for the other talks, and really helped make clear what we can expect to see coming in this field in the next few years."
Recently confirmed participants for ADAS Sensors 2021 include companies and organizations such as BMW, CarFax, Changan Motors, Consumer Reports, Continental, Denso, FCA, Flex, Ford, General Motors, IHS Markit, Lear, LeddarTech, Magna, Marelli, Veoneer, Volvo, Waymo, Yandex, and ZF.
"I was impressed with the level of the attendees and the quality of the questions and feedback we got from the audience," recalled Jean-Yves Deschênes, President of Phantom Intelligence and a former ADAS Sensors speaker. "All presentations were very informative and, even as an insider, I got to learn a lot during the day."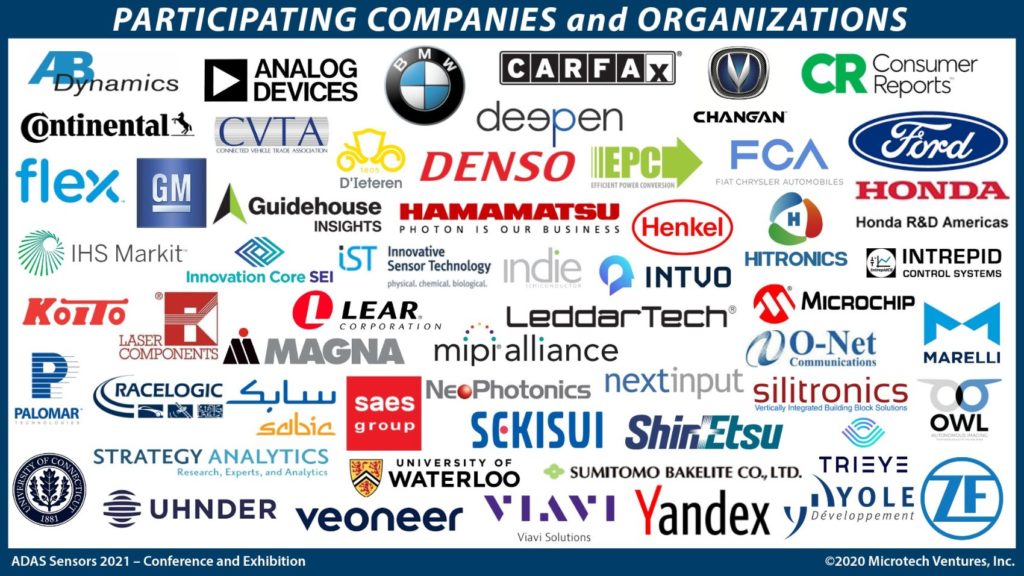 Register for ADAS Sensors 2021
ADAS Sensors 2021 will take place online via an AI-enabled platform that will provide networking opportunities for attendees. ADAS Sensors 2021 begins on Tuesday, April 6th, and goes through Thursday, April 8th.
AutoVision News readers receive a special 10 percent discount when they register and reserve their spot. Enter the promo code "AUTOVISION10" at this registration link. The promo code is case sensitive, so make sure to type it in all caps. In the meantime, an alphabetical list of speakers for ADAS Sensors 2021 is listed below.
ADAS Sensors 2021 is produced by Microtech Ventures, which also organizes the popular Automotive LIDAR conference.
ADAS Sensors 2021 Speaker Lineup
Automotive Sensor Data Collection for Analytics and Machine Learning
Johann Prenninger, Head of Analytics, BMW
Insuring the Modern Vehicle: The Impact of ADAS on Automotive Insurance
Don Hendriks, Actuarial Scientist, Carfax
Leveraging Simulations to Validate ADAS Sensors
Honghao Tan, Principal Engineer, Changan Motors
Sensors in ADAS Applications: Comparison of the Leading Automakers
Kelly Funkhouser, Head of Connected and Automated Vehicles, Consumer Reports
ADAS Technologies: Current Status and Emerging Trends
Amit Kapoor, Head of ADAS, North America, Continental
Multi-Sensor Safety Collaboration for L2+ Applications
Mohammad Musa, CEO and Founder, Deepen
ADAS and AV Startups: Current and Emerging Trends
Zhe Huang, Investment Manager, Denso
Cost Effective LIDAR for ADAS Applications using GaN Devices
Alex Lidow, CEO, Efficient Power Conversion (EPC)
Maintaining RADAR Performance for In-Body Integration
Max Himmel, Functional Integrator, RF Systems, FCA
Automotive Interior Sensors: Emerging Trends with Ultrasonics, Radars, and Cameras
Partha Goswami, PhD. Sr. Manager, Technology Trends and Insights, General Motors
Precise GNSS Localization for Automated Vehicles
Curtis Hay, Technical Fellow, General Motors
Emerging Sensing Technologies for ADAS Applications
Reza Zarringhalam, Global Technical Specialist, ADAS Lateral Controls, General Motors
Emerging Technologies for ADAS Applications: Imaging Radar, Thermal Sensors, & Lower-Cost LiDAR
Sam Abuelsamid, Principal Analyst, E-Mobility, Guidehouse Insights
Photodetectors for LIDAR: Challenges, Trends, and Selection Criteria
Jake Li, Business Development Manager, Hamamatsu
Comparison of ADAS and AV Sensor Types: Current Differences, Evolution of Applications, and Potential Convergence
Phil Amsrud, Senior Principal Analyst, Automotive Semiconductors, IHS Markit
Predicting Pedestrian Behavior: Potential ADAS Use Cases and Applications
Assam Alzookery, CEO, Intvo
LIDAR Optical Components: Recent Trends and Developments
Matt Robinson, Sales Director, Laser Components
Sensor Fusion with V2X and 5G Connectivity: Emerging ADAS Applications
Radovan Miucic, PhD. Director, Connectivity Systems Engineering, Lear
Impact of 5G on the Connected and Automated Vehicle Landscape
Gary Streelman, Director Advanced Engineering and New Concepts, Marelli
Sensors and System Interface Specifications for ADAS Applications
Peter Lefkin, Director, MIPI Alliance
Smart, Gapless Surfaces: New HMI Technology Transforming the Cabin Experience
Robert Badalian, Sr. Director Business Development, Automotive, NextInput
Improved Safety with 3D Thermal Ranging for ADAS Applications
Chuck Gershman, President and CEO, Owl Autonomous Imaging
Accurate Speed and Position Anywhere for ADAS Applications
Jim Lau, Technical Director, RaceLogic
Specialty Thermoplastic Solutions for ADAS Sensors
Jeff Xu, PhD. Business Manager, SABIC
Driving the Evolution of ADAS and Automotive Sensors with Silicone
Chad Kobylanski, Western Regional Manager, Shin-Etsu Silicones
Solid State LIDAR: Critical Microelectronics Assembly Challenges and Solutions
Dhiraj Bora, President, Silitronics
Market Opportunities for Sensors in ADAS Applications
Mark Fitzgerald, Associate Director, Strategy Analytics
Seeing Beyond the Visible: SWIR Imaging for ADAS Applications
Avi Bakal, CEO, TriEye
Digital Code Modulation Radar for ADAS Applications
Manju Hegde, PhD. CEO and Co-Founder, Uhnder
Radars and AI for Occupancy Monitoring in Cars
George Shaker, PhD. Assistant Professor, University of Waterloo
Managing ADAS Scalability from Supervised to Unsupervised Systems
Tom Toma, Senior Product Manager Vision Systems, Veoneer
High Performance Sensor Interfaces for Automotive Systems
Scott Rowlands, Program Manager, Automotive Programs, Viavi Solutions
Leveraging Connectivity for ADAS: Practical Examples for Increased Traffic Safety
Jonas Fenn, Strategic Business Development, R&D, Volvo
LIDAR Performance Benchmarks for ADAS and AV Applications
Dmitry Solomentsev, PhD. Head of LIDAR, Yandex
Driving Robustness and Efficiency in ADAS Validation
David Wilson, Director, Data and Analytics Monetization, ZF Group