---
The 2021 edition of AutoSens Brussels is scheduled for September 15th and 16th at the world-renowned Autoworld Museum. Program highlights include an outstanding lineup of speakers and industry thought-leaders from companies like ZF Group, BMW, Renault, Continental, Daimler AG, ON Semiconductor, Sony, OmniVision Technologies, Inc., and more. Tickets are currently available, with AutoVision News readers saving 15 percent with the promo code AVN15.
---
AutoSens, the world's top technical forum and conference for vehicle perception technology, is returning to the Autoworld Museum in Brussels, Belgium, this September. After a successful run of online events in 2020 and the launch of a new educational series, AutoSens is happening in-person once again in Brussels. "We have been working hard and implementing extra safety measures this year," said Robert Stead, Managing Director of Sense Media Group, the organizers of AutoSens. "We'll be delivering a never-seen-before program and speaker lineup for our community."
Technical Agenda & Expert Speakers
The agenda in Brussels will consist of two tracks, with over 40 different sessions for attendees to enjoy. Topics include new sensor testing and evaluation methods, the future of in-cabin applications, the latest technical requirements for LiDAR performance, how to mitigate sensor degradation, and ways to address anything that would otherwise hinder the growth of advanced sensor deployment and data processing.
Expert speakers include:
Damien Schroeder: Project Manager Camera Systems, BMW Group
Christophe Lavergne: Specialist Image Sensor and Processing, Renault
Cristina Dragan: Thermal Analyst Expert, Continental
Frank Schweickhardt: Head of Sound & Isolation, Thermodynamics & Airflow R&D, Daimler
Sergey Velichko: Sr. Manager, ASD Technology and Product Strategy, ON Semiconductor
Boyd Fowler: CTO, OmniVision Technologies
Yuichi Motohashi: Automotive Image Sensor Applications Engineer, Sony
"We have also secured some top influencers from across the supply chain to bring you their unique perspectives and expert opinions to help with current work challenges," Stead added. "They will be providing a high-level discussion of the key issues impacting the automotive industry today."
Supply chain experts scheduled to speak in Brussels include Dengxin Dai, Group Leader, Vision for Autonomous Systems Group, MPI for Informatics. Dai is an influential academic with expertise in adverse weather technology. Joining Dai is Dongjae Shin, Principal Researcher, Samsung Advanced Institute of Technology. Shin will be showcasing Samsung's emergence into the LiDAR space.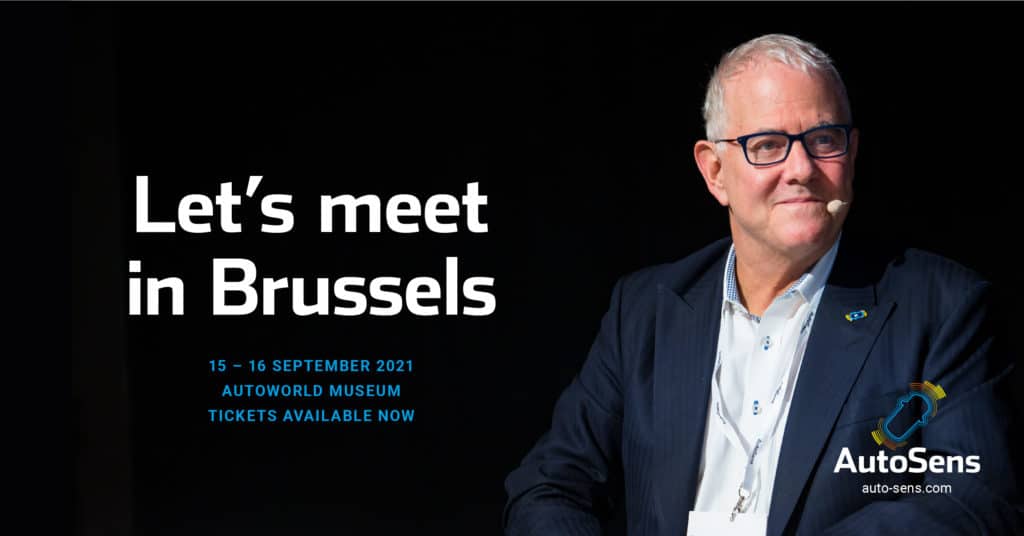 Book Your Tickets With a Discount Code
The 2021 edition of AutoSens Brussels is scheduled for September 15th and 16th at the world-renowned Autoworld Museum. Capacity will be limited slightly for AutoSens in Brussels to ensure the highest level of safety for an in-person return. Tickets include a risk-free COVID guarantee. The most popular is the full pass, followed by single-day passes. Women in engineering and students can receive a discount on their tickets. Representatives from OEMs and Tier One suppliers are eligible for a complimentary pass.
Tickets can be purchased through AutoSens directly, but AutoVision News readers can take an extra 15 percent off with the promo code AVN15. The schedule for AutoSens in Brussels is available here, and a complete list of speakers can be found here.
"Attending AutoSens in Brussels this September will provide you with all the tools to be a better engineer, broadening your knowledge of the full range of technologies used in ADAS and AVs," Stead said. "You'll leave the conference with a further awareness of how the big issues impact ADAS and AV engineers in the near term as well as the limitations of current components, software and systems, and how to mitigate them."