After two successful virtual conferences in May and June, the final installment of AutoSensONLINE is set for Tuesday, July 14th, and Wednesday, July 15th. Managing Data in ADAS and Autonomous Vehicles is the focal point of the July event, sponsored by AutoVision News.
"There are some key topics on the agenda for this final AutoSensONLINE event, like regulatory challenges, training data, and computer vision," explained Carl Anthony, Managing Editor of AutoVision News. "This upcoming July event gives the global engineering community a chance to see the latest developments on these and other important topics concerning the progress of ADAS technology."
Inspiration Behind AutoSensONLINE
Many conferences and industry events have been either postponed or canceled amid the global COVID-19 pandemic. AutoSens organizers launched a series of free virtual gatherings in May to help engineers stay connected during this uncertain time.
"We have taken some of the elements that work well at our physical conferences, and built an agenda around the plenary topics for our last virtual event in July," explained Robert Stead, Managing Director of AutoSens. "One of our core principles is to deliver high-quality technical content and add value to the engineering community, and that doesn't change with AutoSensONLINE."
"Like the in-person events, AutoSensONLINE gives attendees access to in-depth technical presentations that get at the heart of the challenges facing ADAS technology," Anthony said. "The Q&A time at the end of each session is especially valuable as it gives you a chance to interact with the speaker personally."
Attendees also have access to each presentation after the event ends. The May and June editions of AutoSensONLINE are currently streaming on-demand with the July event to follow shortly.
"This has been a really helpful feature for me," Anthony added. "I have already gone back several times to listen to a presentation again to gather more information for an article I am writing."
AutoSensONLINE Agenda for July
The July edition of AutoSensONLINE will be held on Tuesday, July 14th, and Wednesday, July 15th. Live streaming starts both days at 2:45 pm GMT +1, or 9:45 am Eastern.
Tuesday, July 14th
The day opens on Tuesday with a networking mixer followed by a presentation from Pinaki Laskar, founder of Fisheyebox, on deep learning for image processing. After a series of virtual demonstrations, Bryn Balcombe, Founder of the Autonomous Drivers Alliance and Roborace Chief Strategy Officer, will discuss the regulatory challenges for automated driving.
After Balcombe's presentation, attendees will have a chance to catch another one of the virtual demonstrations. The day will conclude with a presentation from independent researcher Forrest Iandola on whether computer vision is improving or reaching its plateau.
Wednesday, July 15th
The event begins on Wednesday with a presentation from Tim Dawkins, Lead, Automotive & Autonomous Mobility at the World Economic Forum, on the organization's Safe Drive Initiative. Alexander Noack, Head of Automotive Electronics at b-plus, will then take the virtual stage to discuss how to harvest reliable training data.
The second half of the day begins with a presentation from Jeff Warra, Director of Autonomous Platform Solutions for Intrepid Control Systems. Warra will talk about how to remove bottlenecks in data transfer and its importance when it comes to understanding corner-case situations.
Wednesday will conclude with the Discrete ECUs versus Integrated ECUs to enable Autonomous Driving and ADAS panel discussion. Sven Fleck, Managing Director, SmartSurv Vision Systems GmbH, is moderating the panel which includes:
Benjamin May, Chief Executive Officer of AMX13.
Aish Dubey, Director of Engineering at Texas Instruments.
Thomas Danneman, Director of Product Marketing for Qualcomm.
Aaraadhya Narra, Product Manager, Robotaxi Strategy & Solutions at NVIDIA.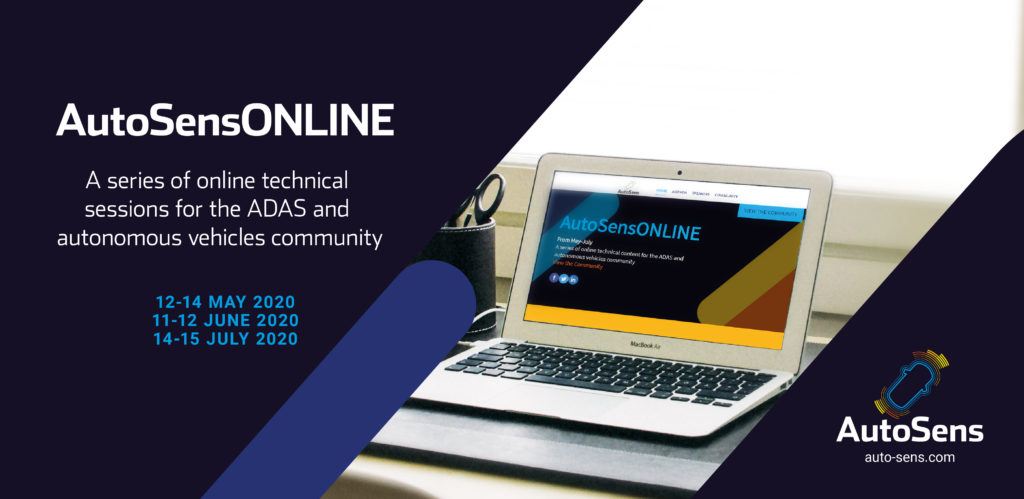 How to Attend AutoSensONLINE 
Those who wish to attend can sign up for free on the AutoSens website. The full schedule, including an overview of the demo sessions and a list of speakers for the July event, is available here.
"We are looking forward to sponsoring this final session of AutoSensONLINE," Anthony said. "This will be a great way to engage with the global ADAS community while hearing from the experts who are working to create safer roads for us all."