The next installment of AutoSensONLINE will begin on Thursday, June 11th. Advances in sensors for ADAS and autonomous vehicles will be the central theme of the June event, sponsored by AutoVision News.
"We are immensely thrilled to be the primary sponsor of AutoSensONLINE and are especially looking forward to this upcoming June event," said Carl Anthony, Managing Editor of AutoVision News. "The agenda will cover some important topics right now, like wafer stacking, sensor safety requirements, and the challenges of ultimately keeping those sensors clean."
Inspiration Behind AutoSensONLINE
With the COVID-19 pandemic causing the postponement of AutoSens Detroit, organizers launched a series of free virtual conferences in May to keep the engineering community connected. Two events remain in the series: the upcoming June conference, and one more next month beginning on July 14th.
Similar to the in-person events, AutoSensONLINE will focus on the challenges facing autonomous cars at nearly every level.
"We have taken some of the elements that work well at our physical events, and built an agenda around the plenary topics for the upcoming June event," explained Robert Stead, Managing Director of AutoSens. "One of our core principles is always to deliver high-quality technical content and add value to the engineering community, and that doesn't change with AutoSensONLINE."
AutoSensONLINE Agenda for June
AutoSensONLINE will be held on Thursday, June 11th, and Friday, June 12th. Live streaming starts both days at 2:45 pm GMT +1, or 9:45 am Eastern. "We have tweaked the format, so the presentations are a little shorter as we don't expect everyone to spend a whole day at their screen," Stead continued. "We'll still have Q&A with all the speakers, and they will be online participating with the audience during the event."
Thursday, June 11th
Starting first on Thursday is Li Han Chan, Staff Technical Program Manager at Zoox. She will cover the advances in camera technology for autonomous vehicles. Next is Boyd Fowler, CTO of OmniVision Technologies. Fowler will cover the importance of using COMS wafer stacking technology for automotive image sensors.
From there, three separate roundtable discussions will get underway. The first session will provide additional context to the challenges within the autonomous vehicle industry. The second will cover the safety requirements for sensors, while the third will discuss the importance of keeping sensors clean.
Following the virtual roundtable discussions are presentations from Dr. Amol M Kalburge, Senior Director of Strategic Marketing for TowerJazz, and Mike Walters, Vice President, Product Management, Thermal and Machine Vision Cameras at FLIR.
Friday, June 12th
On Friday, the day begins with a welcome networking mixer followed by a session with Dr. LeiLei Shinohara, RoboSense Senior Vice President of R&D & Co-Partner. Afterward, Jacob Miller, AV Motion Planning and Control Systems Engineer at VSI Labs, will discuss the capabilities of vehicle perception systems in adverse weather.
Friday will also include virtual demo sessions from Image Engineering, TriEye, OmniVision Technologies, and Algolux. Each demonstration will run three times, and attendees can move freely between each. Closing down the event on Friday are presentations from Wade Appleman, Vice President of Marketing and Business Development for the SensL Division of ON Semiconductor, and Dirk Seebaum, Business Unit Manager, TRIOPTICS.
"The agenda for the June edition of AutoSensONLINE is really exciting because there are experts from a wide range of backgrounds and disciplines," Anthony said. "Our AutoVision News team will glean a lot of new and valuable insights from this agenda of experts."
"The vision has always been about community," Stead added. "Conversations and collaborations are what drives the success of AutoSens, and will be the signature ingredient at all our events for years to come, be it in-person or online."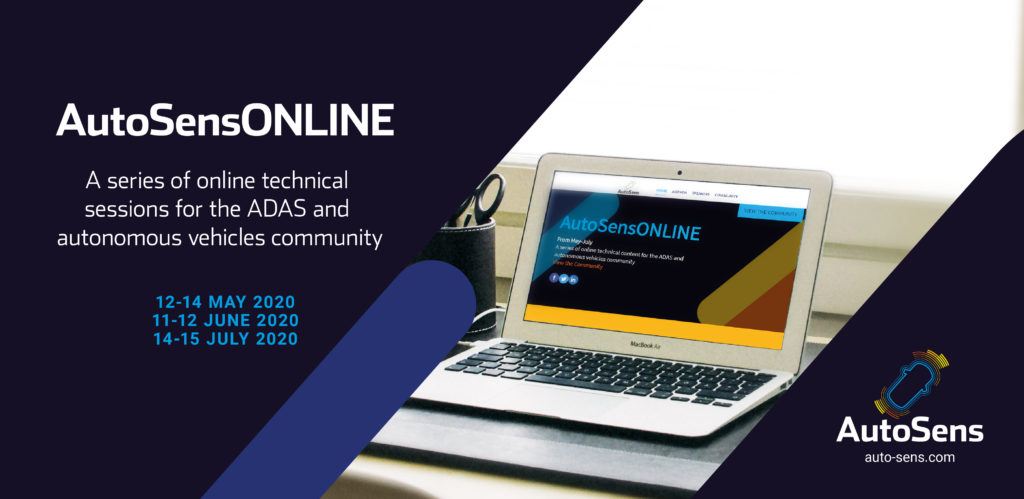 How to Attend AutoSensONLINE 
Those who wish to attend can sign up on the AutoSens website. The one-time registration is free and good for both the June and July AutoSensONLINE events. The full schedule, including an overview of the demo sessions and a list of speakers for the June event, is available here.