LeddarTech is getting ready for an eventful month in April as the company will participate in four different industry-leading conferences. In addition to serving as a sponsor and presenter, LeddarTech will showcase its comprehensive end-to-end technology platforms during the upcoming events, including its signature LeddarVision and LeddarEngine technologies. One of the company's primary goals during the April events is to make new connections within the industry.
"LeddarTech continually seeks opportunities to bring our customers, partners, and other industry organizations together to share our unique platform business model as well as network on new developments and solutions to address today's ADAS and AD opportunities," explained Daniel Aitken, Vice President of Global Marketing, Communications, and Product Management. "Our participation in these major digital forums is a reflection of this philosophy, and we look forward to the opportunity to meet customers and organizations who are also committed to driving autonomy and the increased safety aspects that it provides."
LeddarTech will participate in the following ADAS-focused events in April.
ADAS Sensors 2021
Dates: April 6th – 8th (Detroit, Michigan / Online)
About: Topics of discussion at ADAS Sensors 2021 include the challenges suppliers face, how artificial intelligence plays a role in sensor processing, how to consider new design, reliability, and packaging requirements, and what consumer trends will shape the market in the future. The comprehensive agenda takes into account the business and economic factors as well as the engineering considerations with ADAS technology.
LeddarTech Presentation: "Sensing Modalities, Perception, and Fusion Technology Trends for ADAS Applications," by Pierre Olivier, LeddarTech's Chief Technology Officer, April 6th at 11:50 a.m. (Eastern). LeddarTech will also have a virtual booth at ADAS Sensors 2021.
How to Register: AutoVision News readers receive a special 10 percent discount when they register and reserve their spot. Enter the promo code "AUTOVISION10" at this registration link.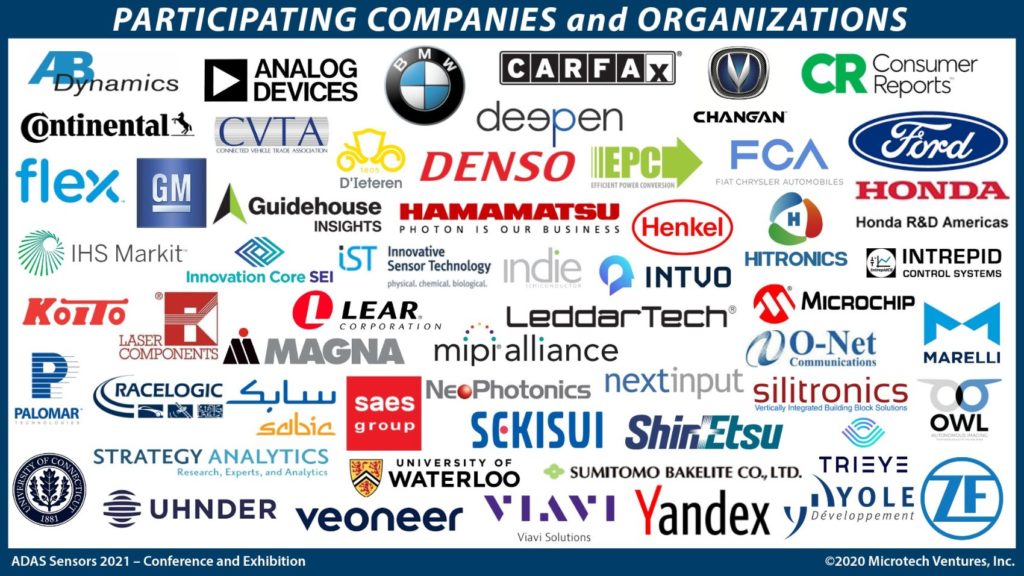 Hannover Messe Digital Edition
Dates: April 12th – 16th (Hannover, Germany / Online)
About: The interactive conference program at Hannover Messe addresses key topics such as artificial intelligence, data, and even the potential of hydrogen for the industry. Speakers this year include Dr. Roland Busch, CEO of Siemens; Herbert Diess, CEO of Volkswagen; and Dr. Angela Merkel, Chancellor of the Federal Republic of Germany.
LeddarTech Exhibit: LeddarTech will be a co-exhibitor at the Quebec pavilion in association with Investissement Québec, whose mission is to play an active role in Québec's economic development by spurring business innovation, entrepreneurship, and business acquisitions, as well as growth in investment and exports. LeddarTech can be found at the Kiosque Entreprise for the duration of the event.
How to Register: More information on the Hannover Messe conference, including event registration, can be found here.
AutoTech Council
Dates: April 15th (North America / Online)
About: This Autotech Council event will focus on the new technologies and innovations that will enable connected cars. OEMs, suppliers, startups, and venture capitalists will be in attendance to discuss topics like 5G, embedded vs. tethered connectivity, personal data and privacy, big data analytics, value-added services, and more.
LeddarTech Presentation: Pierre Olivier, LeddarTech's Chief Technology Officer, will participate in a panel discussion taking place on April 15th from 8:55 a.m. to 9:25 a.m. (Pacific).
How to Register: More information about this Autotech Council event, including registration, can be found here.
6th Automotive Sensors & Electronics Summit
Dates: April 28th (Munich, Germany / Online)
About: The Automotive Sensors and Electronics Summit is an annual event that attracts key decision-makers across various industry sectors. This event is known in the automotive sensors and electronics community for highlighting emerging technologies and supporting valuable networking opportunities.
Case Study Presentation: "Sensor-Fusion and Perception Solutions for Key ADAS and AD Applications," by Michael Poulin, Vice President, Strategic Partnerships and Corporate Development, April 28th, 2021 at 4:30 p.m. (CET).
Featured e-book for the event: Sensor Fusion and Perception Technology Overview by LeddarTech.
How to Register: More information about the 6th Automotive Sensors and Electronics Summit, including registration, can be found here.