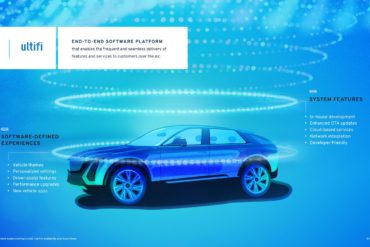 General Motors has announced Ultifi, its end-to-end software platform designed to merge new in-vehicle experiences with consumers' "digital lives." According...
Arrival has announced its selection of the Ambarella CV2FS CVflow AI vision processor to enable autonomous driving and ADAS features...
Innoviz Technologies and Vueron Technology will partner to build an autonomous driving platform for LiDAR-only self-driving vehicles. The collaboration will...
Plus (formerly Plus.ai) has secured $220 million in new financing co-led by FountainVest Partners and ClearVue Partners, with participation from...
XenomatiX, a provider of true solid-state lidars for ADAS, autonomous driving, and road digitization, has received funds from nine different...
Micron Technology, Inc. has begun sampling its automotive low-power DDR5 DRAM (LPDDR5) memory. LPDDR5 is part of Micron's new portfolio...
Seoul Robotics has joined LeddarTech as part of the company's Leddar Ecosystem. LeddarTech and Seoul Robotics will collaborate on real-time...