---
Reuters Events has confirmed the dates for Automotive 2021, a global congress featuring CEOs from Audi AG, Aston Martin, Bentley, and more. Registration is currently open, and sponsorship opportunities are available.
---
Reuters Events has announced the dates for its flagship event, Automotive 2021. Although some conferences are slowly getting back to in-person attendance, Automotive 2021 will be held virtually, starting on October 19th and going through October 21st. Topics of interest and discussion include electrification, connectivity, autonomous vehicles, sustainability, supply chain, retail, and marketing. As a global event, Automotive 2021 will feature CEOs, board members, and other senior leaders from OEMs and top automotive-focused companies.
Automotive 2021 Agenda
October 19th: Global CEO Day
October 20th: Breaking Car Boundaries
October 21st: Zero Emissions and Supply
October 22nd: Customer First
On October 19th, CEOs from the world's automakers will announce everything from news to future strategy. The following day will focus on how OEMs are creating disruptive new business models to innovate their vehicles, autonomous or otherwise. On the 21st, attendees will see how industry leaders are commercializing EVs, working towards zero emissions, and preparing their supply chains accordingly. The last day will be spent talking about ways automotive companies can "future proof" their brands.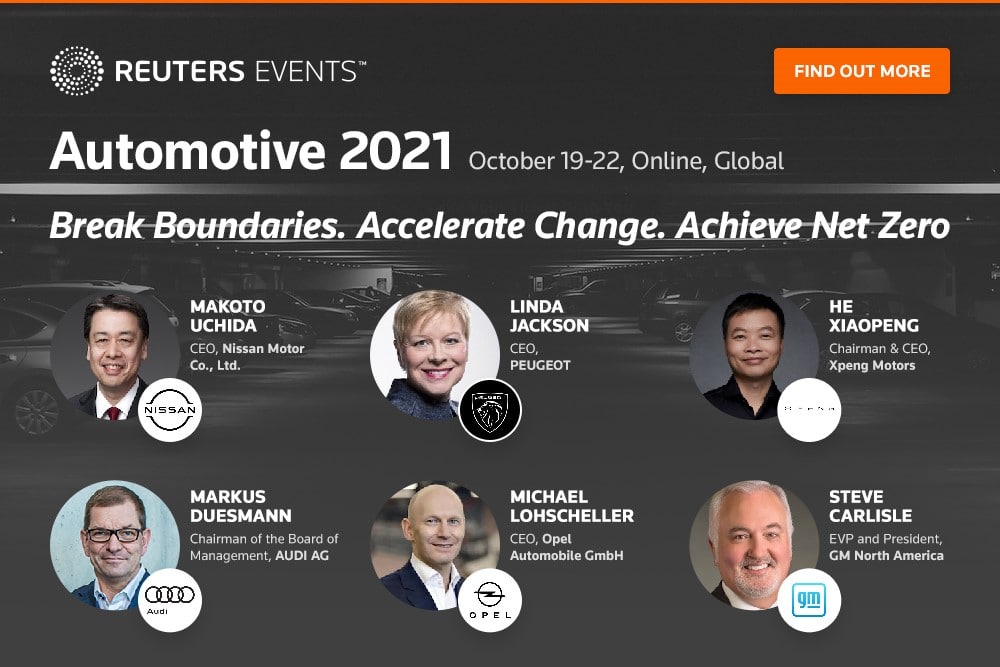 Expert Speaker Lineup
Confirmed speakers for Automotive 2021 include:
Linda Jackson, CEO, Peugeot
Tobias Moers, CEO, Aston Martin
Kim Costello, CMO, Pendragon PLC
Ken Barrett, Chief Diversity Officer, GM
Scotty Reiss, Founder, A Girls Guide to Cars
Makoto Uchida, CEO, Nissan Motor Co., Ltd.
Karl Iagnemma, President and CEO, Motional
He Xiaopeng, Chairman & CEO, Xpeng Motors
Jenny Watson, Chief Experience Officer, Vroom
Adrian Hallmark, Chairman and CEO, Bentley Motors Ltd.
Martin Corner, Vice President of Supply Chain, Volvo Cars
Anirban Ghosh, Chief Sustainability Officer, Mahindra Group
Sandra Phillips Rogers, Group Vice President, General Counsel & Chief Legal Officer and Chief Diversity Officer, Toyota Motor North America, Inc.
Markus Duesmann, Chairman of the Board of Management and Board of Management Member for Product Lines, Audi AG
How To Register
Automotive 2021, presented by Reuters Events, will be held virtually, October 19th (Tuesday) through October 22nd (Friday). OEMs, dealerships, suppliers, and other automotive industry experts are encouraged to register for the event. After Automotive 2021, Reuters Events will host Automotive Supply Chain 2021 in November.