Women in Autonomy is gearing up for its latest virtual event on Wednesday, February 24th. The upcoming panel, titled First Mile to Last Mile Autonomy, will examine the key economic factors behind autonomous trucking. The virtual session will bring together industry experts to discuss the state of autonomous fleets, what challenges currently exist, and how rollouts may take shape in the future.
Autonomous Trucking at a Glance
Allied Market Research found the global self-driving truck market reached a value of $1,004 million in 2020 and further growth is expected through 2025 according to Allied Market Research. The global self-driving truck market is projected to reach $1,669 million by that time, representing a CAGR of 10.4 percent for the five years. These and other significant findings were published in Self-Driving Truck Market by Level of Autonomy and Industry Vertical: Global Opportunity Analysis and Industry Forecast, 2020 – 2025.
According to that report, the Asia-Pacific market is anticipated to exhibit the highest CAGR during the forecast period, while the logistics industry is expected to adopt automated trucking technology faster than any other. The upcoming panel from Women in Autonomy will examine how COVID-19 has accelerated the demand for delivery and logistics services and what technical challenges need to be addressed in order to keep up with demand.
Expert Panel Speakers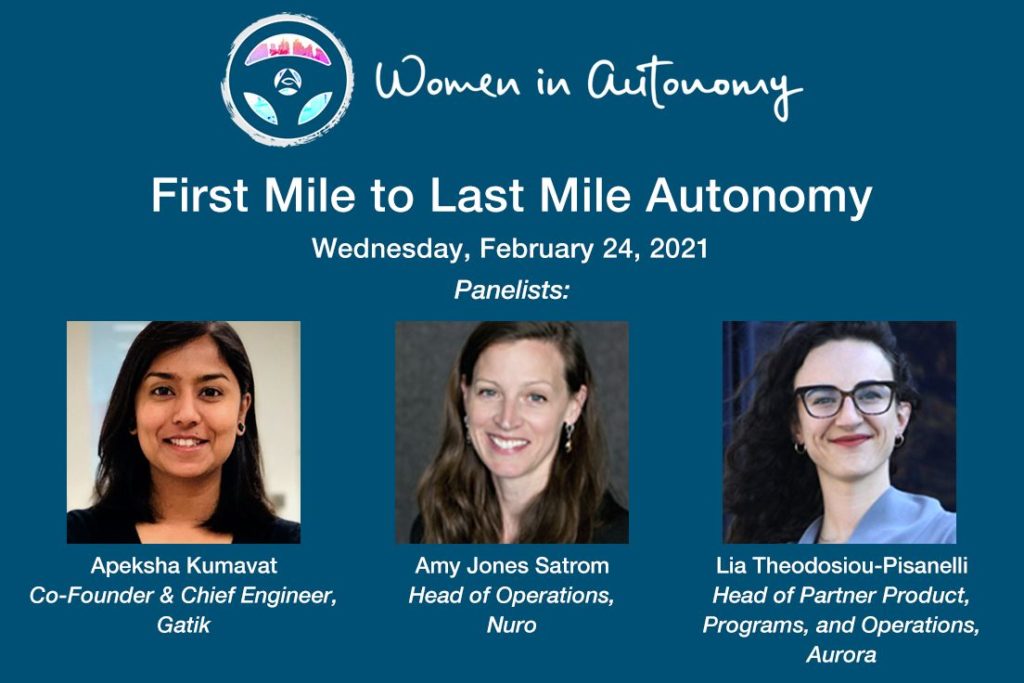 Panelist for First Mile to Last Mile Autonomy include Apeksha Kumavat, Co-Founder & Chief Engineer of Gatik, ​​​Amy Jones Satrom, Head of Operations at Nuro, and Lia Theodosiou-Pisanelli, Head of Partner Product, Programs, and Operations at Aurora. TechCrunch Transportation Editor Kirsten Korosec will moderate the event.
How to Register
First Mile to Last Mile Autonomy is scheduled for Wednesday, February 24th, from 4:30 to 5:30 pm Pacific Time. The event is free for all to attend, and registration is currently open. Women in Autonomy is also further building its mentorship program in 2021, which is designed to help younger females get their start in the automotive and auto tech industries.