Ford is accelerating its electric vehicle roadmap by announcing plans to build a new battery manufacturing plant in Marshall, Michigan. With goals of achieving carbon neutrality across its entire operations, supply chains, and vehicle portfolio by 2050, diversifying and localizing the battery supply chain enables Ford to build more affordable EVs while keeping up with consumer demand.
As a result, Ford has announced a $3.5 billion investment to erect the BlueOval Battery Park in Michigan and build nickel cobalt manganese (NCM) and lithium iron phosphate (LFP) EV batteries on U.S. soil. "We are committed to leading the electric vehicle revolution in America, and that means investing in the technology and jobs that will keep us on the cutting edge of this global transformation in our industry," said Ford Executive Chairman Bill Ford.
Ford+ Plan
A critical part of the Ford+ Plan is to build 600,000 new EVs by the end of 2023 and about two million globally by 2026. Helping the cause is Ford's wholly-owned BlueOval Battery Park which the automaker expects to start churning out LFP batteries by 2026. In addition, Ford promises to introduce new-age LFP batteries on its Mustang Mach-E electric crossover near the end of 2023 and in the F-150 Lightning by early 2024.
"Ford's electric vehicle lineup has generated huge demand," said Jim Farley, Ford President and CEO. "To get as many Ford EVs to customers as possible, we're the first automaker to commit to building both NCM and LFP batteries in the United States."
In related news, Ford has inked a new deal with Chinese battery manufacturer Contemporary Amperex Technology Co., Limited (CATL) to build LFP battery cells utilizing learnings and other services provided by the latter. This extended collaboration is part of Ford's plan to increase its battery capacity and meet its ambitious EV production goals. In 2022, Ford secured the necessary raw materials to create new EV battery chemistries and signed a partnership with South Korean battery expert SK On to build new manufacturing plants in Kentucky and Tennessee.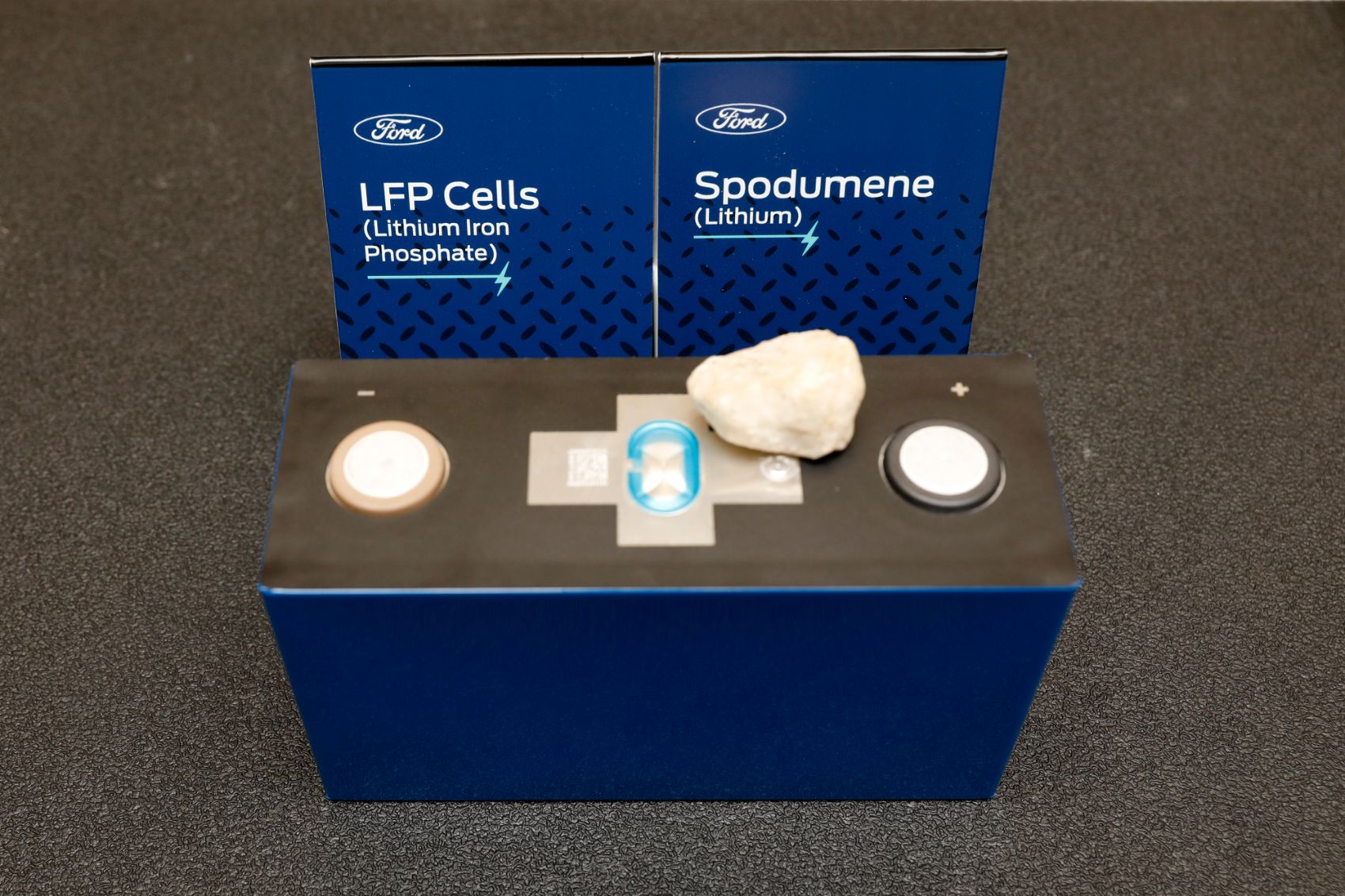 Sustainable Supply Chains
According to Ford, LFP batteries require fewer rare Earth minerals, are 10 to 15 percent less expensive to manufacture, are more durable, and can tolerate frequent fast charging sessions with minimal degradation. At scale, Ford claims LFP and NCM batteries will reduce production costs and EV prices.
The new BlueOval Battery Park will initially employ 2,500 personnel. Moreover, the plant will create roughly 18,000 direct and 100,000 indirect jobs across Kentucky, Michigan, Tennessee, Missouri, and Ohio.
"Today's generational investment by an American icon will uplift local families, small businesses, and the entire community and help our state continue leading the future of mobility and electrification," said Michigan Governor Gretchen Whitmer. "Let's continue bringing the supply chain of electric vehicles, chips, and batteries home while creating thousands of good-paying jobs and revitalizing every region of our state."
"The City of Marshall welcomes this exciting new partnership with Ford Motor Company," added Marshall Mayor Jim Schwartz. "This investment in the local community will lead to an influx of new jobs to Marshall and economic development throughout the area."