Japanese automaker Honda has unveiled a prototype image of its incoming Prologue SUV. The Prologue is a five-seat electric SUV developed in cooperation with General Motors. It's the first Honda vehicle designed primarily using virtual reality visualization technology, a technique brought about by necessity (rather than choice) due to a lingering COVID-19 pandemic. Drawing motivation from GM's Ultium electric architecture, Honda's pining for an early 2024 release for its Prologue SUV, a good four years after debuting its first all-electric Honda e hatchback in Japan and the rest of Europe.
"Our dealers are excited about Prologue and the fact that it's the first volume Honda EV," said Mamadou Diallo, Vice President of Auto Sales, American Honda Motor Co. Inc. The carmaker is accelerating its EV roadmap by infusing $40 billion in investments to debut no less than 30 new electric cars by 2030. "We will begin building more Honda-engineered EVs in North America by 2026," Diallo added.
Virtual Design Reality
The Honda Prologue's look is the brainchild of the Honda Design Studio in Los Angeles. The designers consulted virtually with the Honda design team in Japan to conceptualize the next generation of Honda crossovers. "It was very exciting to work with a young group of designers with new capabilities to create an SUV with clean, simple lines and a strong influence from our global EV models, including the Honda e," said Jiro Ikeda, Exterior Design Leader.
Honda claims the Prologue has a "strong hint of the well-received Honda e in the front fascia," but we can't see the resemblance. We reckon it bears more design similarities to Honda's Euro-spec 2023 HRV with mildly bulbous proportions, a long wheelbase, and short overhangs. "We balanced that with a neo-rugged look that you see in our current lineup to ensure Prologue represents a true Honda EV," Ikeda added.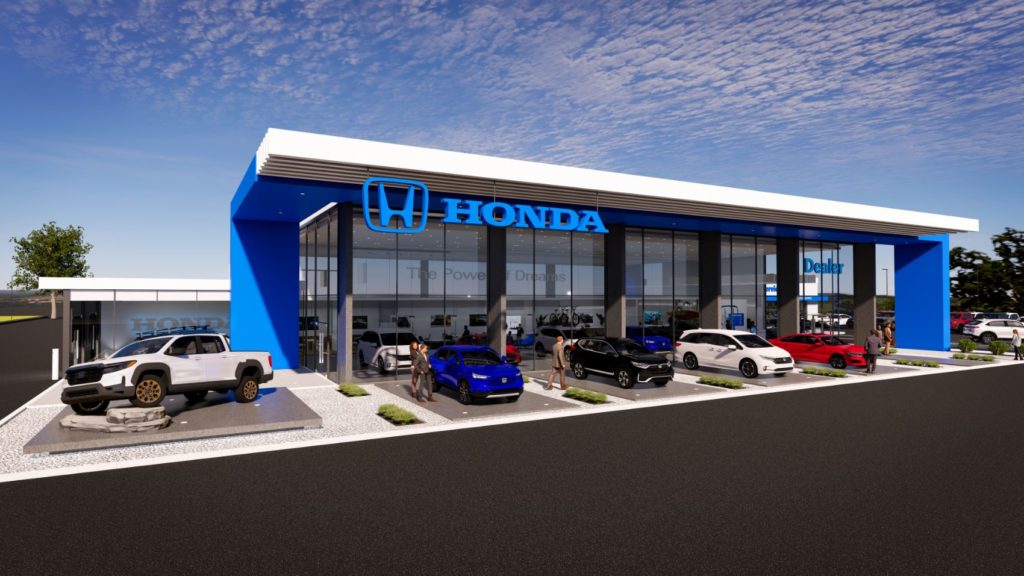 Three-Phase Rollout
Honda has a three-phase plan for North America. It begins with debuting the new Prologue in 2024, with the automaker starting production and sales of new EVs based on the Honda e:Architecture by 2026. The final phase is to begin producing and selling a series of affordable EVs by 2027, all based on a new platform co-developed with General Motors. If all goes to plan, Honda could sell nearly 500,000 new EVs in North America by 2030. The automaker is also pledging to achieve carbon neutrality by 2050.
Furthermore, Honda is working with its existing dealer network to design and establish dealership facilities to help prepare customers for EV sales and service. The updated facilities include modular spaces, EV charging stations, and the necessary tools and equipment for servicing.