Jaguar Land Rover has opened its brand-new EMC (Electromagnetic Compatibility) laboratory within its Gaydon, UK plant. The facility will ensure JLR vehicles are compatible with future legislations while meeting the current quality standards for each car's various connectivity and electronics systems. The all-new Range Rover Sport debuted in May 2022 and was the first JLR vehicle to undergo EMC testing programs at the new, state-of-the-art laboratory.
"The importance of testing our vehicles for electromagnetic compatibility cannot be underestimated," said Peter Philips, Senior Manager, Electromagnetics and Compliance at Jaguar Land Rover. "Opening this new testing facility is an important step forward for the business, and it will play a crucial role in helping us deliver quality, legal, and customer satisfaction."
What is Electromagnetic Compatibility?
EMC or Electromagnetic Compatibility is the ability of an electronic device to remain compatible with its electromagnetic environment. It also means the device should not cause interferences in other devices within a similar electromagnetic environment. As you probably know, you wouldn't be amiss to call a modern car a rolling computer on wheels, as each new vehicle could have up to 150 ECUs with dozens or more processors to monitor, regulate, and control vehicle functions.
Vintage Jags and Land Rovers were notorious for their unreliable and finicky Lucas electronic systems, often called "The Prince of Darkness" in British jokes for its propensity to conk out in the worst possible time – like when it's raining on a cold night, for instance. Jaguar Land Rover's new EMC laboratory will ensure that no such thing would occur in a modern Jag or Land Rover by limiting the generation, reception, and propagation of electromagnetic energies while mitigating interoperability problems caused by electromagnetic interference.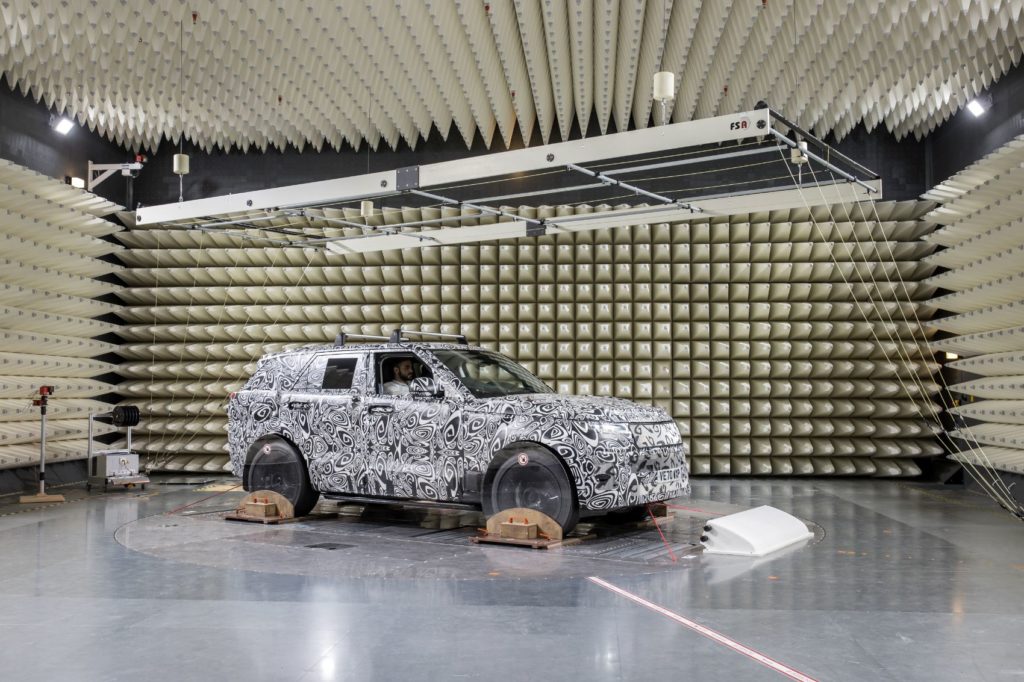 EMC Rolling Lab
JLR's new EMC facility has a pair of anechoic chambers that feature an electrically inaudible rolling road (to test the vehicle while simulating highway speeds) and specialized equipment to evaluate the EMC performance of each electronic component. JLR said the laboratory could test the batteries, electric motors, Bluetooth devices, GPS, Wi-Fi, and 4G/5G connectivity for EMC. Moreover, the system could assess electromagnetic interference of advanced driving aids like adaptive cruise control, blind spot monitoring, and lane changing systems.