Karma Automotive has unveiled their E-Flex Van, an SAE Level 4 autonomous vehicle with a battery-electric architecture. The Karma E-Flex Van is the latest in a series of development projects centered around the automaker's new EREV E-Flex Platform. Up until now, the Southern California-based company was known mostly for their Revero line of luxury, electric performance cars. In the GTS trim, the Revero produces 536 horsepower (all-electric) and hits 60 in under four seconds.
By contrast, the Karma E-Flex Van seems radically different. The Revero is a sleek and exciting performance car, while the E-Flex Van is more utilitarian in nature. The Revero is geared for the open road, while the E-Flex Van is for first and last mile solutions, particularity in crowded cites. But despite the stark differences, the E-Flex Platform on which the van is built, is based on the Revero GT.
What is the E-Flex Platform?
With the new platform, Karma Automotive plans to support multiple powertrain, packaging, and vehicle configurations. Chief among them are autonomous utility applications, like the E-Flex van; performance-oriented supercars, like the Revero; and as-yet-unnamed "everyday drivers." Complimenting the autonomous capabilities of the E-Flex Platform are advanced software and hardware componentry, and artificial intelligence among other things.
"We created a physical product that can be formatted into five different products, what others have called a one-dimensional skateboard, but what we call our E-Flex Platform, a multi-use solution," explained Kevin Pavlov, Karma Automotive COO. "There are up to 22 different possible configurations available, covering various battery-packaging variants and different drive motor systems."
Karma also notes the cost reduction benefits of the E-Flex Platform, and say they are open to new partnerships. These partnerships, according to Karma, allow manufacturers faster entry into the EV market and at a lower cost. "We can deliver a wide range of configurations dependent on the builder's priority," Pavlov said.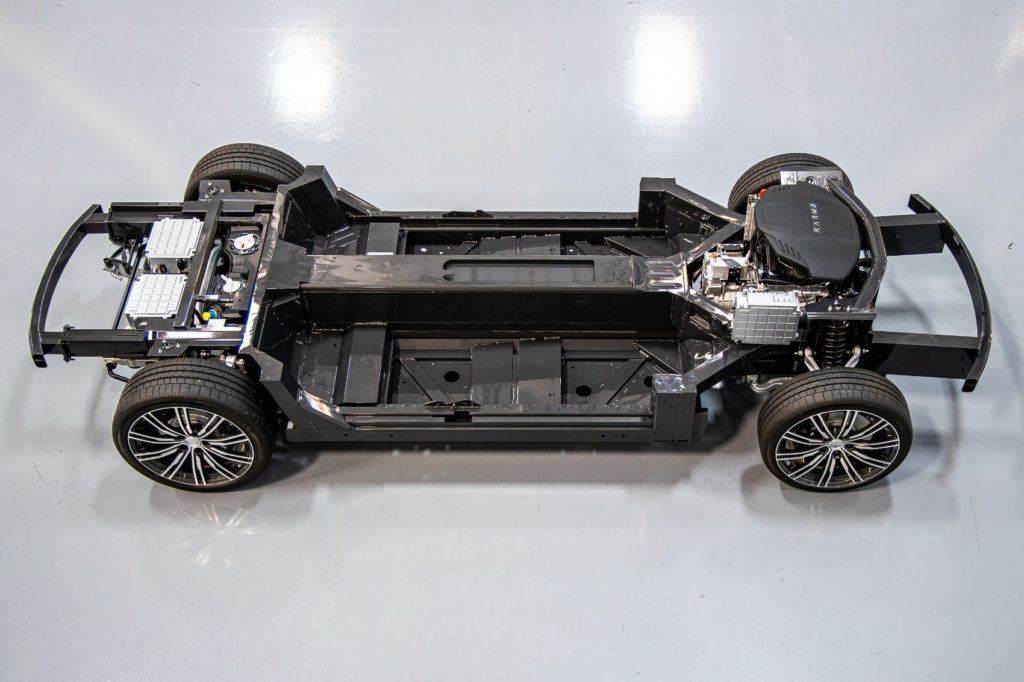 Significance of the Karma E-Flex Van
Karma Automotive plans to target locations where legislators are scaling back on fossil fuels. With the extended range of the E-Flex Van, deliveries could still be made around these and other urban centers where gasoline engines are expected to phase out.
In times of uncertainty, like with the Coronavirus outbreak, the E-Flex Van with its autonomous capabilities could make critical deliveries to citizens, healthcare professionals, and other first responders. Such capabilities humanize the technology for a society that may have questions about its intentions. As Karma and other new automakers emerge with ambitious plans to make future mobility safer and cleaner, it's important to communicate how those plans actually benefit society.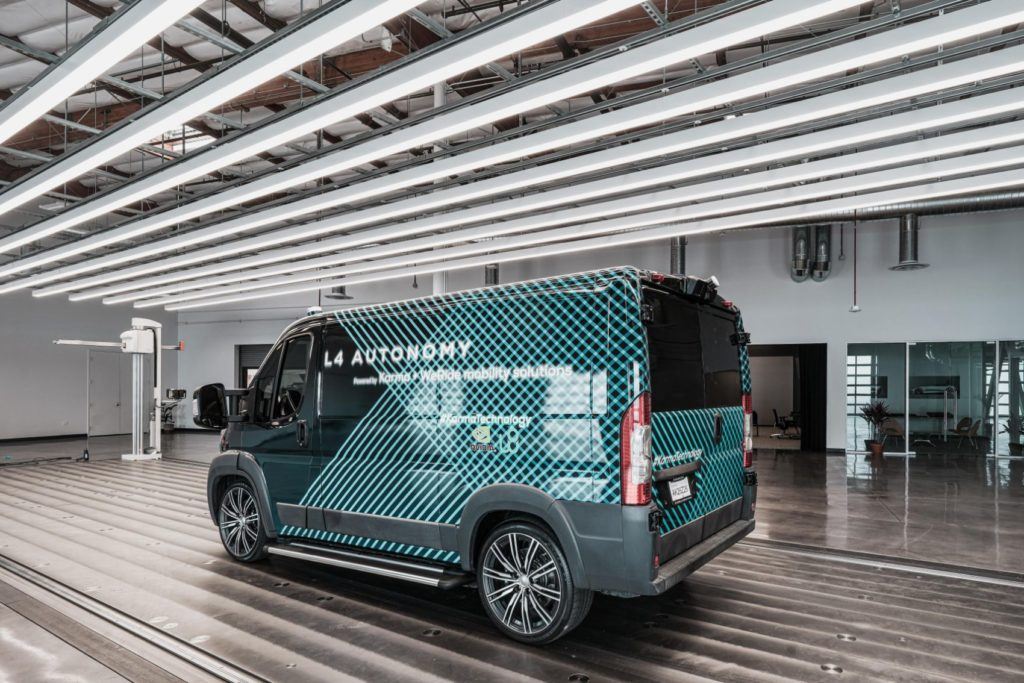 Autonomous Driving Technology
The NVIDIA DRIVE AGX Pegasus autonomous vehicle platform powers the Karma E-Flex Van. Built on a scalable architecture, with two NVIDIA Xavier processors and two Tensor Core GPUs, the system achieves 320 trillion operations per second of deep learning. The AI computer runs an array of deep neural networks while the Level 4 software platform and sensors cover a 360-degree field of view. The software platform and sensors, supported by WeRide, also provide real-time localizations through LiDAR, radar, camera, GNSS, and INS.
"Using the E-Flex Platform, our goal was to create collaborative partnerships that address a wide array of applications," said Srini Gowda, Karma Automotive's VP of Autonomous Driving/ADAS. "By working with nimble technology leaders like WeRide and NVIDIA, we intend to offer unique market solutions with greater speed and efficiency."
"The NVIDIA DRIVE AGX Pegasus platform delivers the scalable computational horsepower and AI capabilities essential for the safe deployment of Level 4 self-driving systems, being brought to market by Karma and WeRide," added Rishi Dhall, Vice President of Autonomous Vehicles at NVIDIA.
"WeRide's Level 4 self-driving technology adapted in Karma's E-Flex Van demonstrates our powerful solutions to bring safe and cutting-edge autonomous vehicles across different models for different purposes," explained Yan Li, Co-founder and CTO of WeRide. "The Level 4 van joins forces to pave the way for the future of transportation."
Level 4 Karma E-Flex Van In-Depth
Photos & Source: Karma Automotive.