Swedish automaker Volvo and Starbucks Corporation announced a new partnership to install up to 60 DC fast-charging stations at Starbucks stores along a 1,350-mile route between Denver and Utah. The two companies recently inaugurated the first Starbucks to have four ChargePoint DC fast-chargers in Provo, Utah.
"Partnerships like this are hugely important as we continue to move towards a more sustainable, electrified future," said Anders Gustafsson, SVP Americas Region and President and CEO, Volvo Cars USA. "Together with Starbucks and ChargePoint, we are creating an EV charging network that can fit seamlessly into everyday life."
Coffee & EV Charging: Excellent Combo
Volvo said the scenic route that spans the Colorado front range and Starbucks HQ in Seattle is "under-resourced to support EV charging." The automaker and Starbucks want to change that with plans to install DC fast-charging stations at Starbucks stores every 100 miles along iconic American destinations like Snoqualmie Pass in Washington, Snake River in Idaho, and Arches National Park in Utah.
The initiative means shorter-range EVs like the Mini Cooper SE (114 miles) and Mazda MX-30 (100 miles) could theoretically make a road trip from Denver to Utah without running out of juice. Moreover, fast-charging your EV at Starbucks means you can relax and enjoy a cup of Joe while recharging. "Public EV charging should be as easy as getting a great cup of coffee – and now, it can be," said Michael Kobori, Chief Sustainability Officer of Starbucks.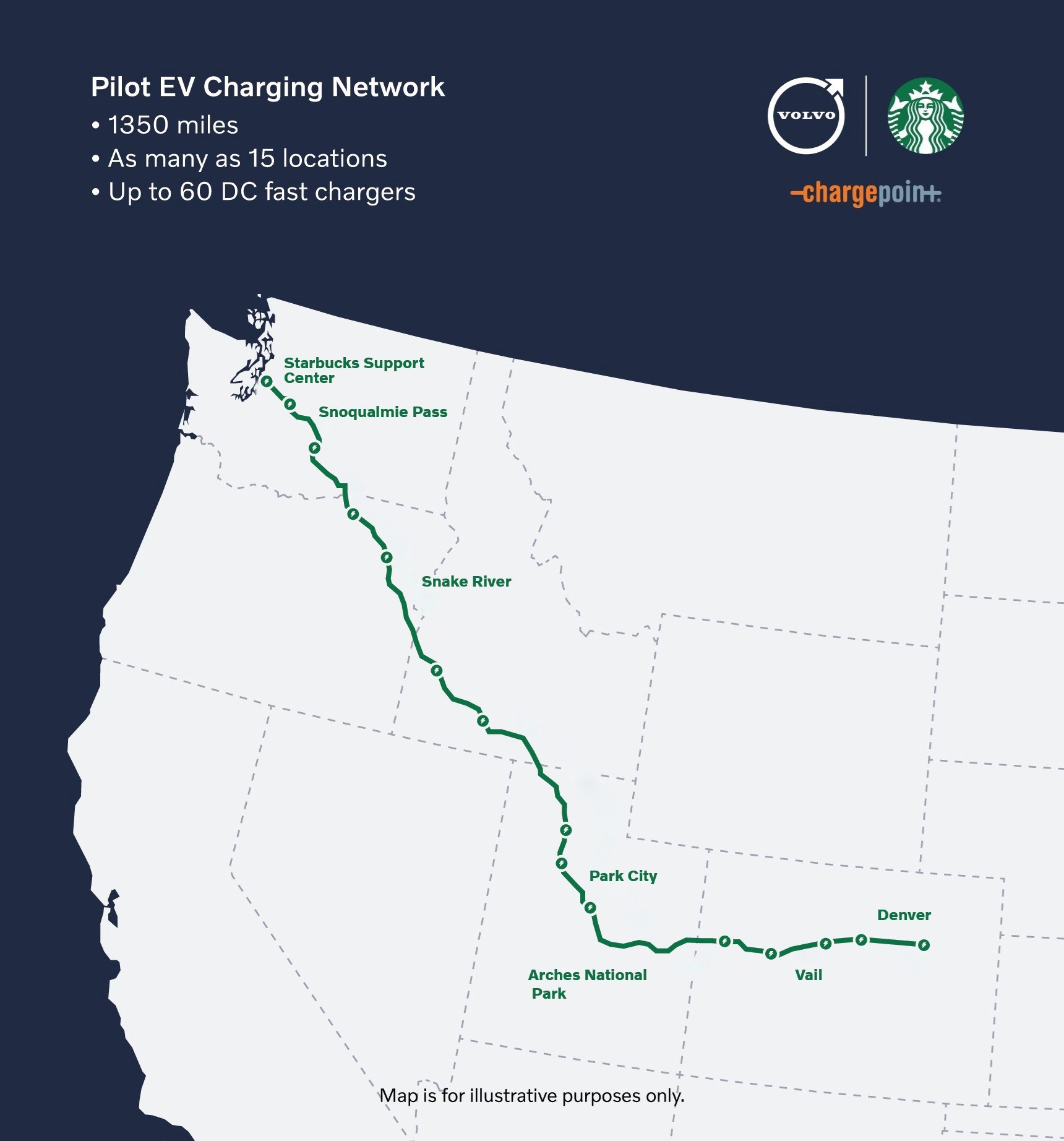 More to Come
Here is a list of cities expected to have ChargePoint DC fast-chargers at a Starbucks location in the future:
Seattle, WA
Issaquah, WA
Yakima, WA
Hermiston, OR
La Grande, OR
Nampa, ID
Twin Falls, ID
Uintah, ID
Sandy, UT
Provo, UT
Grand Junction, CO
Glenwood Springs, CO
Silverthorne, CO
Idaho Springs, CO
Broomfield, CO
Charging Configurations
The ChargePoint network comes in Express and Express Plus configurations. The former offers up to 65 kW of DC fast-charging, while the latter is suitable for up to 350 kW. There was no word on what type is available at Starbucks, although Volvo said recharging a C40 Recharge EV from 20 to 90 percent takes about 40 minutes.
Moreover, Volvo EVs can charge for free or at preferential rates. Other EV brands could also use the recharging facility for a nominal fee. "Through our partnership, EV drivers will have the opportunity to quickly fuel their vehicles at Starbucks locations along one of America's most scenic byways," said Pasquale Romano, ChargePoint CEO.