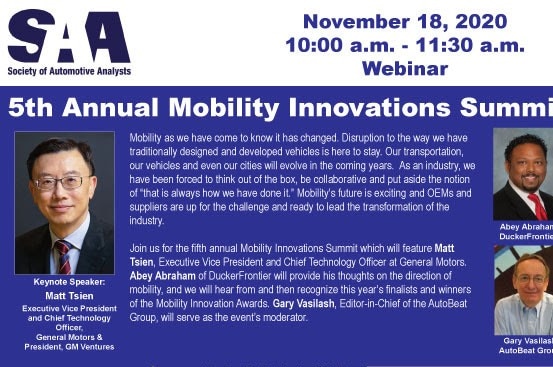 5th Annual Mobility Innovations Summit
Nov
18,
2020
10:00 am - 11:30 am
Technological innovation is driving unprecedented change to mobility as we know it. At the helm of that change are Suppliers and OEMs harnessing new breakthroughs in science and technology to make transportation and vehicles safer and better for customers and communities.
Join us for the fifth annual Mobility Innovations Summit, featuring Matt Tsien, Executive Vice President and Chief Technology Officer at General Motors, for a conversation on how GM is driving innovation throughout the company. Abey Abraham of DuckerFrontier will provide his thoughts on the direction of mobility, and we will hear from and then recognize this year's finalists and winners of the Mobility Innovation Awards. Gary Vasilash, Editor-in-Chief of the AutoBeat Group, will serve as the event's moderator.
The four finalists in the Mobility Innovation Awards will present their technologies. The winners of the two categories — Innovations in Lightweighting and Technologies Enabling Innovation — will be recognized at the end of the event.