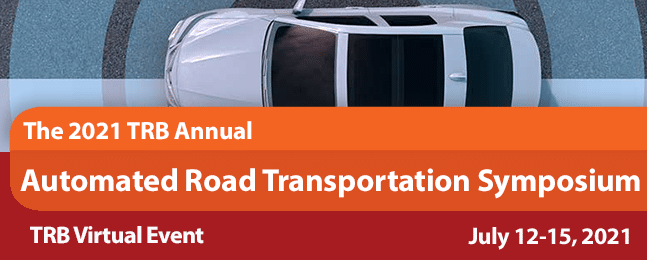 2021 Automated Road Transportation Symposium
Jul
12,
2021
(12:00 AM)
-
Jul
15,
2021
(11:59 PM)
Convened by TRB, the 2021 Automated Road Transportation Symposium (ARTS21) will be held July 12-15, 2021 online. It is the continuation of TRB's annual summer symposia on automated vehicle systems.
We are delighted to announce that ARTS21 keynote speakers will include US Department of Transportation Secretary Pete Buttigieg (invited), National Transportation Safety Board Chairman Robert Sumwalt, and Aurora Innovation CEO Chris Urmson.  The full program of plenary speakers and 32 breakout sessions is being frequently updated and is shown on the Program tab on this webpage. 
ARTS is unique among conferences about transportation automation.  It is produced by a group of ~200 TRB volunteers, experts in their field, who dedicate themselves to creating balanced agendas that help to inform attendees about ongoing research, business developments, public agency investments and operations, and policy formation.   Every year, the ARTS program comprises a timely mix of influential plenary speakers and breakout sessions to provide local, national, and international perspectives on AV policy and practice.  This year's agenda addresses safety assurance, business developments, roadway operations, human factors, public acceptance, trucking, transit, legislative and regulatory affairs, and more.