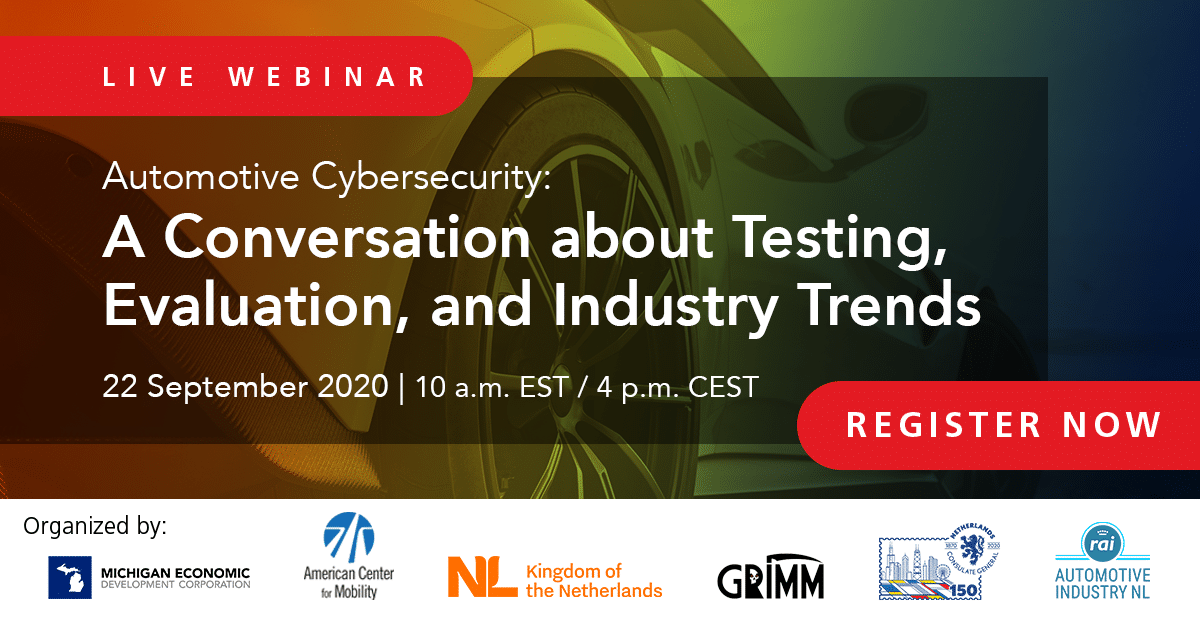 Automotive Cybersecurity: A Conversation about Testing, Evaluation, & Industry Trends
Sep
22,
2020
10:00 am - 12:00 pm
As the automotive industry embraces the future of advanced transportation mobility, the conversation about cybersecurity is increasingly important. This conversation will focus on cybersecurity testing and industry trends for connected, automated, and electric vehicles. This will be a high-level discussion on the risks and rewards of advanced transportation mobility and practices to increase the cyber resilience of connected vehicles and the world in which they operate.
Who Should Attend: Automotive professionals and stakeholders interested in the advancement of automotive cybersecurity.
About GRIMM: GRIMM, a cybersecurity research firm located in Michigan, is dedicated to supporting the automotive industry through their Cyber-Physical Systems security team through advanced systems research, software engineering, and penetration testing. GRIMM has a new cybersecurity lab located on-site at the premier connected and automated vehicle testing facility, the American Center for Mobility located in Ypsilanti, Michigan.
About American Center for Mobility: American Center for Mobility is a collaborative effort comprised of government, industry, and academic organizations. ACM is focused on accelerating the mobility industry through research, testing, standards development, and educational workforce programming. Located in Southeast Michigan on over 500-acres at the historic Willow Run site, the ACM offers a global smart mobility test center providing a safe platform for the integration and testing of emerging vehicle and mobility technologies, environments for showcasing vehicle technologies and convening industry activities, and a technology park for the co-location of mobility companies. For more information, visit acmwillowrun.org.
This webinar is organized by the Michigan Economic Development Corporation, the Kingdom of The Netherlands, GRIMM, the American Center for Mobility, the Netherlands Consulate General in Chicago, and the RAI Automotive Industry NL.