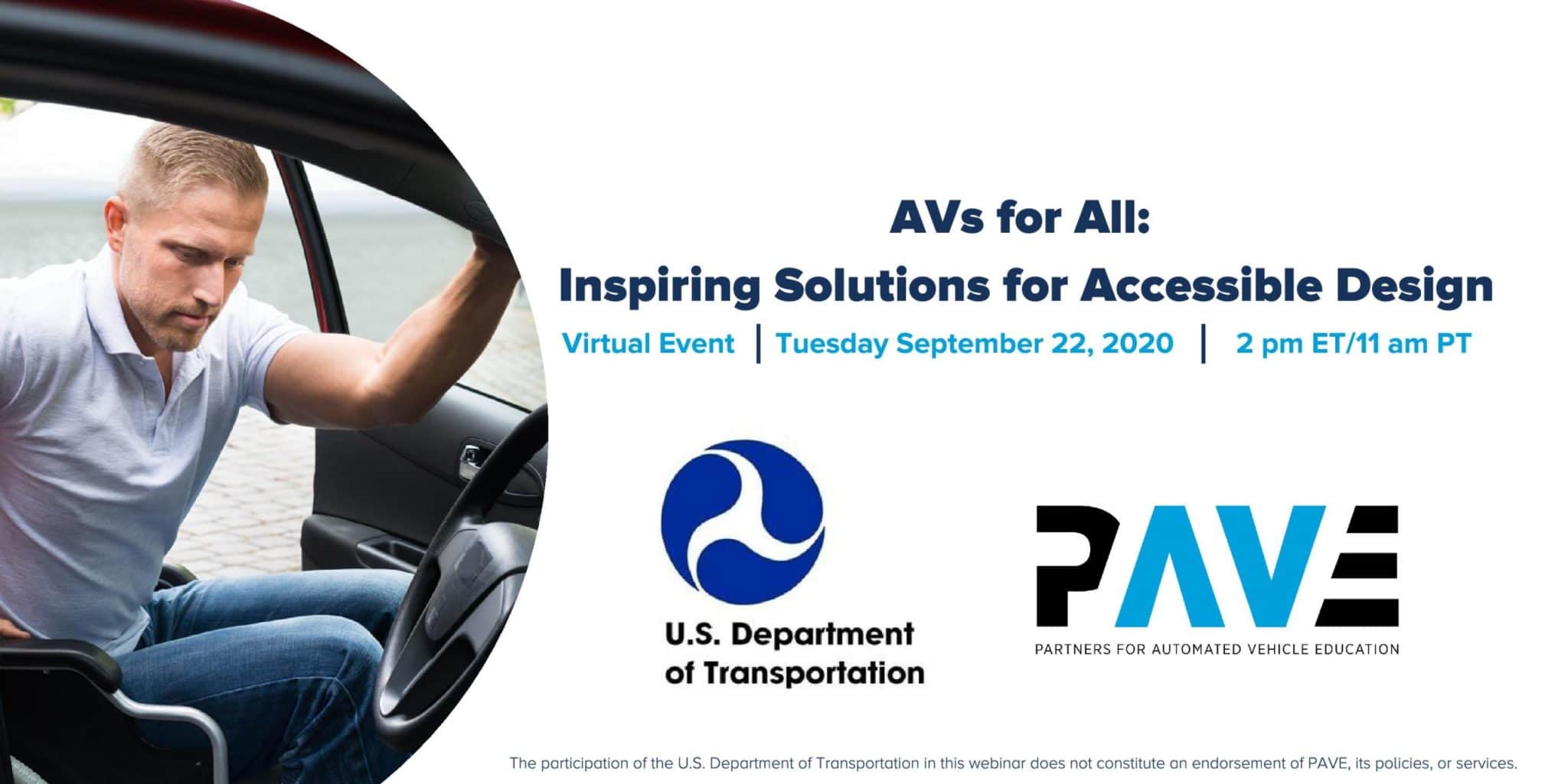 AVs for All: Inspiring Solutions for Accessible Design
Sep
22,
2020
2:00 pm - 3:30 pm
On September 22, Partners for Automated Vehicle Education (PAVE) and the U.S. Department of Transportation will host a virtual seminar entitled "AVs for All: Inspiring Solutions for Accessible Design." The webinar will focus on the potential for automated vehicle technology to provide people with disabilities with new transportation options to access jobs, healthcare, and other essential services. The virtual conversations will help to highlight the USDOT's 
Inclusive Design Challenge
, which offers a total of $5 million in rewards for innovative solutions to improve passenger vehicle accessibility. Submissions for the challenge are due on Oct. 30.
Registration is free and available 
here
.
Webinar Agenda
Welcome from PAVE
Conversation with USDOT: Introducing the Inclusive Design Challenge
Accessibility Technologies for Autonomous Vehicles: The State of the Art, and Areas of Need

Dr. Rory A. Cooper, University of Pittsburgh
Robert Sheehan, USDOT Intelligent Transportation Systems Joint Program Office

Principles of Universal Design and Autonomous Vehicles

Dr. Susana Costa, University of Minho
Carol Tyson, DREDF (Disability Rights Education and Defense Fund)

Practical Advice on Inclusive and Accessible Design

Dr. Shani Jayant, Inclusive Mobility Initiative at Volkswagen Group of America
Dr. Clive D'Souza, University of Michigan

Closing remarks