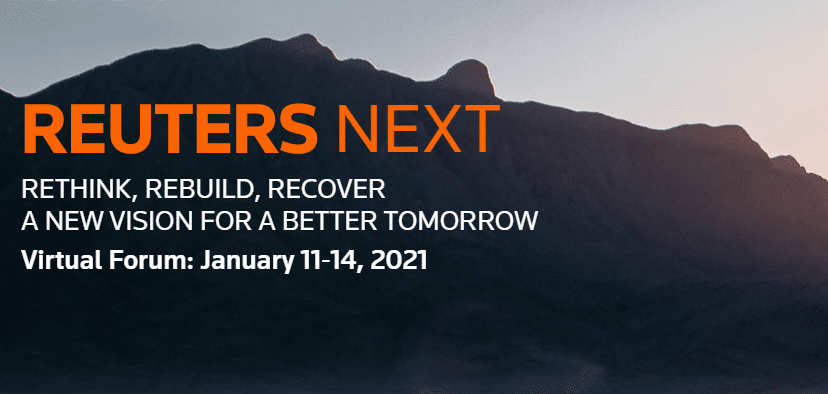 Beyond the echo chamber: REUTERS NEXT
Jan
11,
2021
(12:00 AM)
-
Jan
14,
2021
(11:59 PM)
The greatest decisions in business are made when we listen to different voices beyond our echo chamber.
That is why REUTERS NEXT (Jan 11-14, 2021) is curating the most diverse and truly global collection of speakers of any event in 2021. Each speaker is being chosen for their unique perspective on the biggest issues facing business and society today. It's where leaders can come to challenge their views and hear different perspectives.
Join other industry experts in the AutoVision News ADAS Insiders Community today for early and exclusive access to industry news, events, business directory, and much more.
New voices confirmed this week:
Peter Wennink, Chief Executive Officer, ASML
Mahathir Mohamad, Former Prime Minister of Malaysia
Alan Joyce, Chief Executive Officer, Qantas
Ann Daniels, Polar Explorer        
Tsitsi Dangarembga, Award-winning Zimbabwean Author
Bahren Shaari, Chief Executive Officer, Bank of Singapore
Patricia Espinosa, Executive Secretary, UNCFCCC
Salman Khan, Founder & Chief Executive Officer, Khan Academy
Rod Sims, Chair, Australian Competition & Consumer Commission
Ravi Muthayah, Secretary-General, Malaysia Plantation & Commodities Ministry
Fred Hu, Chairman, Primavera Capital Group
Bhavish Aggarwal, Co-Founder & Chief Executive Officer, Ola
Natarajan Chandrasekaran, Chairman, Tata Group