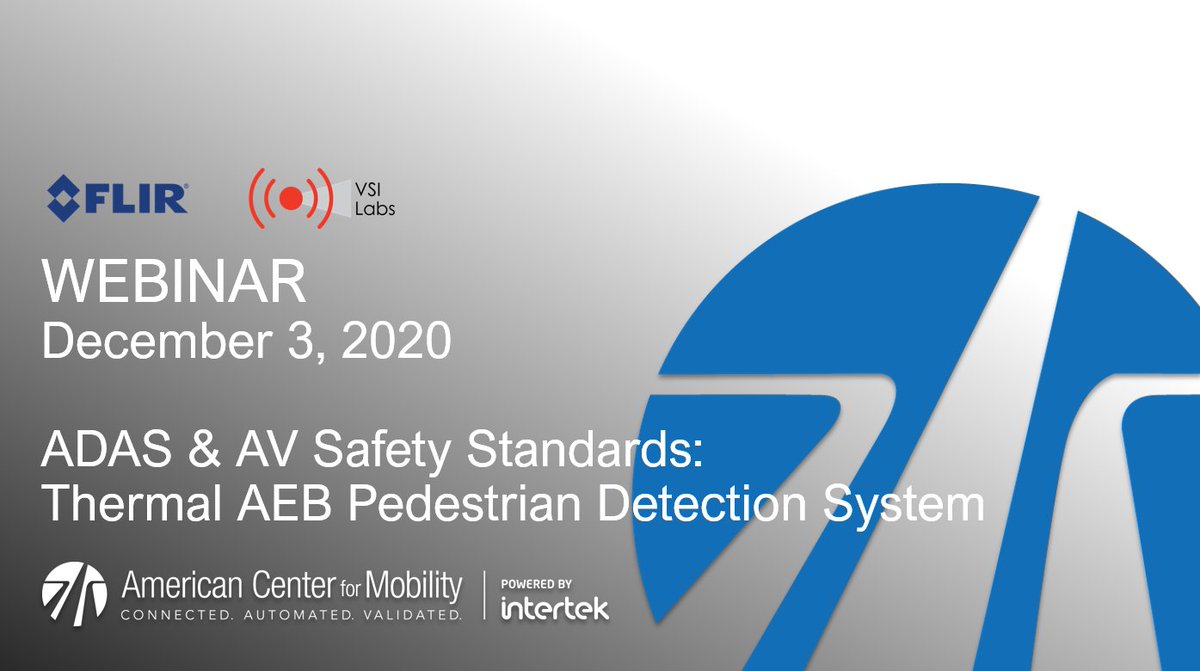 ADAS and AV Safety Standards: A Case Study on Thermal AEB
Dec
03,
2020
2:00 pm - 3:00 pm
Join leading engineers from VSI, FLIR, American Center for Mobility (ACM) and Intertek on Thursday, December 3, as they discuss the development, testing, and results of their groundbreaking Thermal AEB Pedestrian Detection System.
In July 2020, representatives from VSI Labs, FLIR Systems, ACM and Intertek came together to test a new sensor suite approach to Automatic Emergency Braking (AEB). Together, they used VSI's research vehicle, FLIR's thermal cameras, and test equipment on road environments at the American Center for Mobility's Smart Mobility Test Center in Ypsilanti, MI to test these innovative technologies against Euro NCAP standards alongside other commercially available systems. The system was tested for:
Light sensitivity (darkness and sun glare)
Thermal detection
General vision and response
Repeatability
Standards compliance
The event represented the culmination of months of work developing a first-of-its-kind AEB system using a thermal camera, radar, visible camera, and a convolutional neural network.
Join other industry experts in the AutoVision News ADAS Insiders Community today for early and exclusive access to industry news, events, business directory, and much more.
In this webinar you will learn about:
Thermal AEB Technologies and how they can keep pedestrians safe
How engineers approach testing new ADAS technologies
Results and insights to ADAS Thermal AEB test and validation