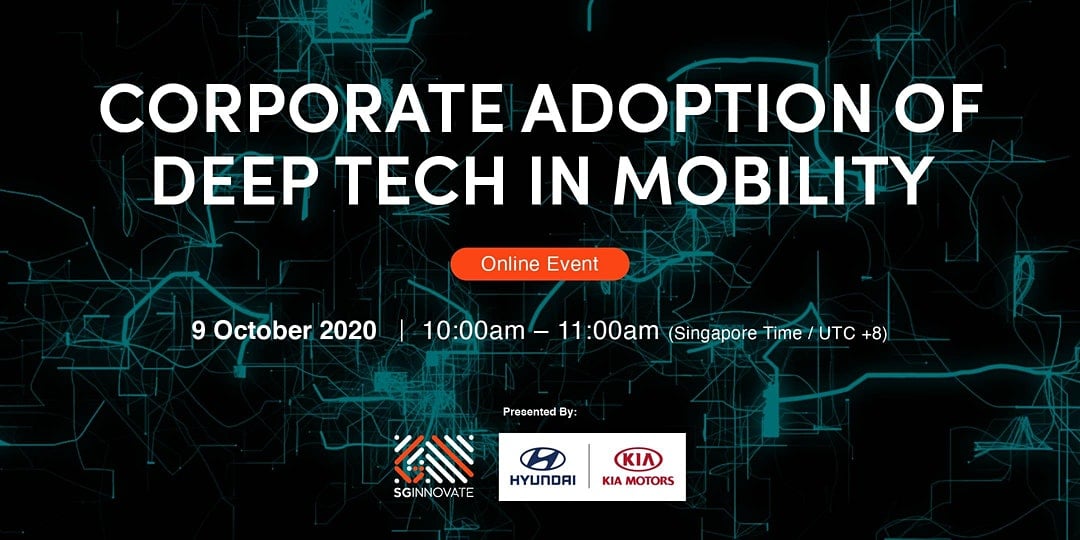 Corporate Adoption of Deep Tech in Mobility
Oct
09,
2020
10:00 am - 11:00 am
About this Event
Corporates often have to find a differentiator point to set their business apart from competitors. Working with startups could enable established corporates better achieve their competitive edge in today's digital economy.
Startups often develop some of the latest technologies and innovations that may disrupt entire industries. However, startups in the mobility space often face the challenge of selling to or working with the world's largest automotive and mobility brands. Although corporates are beginning to recognize the missed opportunity if startups are not sufficiently engaged, there are still many factors for such a relationship to be established.
In this session, join our speakers to understand more about investor-corporate-startup collaborations in the mobility sector. Learn more about the various viewpoints and considerations corporates may have as they consider to engage more with and adopt solutions by startups.
Date: 9 Oct 2020, Friday
Time: 10:00am – 11:00am (Singapore Time / UTC +8)
Program Details:
10:00am – 10:05am: Opening Remarks
10:05am – 11:00am: Panel Discussion and Q&A
Keith Noh, Head of Startup Incubation Team, Hyundai Motor Group
Daniel Chow, Vice President, ComfortDelGro Ventures
Khoo Teng Lip, Head, ST Engineering Ventures
Moderator: Tong Hsien Hui, Executive Director – Venture Investing, SGInnovate
Speakers' Profiles:
Keith Noh, Head of Startup Incubation Team, Hyundai Motor Group
Daniel Chow, Vice President, ComfortDelGro Ventures
Khoo Teng Lip, Head, ST Engineering Ventures