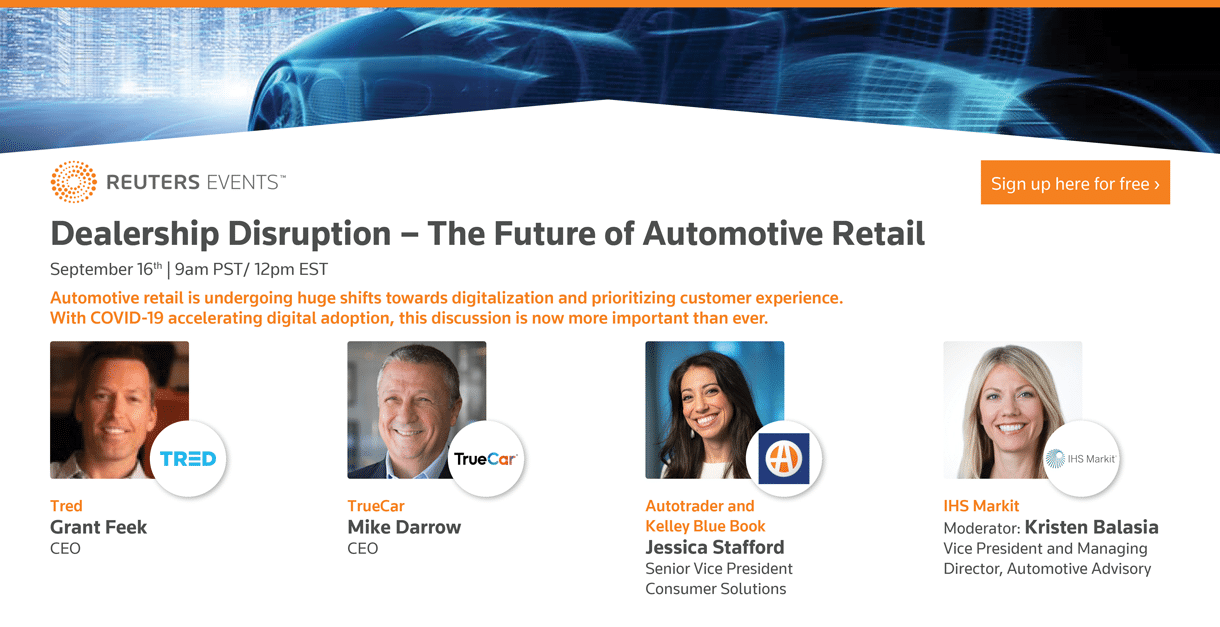 Dealership Disruption Webinar – Reuters Events
Sep
16,
2020
5:00 pm - 6:00 pm
Automotive retail is undergoing a major transformation towards digitization and enabling a new customer experience. With COVID-19 accelerating the need for digital capabilities, this discussion is now more important than ever.
In this webinar we will look at the future of automotive retail and dealership strategy.
• What does the future dealer relationship look like? Transform and modernize the retail engagement experience
• Buyer Journey: How do we understand and best serve the needs of today and tomorrow's consumer in a seamless online and offline experience?
• How far will digital reach? What is the new role of brick & mortar showrooms
Join other industry experts in the AutoVision News ADAS Insiders Community today for early and exclusive access to industry news, events, business directory, and much more.
Learn from:
Mike Darrow, CEO, TrueCar
Grant Feek, CEO, Tred
Jessica Stafford, Senior Vice President Consumer Solutions, Autotrader and Kelley Blue Book
Moderator: Kristen Balasia, Vice President and Managing Director, Automotive Advisory, IHS Markit