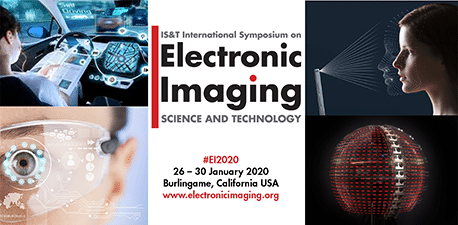 Electronic Imaging 2020
Jan
26,
2020
(12:00 AM)
-
Jan
30,
2020
(11:59 PM)
Electronic Imaging 2020 brings together 17 technical conferences covering all aspects of electronic imaging:
(Note: The Photography, Mobile, and Immersive Imaging (PMII) and Image Sensors and Imaging Systems (IMSE) conferences have merged into the Imaging Sensors and Systems (ISS) Conference for 2020.)
Electronic Imaging 2020 highlight for topics new to EI:

TECHNICAL SHORT COURSES
Short courses taught by experts from academia and industry augment the main technical program of symposium plenary, conference keynote, and oral and interactive (poster) presentations.
OPEN ACCESS PROCEEDINGS
IS&T EI proceedings are Open Access. For IS&T EI proceedings, open access means that papers will be downloadable in their entirety for free in perpetuity. Copyright restrictions on papers may vary, please see individual papers for copyright details. Click to go to the Proceedings of the IS&T International Symposium on Electronic Imaging.
…AND MORE
Technology demonstrations by industry and academia participants, poster presentations, social events, and a focused exhibition showcase the latest developments driving next generation electronic imaging products.
Imaging is integral to the human experience—from personal photographs taken every day with mobile devices to autonomous imaging algorithms in self-driving cars to the mixed reality technology that underlies new forms of entertainment.
Come to EI 2020, to learn about and share the latest imaging developments from industry and academia.