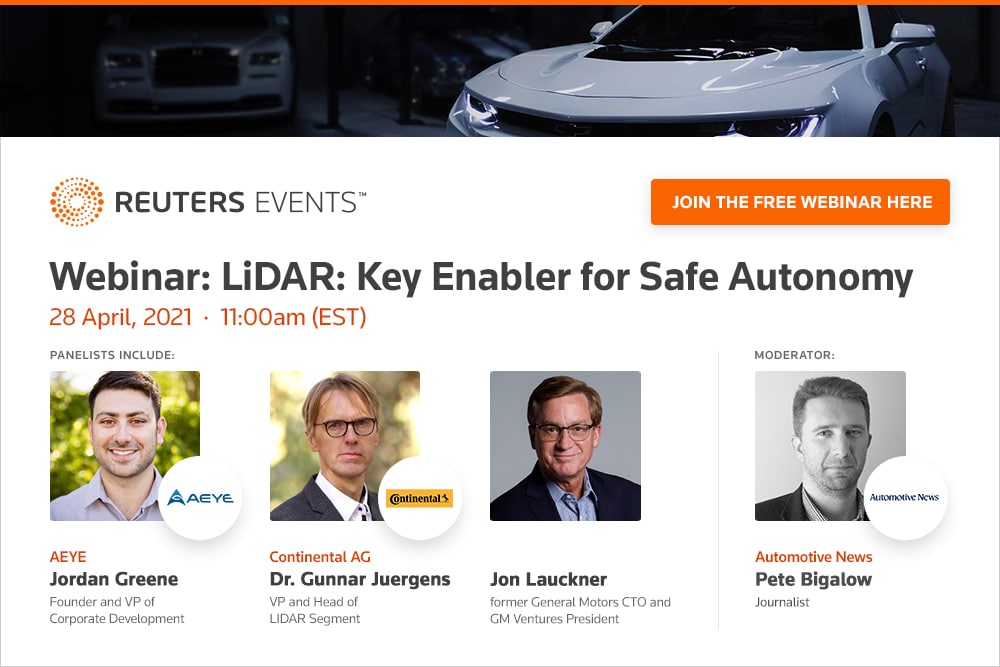 LiDAR: Key Enabler for Safe Autonomy Webinar
Apr
28,
2021
11:00 am - 12:00 pm
Safely deploying L2+ through L5 autonomy is one of the greatest challenges facing OEMs. LiDAR is seen as critical to these deployments with different performance thresholds depending upon the desired autonomous feature or functionality, such as highway pilot.
This webinar will delve into the business drivers for higher-level ADAS functionality, the use cases for automotive LiDAR, and the implementation and integration requirements for safe autonomous driving.
The live discussion will cover:
● The economic drivers for L2+ to L5 autonomy
● The difference with software-driven LiDAR
● The threshold of performance relative to features and SWaPc
Hear from:
– Jordan Greene, Founder and VP of Corporate Development, AEye, Inc.
– Dr. Gunnar Juergens, VP and Head of LiDAR Segment, Continental
– Jon Lauckner, Former Chief Technology Officer and GM Ventures, General Motors
Moderator: Pete Bigelow, Senior Reporter, Automotive News
If you are not able to join on the day, sign up anyway to receive the recordings.