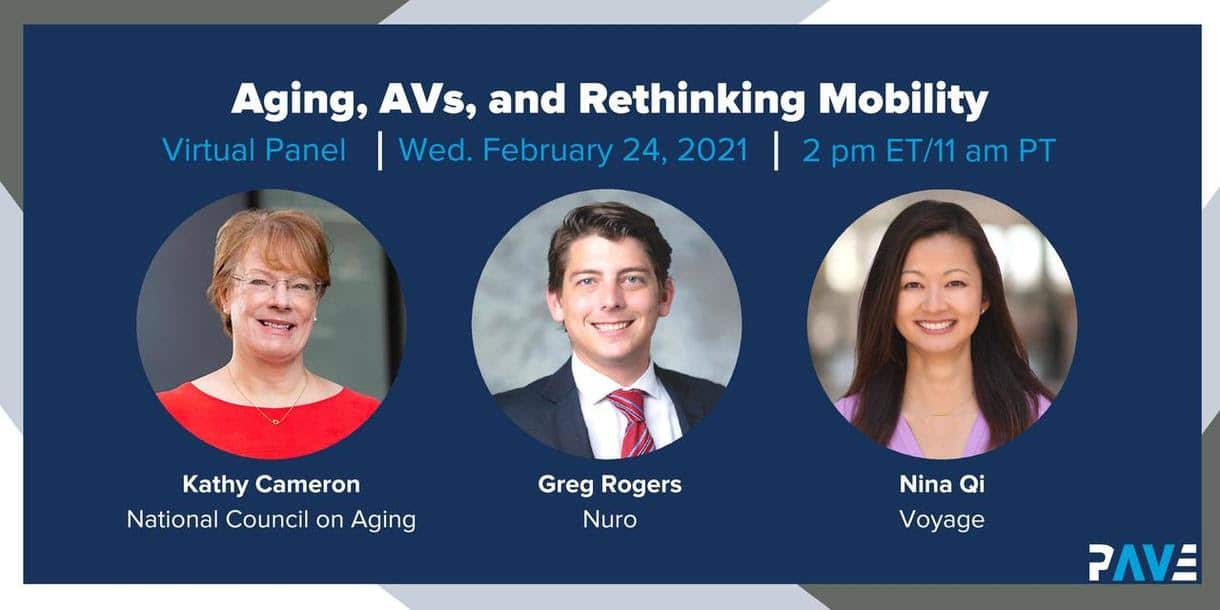 PAVE Virtual Panel: Aging, AVs, and Rethinking Mobility
Feb
24,
2021
2:00 pm - 2:30 pm
As we continue our February focus on equity and AVs, this virtual panel will look at older adults and how AVs could increase mobility options for this growing demographic. Many older adults face reduced mobility — both due to difficulties operating a vehicle and limited transportation options — which complicates essential daily tasks, such as attending doctor appointments, buying food, and remaining connected with others.
About one-third of Americans 65 and older have limited access to mobility, and this population is expected to grow to 83.7 million by 2050. Our panel brings together experts from PAVE companies Nuro and Voyage, who are working to improve mobility for older Americans, and a leader from the National Council on Aging. The group will discuss the importance of considering the needs of older adults as we develop new vehicle technologies and re-think mobility.
Join other industry experts in the AutoVision News ADAS Insiders Community today for early and exclusive access to industry news, events, business directory, and much more.
Panelists:
Nina Qi – Chief Operating Officer, Voyage
Greg Rogers – Public Policy Manager, Nuro
Kathy Cameron – Senior Director, Center for Healthy Aging, National Council on Aging