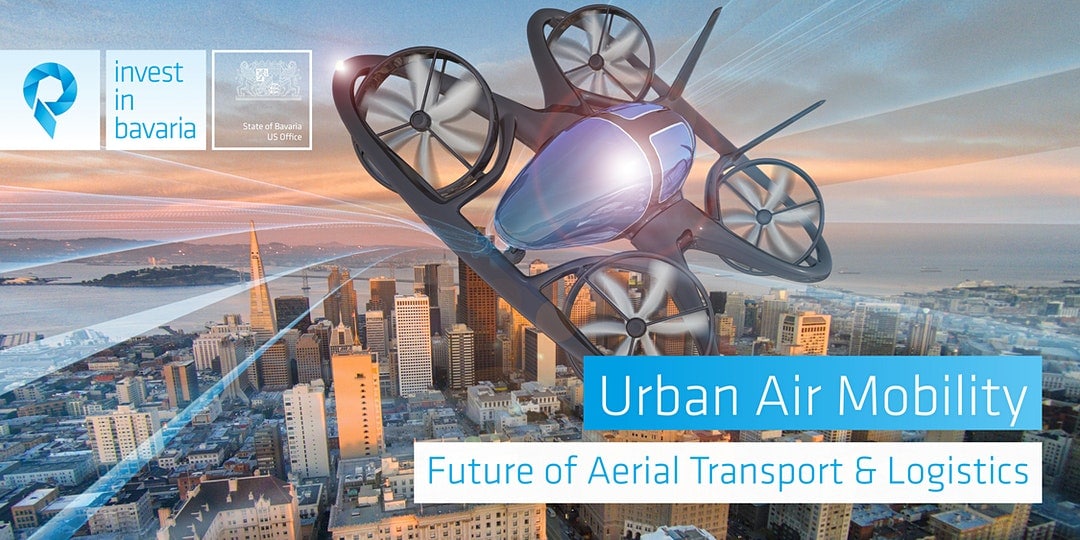 Urban Air Mobility 2020: Future of Aerial Transport & Logistics
Oct
22,
2020
6:00 pm - 9:30 pm
Urban Air Mobility 2020: Future of Aerial Transport & Logistics will feature Keynotes, Panels, Demos, and Networking. This half-day conference will offer entrepreneurs, R&D experts, executives, VCs, and strategic investors the opportunity to exchange on UAM topics with German and European initiatives, institutions, corporates, and startups in the field…🛫🚁🔋
3 exciting keynotes and 2 thought-provoking panels will cover topics such as: The Future of UAM, Market Potential, Technology, Infrastructure, and Operations & Regulations. We are thrilled to provide North American and European companies with a platform to exchange on sustainable technology and business concepts that bring regional development, the environment, and society into focus. Stakeholders from across the Urban Air Mobility arena — from the public and private sectors to academia — will come together to address one of the most pressing issues of our time: the future of urban mobility!
Selected startups in the UAM space will also have a chance to demo or pitch their products & services while attendees can get to know each other via speed-networking on another channel during the conference. Later in the afternoon we will host a virtual Bavarian Happy Hour!
Agenda
Main Stage
09:00 AM Welcome & Introduction
09:10 AM Keynote: Industry Forecast
Dr. Stephan Baur – Roland Berger – Principal
Manfred Hader – Roland Berger – Senior Partner
09:40 AM Panel: Infrastructure
Julia Thayne – Los Angeles, Mayor Eric Garcetti's Office – Mobility Innovation
Dr. Tassilo Wanner – Lilium – VP Public & Regulatory Affairs
Eric Bartsch – VerdeGo Aero – CEO / Co-Founder
Adrienne Lindgren – Hyundai Motor Group, Urban Air Mobility Division – Lead State & Local Partnerships
Chad Sparks – Bell – Director of Strategic Campaigns
10:25 AM Coffee Break
10:45 AM Keynote: Technology
Simon Briceno, Ph.D. – Jaunt Air Mobility – Head of Advanced Air Mobility
11:15 AM Panel: Platforms, Smart Procurement & Collaborations in the eVTOL Era
Michael Buthut – BrigkAir – Startups & Strategic Partnerships
Jia Xu, Ph.D. – Honeywell Aerospace – Sr. Director Strategic Planning
Gary Gysin – Wisk – CEO
Romain Legast – AIRBUS Urban Mobility – Head of UAM Procurement
12:00 PM Keynote: Operations & Regulations
Eric Allison, Ph.D. – Uber – Head of Uber Elevate
Demo/Pitch Stage
Pitches will happen parallel to the Main Stage events throughout the morning.
Moderators:
Andrea Linder, DBA Candidate (Dissertation Urban Air Mobility), Westcliff University
Lena Maria Ludwig, Project Manager, International Investment and Expansion, Bavarian US Offices
Live Networking
Connect and talk with other attendees between 09:10 AM – 12PM.
Bavarian Happy Hour
Mix & Mingle with attendees at our Bavarian Happy Hour!