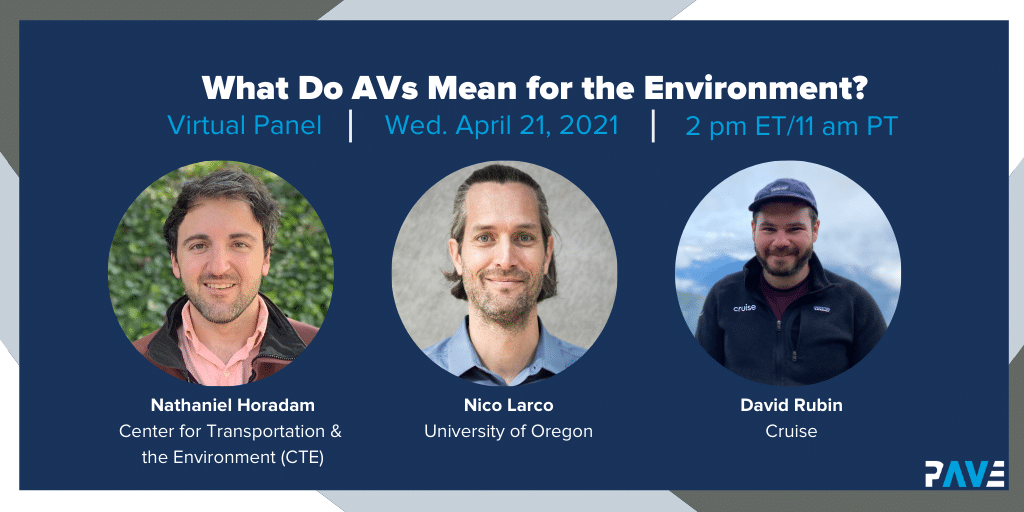 PAVE Virtual Panel: What Do AVs Mean for the Environment?
Apr
21,
2021
2:00 pm - 2:30 pm
Like all technologies, AVs will be what we make of them. For Earth Day, we examine the role that AVs could play in improving sustainability, and what it takes to ensure that this technology represents a positive step forward for the environment. 
We have assembled a panel of experts from industry, nonprofits, and academia who will help us explore this topic, answering questions such as: What are the costs of our current transportation system, and how can innovation drive better outcomes? What are the potential environmental benefits of automation? And can we drive positive environmental outcomes by creating zero-emissions, zero-driver self-driving fleets?
Panelists
Nathaniel Horadam – Managing Consultant and Automated Vehicle Specialist, Center for Transportation and the Environment (CTE)
Nico Larco – Professor of Architecture and Urban Design, University of Oregon
David Rubin – Public Policy Manager, Cruise