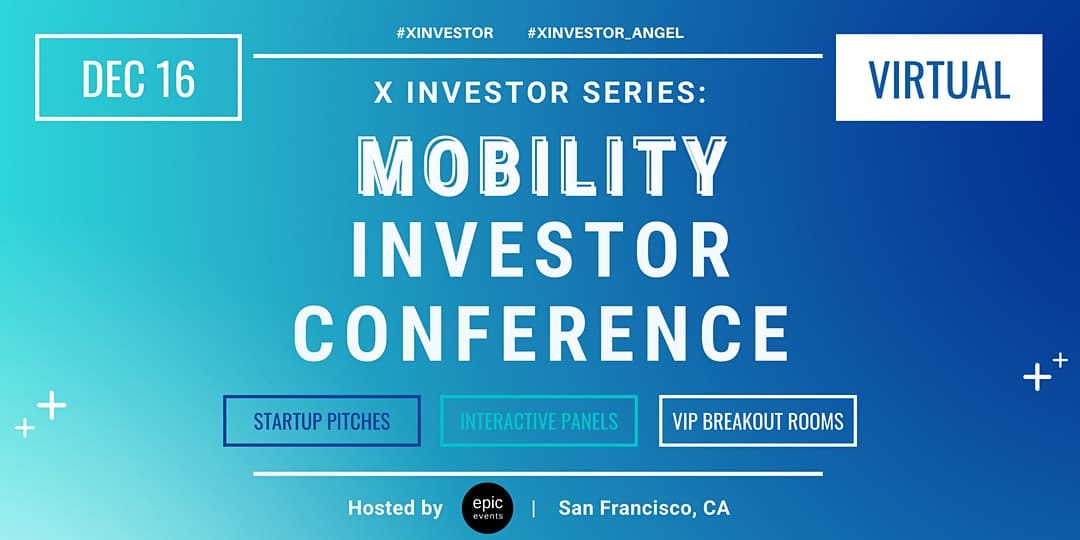 X Investor Series: Mobility Investor Conference (on Zoom)
Dec
16,
2020
9:00 am - 3:00 pm
X Investor is a new global virtual venture conference series connecting primarily Silicon Valley-based angel investors, venture capitalists, corporate VCs, technology transfer professionals, university researchers, incubators, and premier service providers, with senior executives of venture backed, emerging and early stage companies. Whether you are an investor seeking access to new deals, or founder and/or CEO of a new venture looking for funding, visibility and growth, X Investor Conference Series is a conference series you won't want to miss.
Mobility Investor Conference is the third conference in the X Investor conference series, and the most exciting Mobility Investor conference to bring together active investors in top mobility startups. It is organized by Epic Events based in San Francisco, CA. The speaker lineup features prominent and up-and-coming mobility investors and founders.
This is a virtual event, and you will be able to join us online from the comfort of your own home to learn from the greatest minds in mobility startup investing. You'll hear what is top of mind for mobility investors and network with a global community of fellow mobility pioneers, and leverage the best part of a COVID-induced virtual world: being able to connect with and hear from your esteemed peers where distance is no longer relevant!
Want to Pitch?
If you want to present at this event, please purchase the appropriate Pitching Startup ticket and submit your application here: https://bit.ly/3bgiDtK.
Conference Breakdown
Starting at 9:00 AM PDT, Mobility Investor Conference will be broken up into three sections with two 15-minute breaks and one 30-minute lunch break. Our keynote speakers will receive 15 minutes each to share their most impactful insights. We will end the event with an exclusive 45-minute VIP Virtual Networking Session (must purchase ticket with VIP).
Agenda (All Times In PDT)
9:00 am – Opening Remarks
9:05 am – Investor Panel (30 min)
9:30 am – Pitch (1 hr)
10:30 am – Break (15 min)
10:45 am – Pitch (1.5 hr)
12:15 pm – Break (30 min)
12:45 pm – Investor Panel (30 min)
1:15 pm – Pitch (1 hr)
2:15 pm – VIP (45 min)