As the global automotive industry continues to develop higher levels of ADAS technology, autonomous vehicles have moved from pipe dreams to potential reality. Yet, not one person or company, or country is responsible for this shift on the roads. Innovative solutions, insights, and collaboration between other professionals are the key to the evolution of safer driving. The 2022 Innovation Connectivity Autonomous Summit, set for May 30th and 31st in Munich, Germany, operates on this principle of collaboration.
"We all know there are various levels of automated vehicles, but what can we expect to see, and what is more, is that our entire automotive industry is being redefined by fast-changing technology," said Michael Mataciunas, General Manager of Inlinum, organizers of the 2022 ICA Summit. "As a result, it is important to consider how manufacturers and supplies will integrate key connectivity requirements and achieve advanced levels of autonomous driving."
2022 ICA Summit: Key Areas of Focus
The Innovation Connectivity Autonomous Summit (ICA Summit for short) will focus on six main areas regarding future mobility.
#1: Road To The Future
This area will focus on how the concept of mobility is trending toward connected, autonomous, shared, and electrification (or CASE). The 2022 ICA Summit will cover driverless robotaxi services, near-future autonomous vehicles, and topics related to the digitalization of the next generation of vehicles. Autonomous vehicle outlook and industry forecasts will also be discussed.
"ADAS is expected to grow even further in demand," Mataciunas added. "However, as a young technology, there are many aspects to consider during development and implementation to build a viable system."
#2: Mapping a Tech Revolution
This section will cover individual ADAS technologies. Topics include intelligent actuators, sensor technologies like radar and LiDAR, emergency braking, backup cameras, adaptive cruise control, and self-parking systems.
Other topics include cloudification with high-definition maps, traffic data, and algorithms for object detection; autonomous vehicle simulation, testing, and validation; sophisticated software architecture and utilizing the full potential of AVs, along with artificial intelligence and deep-learning for developing self-driving cars.
#3: Regulations & Safety Standards
This area will dive into safety standards and legislation, guidelines for adopting connected and autonomous vehicles, and the future EU approval framework for highly-automated driving systems. Related to those subjects are discussions on harmonization of vehicle regulations (WP.29), autonomous vehicle testing legislation, and the regulatory framework for development and validation. Liability changes and driving regulations will also be discussed.
"The lack of regulations strongly affects the usage of such cars, which makes it challenging to gather the required amount of data for future developments," Mataciunas said. "This also exposes the situations where during the accident it is not clear which side is responsible: driver or system developer – issues that many insurance companies face."
#4: Tracking The Technology Revolution
This category will discuss integrating drivers' connected lifestyles through digital services like automotive loT. Industry experts will examine topics like in-car voice assistants, connected entertainment systems, 5G and its impact on connected vehicle technology, and the role of new telematics systems. Connected vehicle technologies set to be covered include V2I, V2V, V2C, V2P, and V2X.
#5: UX/UI For Autonomous Cars
This part of the program questions how autonomous cars can change the user experience. Topics of discussion will revolve around how to create seamless and intuitive vehicle user experiences, UI and UX design components, and UX challenges and opportunities.
"It's challenging to understand how customers react to particular ADAS features to develop a reliable system," Mataciunas said. "For example, some users feel irritated by the ADAS alerts, and others tend to show more risky behavior due to trust in the technology. These behavioral aspects are to be considered when developing an ADAS system."
#6: Challenges In Autonomous Vehicle Development
This category will focus closely on the current limits in pushing forward with AVs in the mass market. Speakers will be covering autonomous system security and cybersecurity threats to consumer privacy. Other topics will look at consumers directly, including what role drivers and passengers will have in this new paradigm and how society may or may not accept autonomous cars.
"Autonomous cars are smart devices that process huge amounts of data and store user information. This brings a series of challenges for the developers related to cybersecurity," Mataciunas explained. "Data storage, electronic systems, software, and other components are exposed to cyber attacks."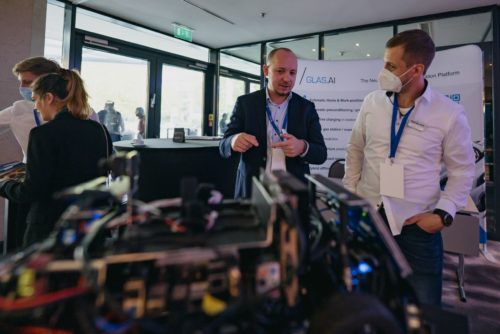 Expert Speaker Lineup
Attendees of the 2022 ICA Summit will benefit from both panel discussions and individual presentations. Confirmed speakers of the event are:
Prof. Thomas R. Koehler: Chairman of the Event
Firas Lethaus: Head of Deep Learning Expert Center, Volkswagen AG
Dr. Sascha Semmler: Head of Innovation, Continenal
Dr. Jürgen Dickmann: Head of Radar and Radar Perception, Mercedes-Benz AG
Paolo Foglino: Head of ADAS, Lotus Cars Limited
Nitish Sundarasan: Product Manager – Digital Ecosystem & Touchpoints, Automobili Pininfarina
Norm Marks: Global Senior Director, Automotive, Nvidia.
Adam Kozlowski: Head of Automotive R&D, Grape Up.
Attending The 2022 ICA Summit
The 2022 ICA Summit will be held on Monday, May 30th, and Tuesday, May 31st in Munich, Germany, at the Leonardo Royal Hotel. Registration and ticket information can be found here. Those wishing to speak at the 2022 ICA Summit or a future Inlinum event can inquire here. Sponsorship opportunities are also available.
"Attendees will be able to approach exhibitors and exchange contact details while enjoying delicious coffee and canapés," Mataciunas said. "At the end of the first day, attendees will have the opportunity to extend their networking in an exclusive cocktail reception."