Thinkware and Brodmann17 are developing an ADAS Aftermarket Device as part of a new collaboration. The goal is the successful deployment of an NCAP-certified, deep learning-based unit that brings the benefit of ADAS technologies to vehicles already on the road. The partnership combines the established strengths of both companies: Thinkware's presence in the dash cam market and Brodmann17's software-only perception technology for ADAS and automated driving.
What is an ADAS Aftermarket Device?
The device allows those with older cars, or those managing existing fleets, to have easier access to ADAS technology. "The ADAS Aftermarket Device started with the vision of bringing these lifesaving features of near-accident warnings to market as soon as possible," said Adi Pinhas, CEO and Co-Founder of Brodmann17. "Integrating these technologies into vehicles takes time and replacing existing fleets will also take time, but aftermarket devices can be installed immediately."
The ADAS Aftermarket Device also collects data in an effort to help companies better manage their fleets. "Beyond providing warnings to drivers in real time, they also collect data in the cloud for fleet driver grading and scoring for insurance purposes," Pinhas continued. "These technologies are now connected devices that help fleet managers to better understand near-accident events."
The ADAS Aftermarket Device may require a professional installer, although some drivers and fleet managers may be able to complete the install themselves.
Americans Keep Their Cars for Longer
Thinkware and Brodmann17 believe the ADAS Aftermarket Device has long-term benefits for the average consumer, and are engineering the unit with everyday drivers in mind. An IHS Markit study last year found the average age of cars and light trucks in the United States is 11.8 years. Based on prior data, the industry can anticipate that figure of 11.8 years to rise again. For example, the U.S. Department of Transportation's 2017 National Household Travel Survey revealed the average vehicle age increased from 9.3 years in 2009 to 10.5 years in 2017.
"The 40 percent drop in new vehicle sales due to the recession created an acceleration in average age like we've never seen before," said Mark Seng, Director, Global Automotive Aftermarket Practice at IHS Markit. "In the last couple of years, however, average age has returned to its more traditional rate of increase."
Consumers who see value in ADAS technologies, but own an older vehicle with a limited number of them – or no ADAS technologies at all – may gravitate toward something like this device. "Full market adoption of cars with integrated technology will take many years," Pinhas explained. "Aftermarket devices close the gap with the existing vehicles on the road today."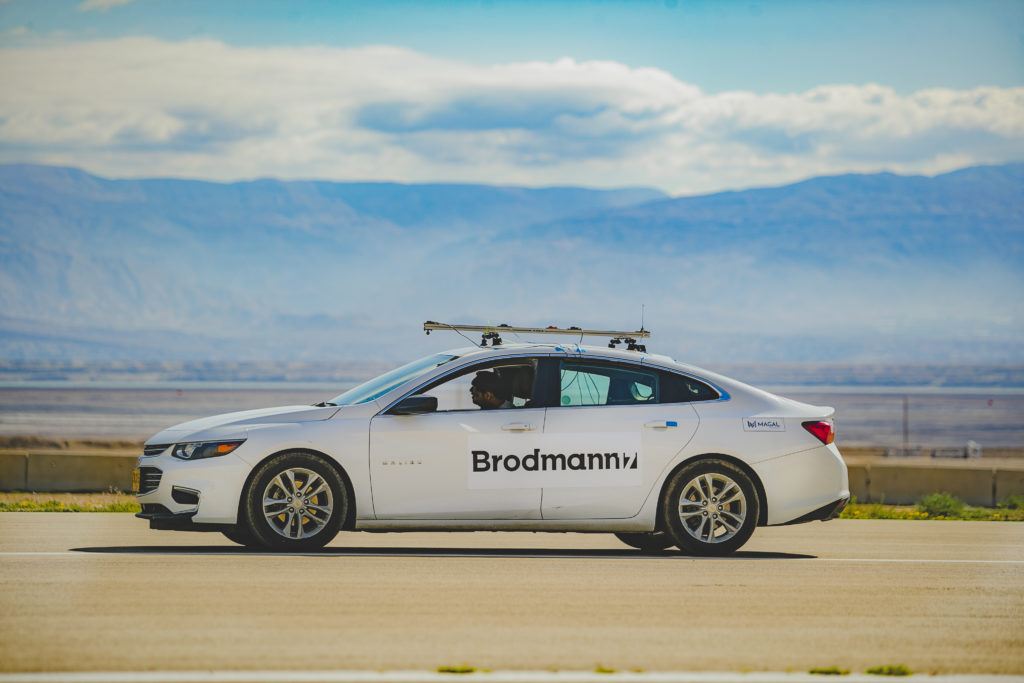 No Hardware Upgrades
Brodmann17's low-power deep learning is a core feature of the ADAS Aftermarket Device. The companies say the integration of Brodmann17's low-power deep learning means increased accuracy for a new generation of Thinkware ADAS. The introduction of deep learning allows Thinkware to maintain the same hardware as their current dash cam offerings.
"Brodmann17's technology exceeded our expectations in terms of agility and accuracy," said Daewon Kim, Director for VC Development at Thinkware. "The high performance based on the ARM Cortex Processor enabled Thinkware to improve our ADAS object detection capabilities without upgrading our hardware platform."
"Deep-learning is the best algorithm now available for computer-vision applications; it outperforms any classical vision algorithm," Pinhas added. "But bringing these AI algorithms to the aftermarket is a challenge of price, power, and heat dissipation."
Not That Simple
Since the ADAS Aftermarket Device is highly competitive on price, they cannot readily support high-end AI processors because they don't have active cooling. "Yet they still must be highly reliable and effective, otherwise they will not meet the needs of drivers," Pinhas said.
Developing the device with a range of vehicles in mind, each with different heights, dimensions, and windshield angles also presents its own unique challenges. And since some of the devices are installed DIY, it must be able to calibrate itself quickly and effectively. "While the aftermarket devices might appear simple, they are in fact more advanced than other integrated solutions from an engineering point of view," Pinhas added.
ADAS Aftermarket Device: Testing & Adoption
The device was tested with NCAP for aftermarket standards in addition to different tests from the manufacturers. The ADAS Aftermarket Device remains in a constant loop of testing, with Thinkware and Brodmann17 evaluating the data received on a regular basis. Adoption of the device will vary, according to Pinhas.
"In countries like Korea, regulation is evolving and commercial drivers must install them now to meet new mandates," he said. "In the US, fleet management is booming so installation of this tech is driven by those specific needs."