AMS–ABB survey says EV regulatory timelines are unachievable, offers the current status of sustainability targets, and reveals industry insight into workforce challenges and adaptations.
ABB Robotics (ABB), a multinational company based in Zurich, and Automotive Manufacturing Solutions (AMS), a leading industry publication, in their joint 2022 Automotive Manufacturing Outlook Survey, captured feedback from nearly 600 automotive experts around the globe, offering a broad sweep of industry sentiment toward electrification and sustainable manufacturing targets. The survey also pinpointed the main challenges in manufacturing, with workforce concerns taking a top spot.
In addition to outlining where they stood on targets and workforce challenges, survey respondents revealed innovative ways their organizations are stepping up to the plate. Companies are not only pursuing new areas for vertical integration, like joint ventures for battery Gigafactories, but also developing proprietary charging infrastructure and making plans for EV platform sharing. The industry-wide emphasis on sustainability is inspiring some OEMs to secure raw minerals by partnering with mining companies. To alleviate workforce challenges, leading strategies include digitalization and data management, automation and robotics, upskilling and education, and partnering with academia.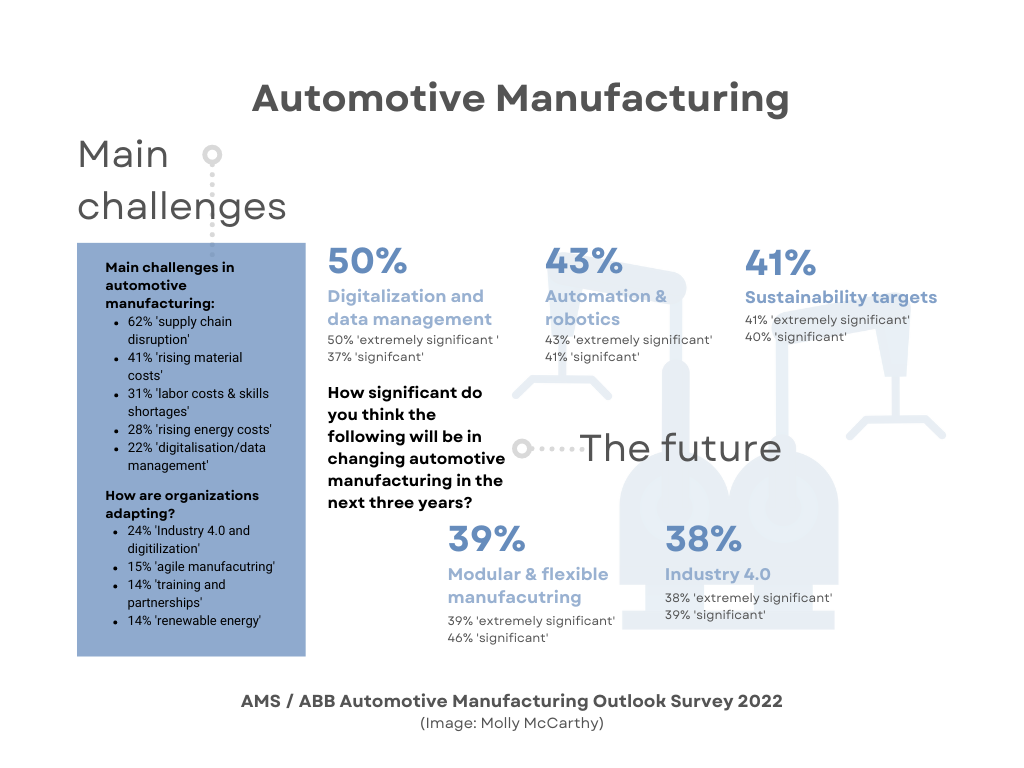 The "Adapt or Die" Mindset
When probed about the main challenges in automotive engineering, 62 percent said supply chain disruption, parts shortages, and unpredictability. 41 percent cited rising material costs and component prices, 31 percent pointed out growing labor costs and skill shortages, 28 percent said rising energy costs, and 22 percent said digitization and data management.
The survey revealed how organizations are embracing the adapt-or-die mindset, focusing on ways to address the industry's most pressing challenges. According to respondents, Industry 4.0 and digitalization is the predominant new approach (24 percent said so), followed by agile manufacturing (15 percent), training, upskilling, and academic partnerships (14 percent). Other notable approaches included renewable energy and sustainability, localization, diversification and multi-sourcing, energy cost reduction initiatives, and automation.
Looking to the future, respondents detailed which technologies they believe will have a significant impact going forward. 87 percent said digitalization and data management will have an extremely significant or significant impact. 84 percent said automation and robotics, 81 percent said sustainability targets, 85 percent referenced modular and flexible manufacturing, and 77 percent pointed to Industry 4.0.
Proprietary Data Islands
With digitalization and data management taking the lead at 87 percent, the question is, where will the combo have the most impact? Daniel Harrison, an automotive analyst at AMS, envisions them solving the inefficient way the automotive industry and supply chain operate in data silos, or what he calls "proprietary data islands." Harrison is not alone. Dave Opsahl, CEO of Actify, has the same view, explaining how the discussion around these proprietary data islands has happened before but never gained traction. So, while digitalization and data management are happening successfully on the production line, that efficiency level is absent at the front end.
Why has this been such a sticking point? Harrison contends companies guard their data for fear of competitors using or exploiting it. Still, he indicated, there's a groundswell of support for sharing data to improve efficiency, optimize supply chains, and become resilient to shortages and disruption – all issues that became center stage through the pandemic.
"Increasingly, cloud-based systems are being implemented across the industry to enhance visibility and provide transparency all the way from the upstream raw materials to components, vehicle assembly, logistics, and end-of-life recycling," Harrison said. "From a manufacturing perspective, digitalization and data management are vital not only for supply chain optimization but also in the tracking of processes and components to allow precise measuring of energy usage and the continuous optimization of automated processes."
Opsahl would like to see suppliers and OEMs look hard at the lack of standards for exchanging digital data at the front end during design and sourcing. "Every OEM has different requirements, forcing the suppliers to behave differently every time," he said. "As sophisticated as we've seen, OEMs will give suppliers a portal or license to go into their design system, pull out the information they need, and that's the extent of it. The waste that occurs is phenomenal, and it hurts both of them."
The role of the program manager overseeing this function is under particularly high stress. "82 percent of their time is spent retrieving or relaying status information and almost always after the fact," Opsahl said. "Meaning program managers have no visibility into problems that may be brewing."
Electrification & Regional Adoption Targets Split 60/40
Questioned on EV adoption targets, ranging from 2030 to 2040, depending on the region, more than half of the respondents believe the shift to 100 percent electrification is unrealistic by legislative deadlines. Nearly 60 percent think targets will not be met by the proposed dates or never see it happening. Conversely, about 40 percent believe target dates will be met with a varying degree of difficulty. For the 59 percent who believe EV adoption targets are impossible to achieve within the current legislative timelines, Harrison offered insight into what the majority saw as the obstacles.
"First and foremost is developing sufficient charging infrastructure," he explained. "Improving EV range while also bringing down EV cost, and consumer resistance to EVs is also likely to be a major factor."
Harrison likewise noted the challenges around building the battery supply chain. "Not only the Gigafactories but the upstream components and for the raw materials – there simply isn't enough capacity at present," he continued. "Moving all production to EVs within two or three product cycles is also a huge business and logistical challenge."
Harrison shared the rationale for the 39 percent who believe deadlines are achievable, though simultaneously noting there would be challenges.
"Unprecedented investment in Gigafactories, upstream mining capacity, EV technology, and converting vehicle assembly lines is occurring at an astonishing pace," he said. "Some OEMs are even stating they may be ready to start selling 100 percent EVs before 2030, assuming consumer demand is there and charging infrastructure is in place. So, it is possible to meet the deadlines if there is the will to do so. Of course, legacy OEMs are eager to hang on to profitable ICE vehicle sales for as long as possible – but the solution is to bring down battery prices so that EVs eventually also become as profitable to manufacture."
So, why the 60/40 split?
Harrison contended that it boils down to external factors around charging infrastructure, battery supply chains, and how every OEM and supplier is at a different stage in the transition to electrification. Offering a supplier's perspective, Opsahl said: "The way I look at these numbers is the 40 percent are optimists, and the 60 percent are realists."
Opsahl believes the misperception among the optimists and those setting the deadlines comes from Norway's success: Norway expects to be fully electric by 2035 and will likely achieve it earlier. "People tend to hold that up as a light post and say, 'If they can do it, we can too,'" he said. "They fail to go back and look at how long-ago Norway started working toward that goal, and all the things they did to get ready for it, none of which we're doing of any consequence."
As football fans learned from Will Farrell's Super Bowl LV commercial, Norwegians are "beating us at EVs" – nearly 80 percent of vehicles sold there in 2022 were electric. According to the World Economic Forum, Norway's accomplishments are attributed to policy measures and the country's wealth, ironically derived from its vast oil reserves. They've offered significant subsidies and exempted EV purchases from hefty taxes typical with ICE purchases. Norway also offers free parking incentives, making the switch more appealing. And their reliance on hydropower means driving an EV there is more environmentally friendly than driving one in the United States. Education has also played a vital role, as Norwegians already understand how electrification will benefit society. 
"We don't have anything close to that," Opsahl said. "So, funding some of those things, getting this to work across 50 states is just something [that's not realistic]. Until [we] get a better set of plans, you can count me in the realist category."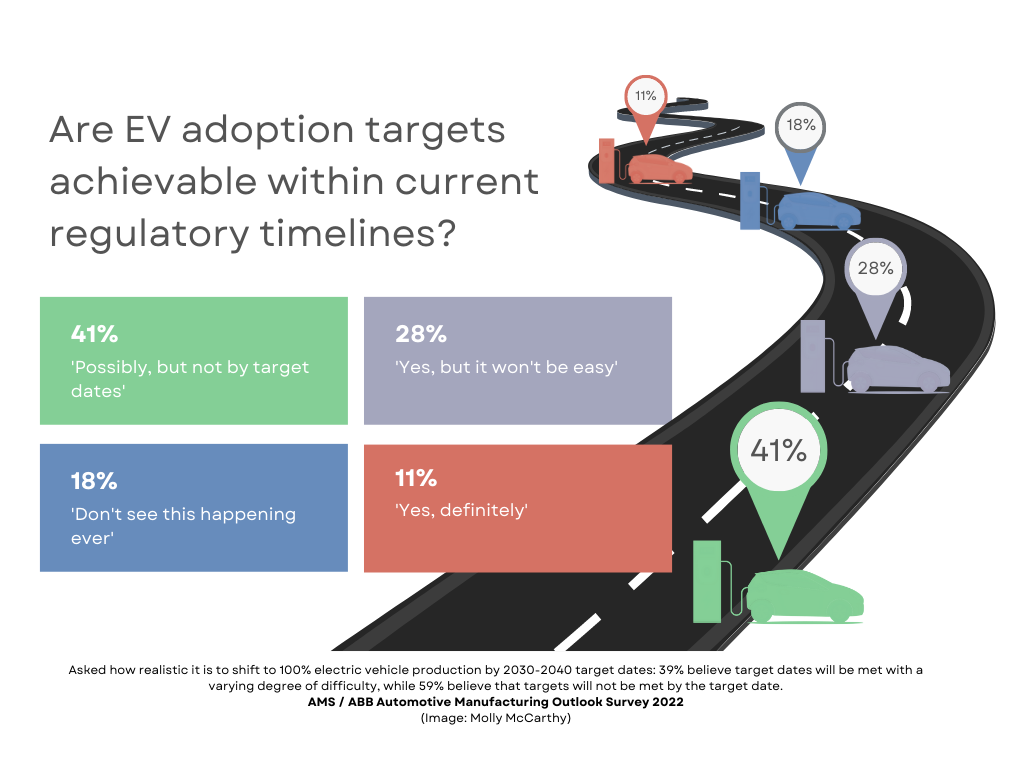 Barriers & Restrictions
The 2022 AMS-ABB Automotive Manufacturing Outlook Survey identified and ranked a range of barriers and constraints around electrification. Stated barriers to 100 percent electrification by proposed target dates included:
19 percent: Adapting to the new battery supply chain.
16 percent: High levels of capital investment required.
14 percent: Too rapid a pace of change.
8 percent: Refitting and adapting existing production lines and plants.
Constraints to electric vehicle growth in the survey were identified as:
26 percent: Lack of charging infrastructure.
12 percent: Slow technological advances in EV range and charging performance.
8 percent: Constrained upstream battery supply chain.
7 percent: Consumer resistance to EVs.
7 percent: Lack of battery cell Gigafactory capacity.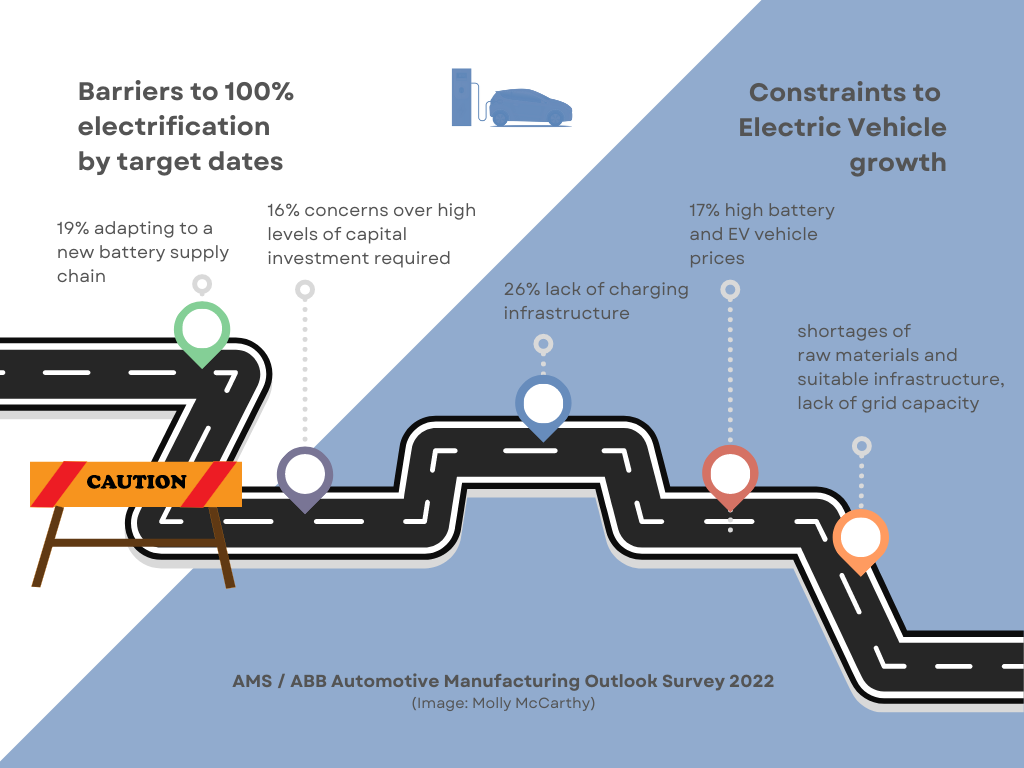 Sustainable Manufacturing Targets
The AMS-ABB survey revealed that most automotive experts (96 percent) expressed optimism about achieving sustainable manufacturing targets, albeit with varying degrees of difficulty. In comparison, only a tiny minority (four percent) believed it would not be possible.
What is sustainability in automotive manufacturing, and what are the targets? At its most basic level, it's the intention or action plan to minimize production waste and the environmental impact of vehicle production. Moving away from materials that cannot be reused or recycled, sourcing raw materials from good actors and tracing their progress through to production, and ensuring sustainability in each stage of production and after vehicles hit the road, i.e., reducing carbon emissions, with the goal of becoming carbon-free, as directed by the Paris Agreement and measured via Environmental, Social, and Governance (ESG) metrics set for each organization.
The varying degree of difficulty with which these goals can be accomplished "clearly depends upon which manufacturer, component, and position within the extended automotive supply chain you are operating within as to how easy it will be to implement sustainable manufacturing," Harrison said, noting that some aspects, such as vehicle assembly lines, are moderately easy to electrify with renewable-only energy.
"However, some aspects, such as paint shops, may still require gas," Harrison continued. "Metal and glass components can, in theory, be 100 percent recyclable, yet plastic and rubber components are harder to recycle. And steel manufacturing requires a huge amount of energy, usually coal or gas, to produce the necessary high temperatures, something that is hard to make emission-free."
The survey identified various barriers to achieving sustainable manufacturing targets, with cost being the chief impediment (24 percent said so), followed by renewable energy sourcing (15 percent), and addressing recycling challenges (12 percent). Other barriers included implementing new manufacturing processes, reducing energy consumption, difficulty conducting a carbon impact assessment, using new materials, and waste disposal problems.
"It must be said that progress is slow for achieving sustainability within the industry," Harrison explained. "Cost dominates the factors. A way the industry is addressing the cost is to rebrand sustainability from being a cost burden to becoming a consumer selling point."
84 percent of survey respondents believed automation and robotics will have a positive impact in the next three years.
"Automation is key to making production more resilient, efficient, and faster to meet these targets, which is why we're seeing high demand for our robots specializing in EV powertrain assembly," said Joerg Reger, Managing Director of ABB Robotics Automotive Business Line. "These solutions radically reduce build times, improve flexibility, simplify the production process, and ultimately drive down production costs."
Workforce Challenges & Program Intensity
The survey revealed that 31 percent of respondents view workforce challenges as the third most pressing topic in automotive manufacturing. More than half (56 percent) emphasized the scarcity of specific skills and requirements for new knowledge as a significant concern. 48 percent noted that new skills are needed to address the fast-changing automotive landscape. The survey also offered insight into curative and preventative ways organizations are adapting.
Commenting on what's behind these numbers, Harrison explained that ever-increasing electronics in vehicles and the shift to electrification require an understanding of their different characteristics – in other words, new workforce skills with a much greater emphasis on electronics, batteries, and software coding. In the meantime, increased vehicle manufacturing complexity (e.g., producing multiple powertrain types on one assembly line) requires a greater holistic understanding of processes and wider supply chains. Additionally, with increased automation, modularity, and flexibility in plants, workers need additional training to help them understand new automation processes.
Opsahl offered a glimpse of what he's seeing that supports the survey's numbers for growing labor costs and skills shortages. He believes there are a couple of things to consider, starting with how workers left their positions on the plant floor during the pandemic. "You had a general compression in the marketplace by more people rolling out of those roles into a different industry altogether, and then with the suppliers, in particular, trying to bring new people in. We know that was something that hit them equally hard across the board."
"Another area continuing to be a real problem," Opsahl said, "is that the number of automotive programs is growing substantially over the next three years."
Jake Saunders, Asia–Pacific director at ABI Research, referencing numbers from ABI's June 2019 Electric Vehicle Battery and Charging Technologies report, wrote last June: "ABI Research finds that there will be about 66 percent more automotive and parts programs established between 2021 and 2025, bringing the total to 2.75 million programs in 2025. As a result, this places an impossible ask on suppliers already operating at full capacity."
Opsahl explained how this dramatic increase puts undue pressure on suppliers because several things are happening simultaneously, and they make or lose money depending on how well they execute those programs. He said the burden in that position is such that people will stay in the role for two or three years, and then they'll switch companies. "Suppliers have a churn problem in a discipline central to how their businesses run," Opsahl continued. "It takes 18 months to train people, and they leave after three years, so suppliers spend all their time training new people."
In a press release on survey findings related to workforce challenges, ABB said the results display a need for education and upskilling opportunities at all levels and suggest more needs to be done to attract fresh talent. According to the survey, 58 percent felt training, upskilling, and education would improve the current skills problem. 20 percent championed in-house training to solve issues, while 12 percent believed in forging academic partnerships.
"From an early age, our outreach programs offer the opportunity to interact with robots through challenges and games, sparking an interest that can soon lead to a career working with the smart manufacturing solutions of the future," Reger said. "For example, ABB's PixelPaint system was developed with the help of a student at Norway's University of Stavanger."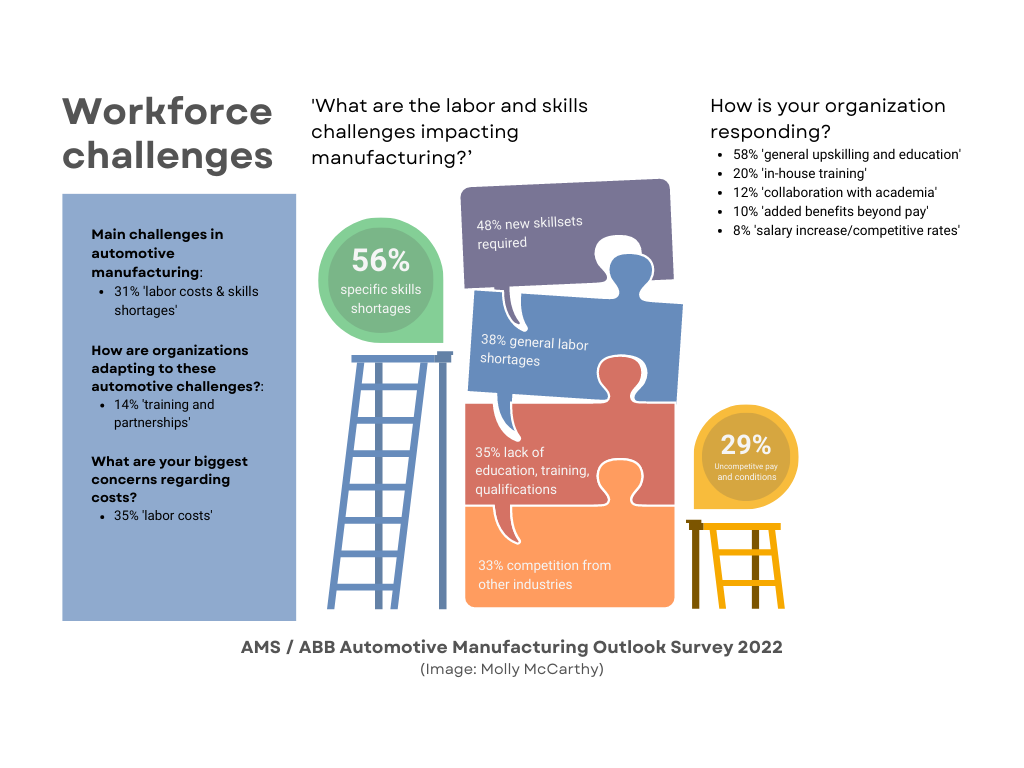 The New "Never Normal" of Automotive Manufacturing
Even off paper, it makes sense that progress toward electrification and sustainability is slow. ICE has been the norm for 110 years. On paper, Capgemini Research Institute, in an October 2022 study on sustainability in automotive, outlined that while "net zero targets are front of mind for automotive manufacturers," an array of obstacles are hampering progress. Capgemini Research Institute suggests that suppliers and manufacturers must put people at the "heart of the sustainable transition."
"The automotive industry does not often go through inflection points," Opsahl said. "The last inflection point I can remember that was this significant was back when they decided to stop being verticalized and really embrace the supply chain; that was 25 years ago. This here is more representative of what we're going to see. We're going to see automakers wanting to continue to figure out how to extract every last dollar out of the marketplace, whether it's electric or ICE or whatever." OEMs will continue to drive that, he added, but they're not going to have the same relationships with suppliers they've had in the past; those relationships will change.
"The automotive industry is entering an unprecedented period of change over the next 10 to 20 years. The regulatory push to electric vehicle powertrains and the sustainability mandates are huge challenges," Harrison said. "Combined with ever-growing electronics in vehicles for connectivity, increasing levels of automation in manufacturing, plus the impact of disruptors, create a dynamic environment for the industry."
"This is likely to be the new 'never normal,' which poses considerable challenges to how quickly the industry can transition to electrification and also wider manufacturing sustainability targets, especially during a period of great economic uncertainty," Harrison concluded. "Furthermore, within that context, challenges remain in the availability and cost of labor and how quickly large workforces can be reskilled."
The concerns raised by the 590 automotive industry experts who participated in the 2022 AMS-ABB Automotive Manufacturing Outlook Survey are not confined to the plant floor. Turn on any public news station, and you'll hear discussions of electrification and sustainability, albeit in consumer terminology: How can EV adoption be improved? What can we do about raw material shortages? How do we establish suitable infrastructure? What about the lack of grid capacity? Considering Will Farrell's EV ads for GM, it's evident these topics have been fully consumerized.
Even with the excitement around change and progress – or, as some may say, the frustration experienced both by those enduring the change and those observing its slow progress – we need to keep our eye on the prize: the people putting in the work to make all of this happen. It will be the combination of realists and optimists who will keep the assembly lines moving in a positive direction.