Over the past two years, the pandemic and supply chain shortages undoubtedly took a bite out of automotive manufacturers' earnings. But exactly how much did these delays and supply shortages cost automakers? Avnet Silica, a semiconductor distributor and specialist division of Avnet, Inc., analyzed financial records to understand the true cost to automakers. The study results in a breakdown of the financial losses, line stoppages, and new lead times to offer insight into the changing supply chain process and current shortages.
"While there are signs that semiconductor stocks are being replenished, a full return to normal is unlikely any time soon," explained Mat Ransom, Avnet Silica's Director of EMEA Supply Chain and Operations. "It would be convenient to blame the pandemic, but the reality is that these changes have been a long time coming. The continued rollout of 5G, electrification of the vehicle, and demand for data centers amongst other high-growth technologies have all contributed to an increase in demand which is unlikely to be fully met by the increase in semiconductor production in the next few years."
Automakers Missed Half a Trillion Dollars In Two Years
Avnet Silica analyzed the financial records of 16 automotive manufacturers who make up 80 percent of the industry's capitalization as of March 21st, 2022. Their research shows that automotive manufacturers have lost over $500 billion since the start of the pandemic.
Pre-Pandemic Trends vs. Reported Revenue in 2020 & 2021
If revenue had followed the pre-pandemic trends of the four previous years, automotive manufacturers in 2020 could have anticipated revenue of around $400 billion USD in Q2. With the onset of the pandemic and the uncertainty that followed, automakers fell short of this prediction by $166 billion in 2020's 2Q alone. Consumers returned by Q3 and Q4 with revenue increasing at the end of 2020. According to the above chart from Avnet Silica, the combined revenue of the world's top automotive manufacturers met pre-pandemic forecasts above $500 billion USD in the latter part of 2020.  
However, this increase toward pre-pandemic projections in 2020 Q4 did not last in 2021. Avnet SIlica's findings show a steady decrease in automakers meeting anticipated revenue in Q1 through Q4. Previous studies claimed a loss of around $210 billion, but this study tracks a $300 billion loss in sales.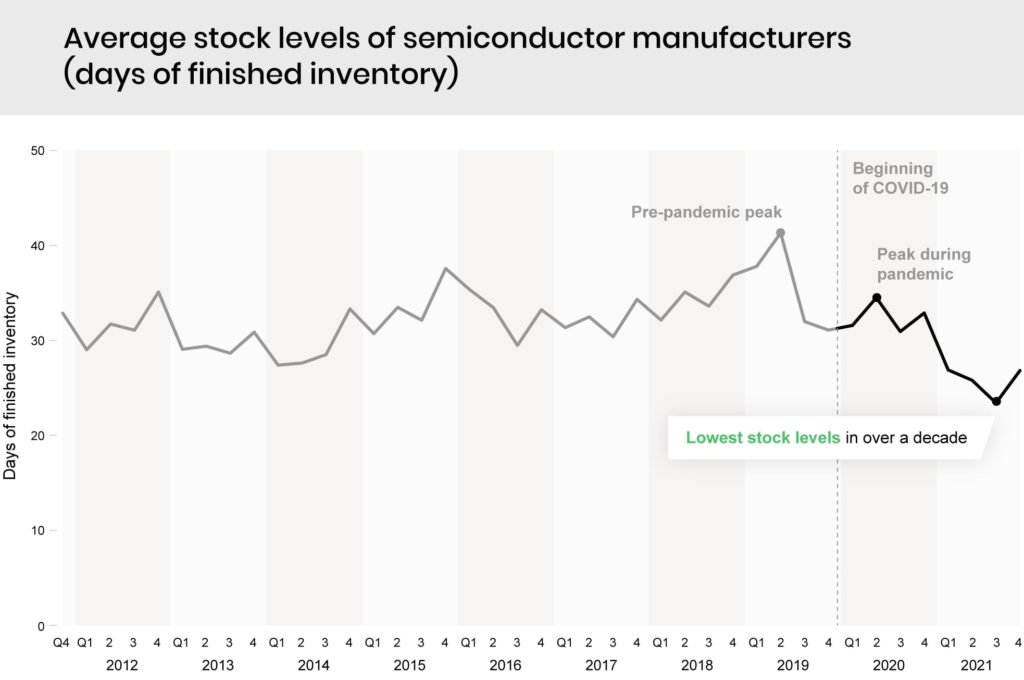 Decreased Availability & Increased Demand
Compared to average stock levels from 2012 to 2019, the data shows a 24 percent decrease in completed stock during the pandemic and a more dramatic plunge in 2021. By Q3 in 2021, the stock dropped by 43 percent to mark the lowest point in over a decade of semiconductor inventory. On the extreme end, some manufacturers' stock was as low as three days. By the end of 2021, the average of chip manufacturers' stock improved to 23 days (noted on the above chart).  
While automotive manufacturers initially decreased their forecasts in 2020, semiconductor demand only increased. For example, the pandemic sparked a reverse in the previously downward trajectory of PC sales (which had been dropping since 2011). A technology that relies on semiconductors, worldwide shipments of PCs jumped from approximately 262 million to 309 million units in 2020. In 2021, unit shipments marked another dramatic increase to around 340 million worldwide. Computers are only one element to consider. This increase doesn't account for other technologies people working from home need like smartphones, webcams, noise-canceling headphones, and dozens of other technologies, all reliant on semiconductors.
"Suddenly, you have millions of people working from home," Ransom added. "The demand for technology in general now shoots through the roof, which is a challenge to be met because of supply."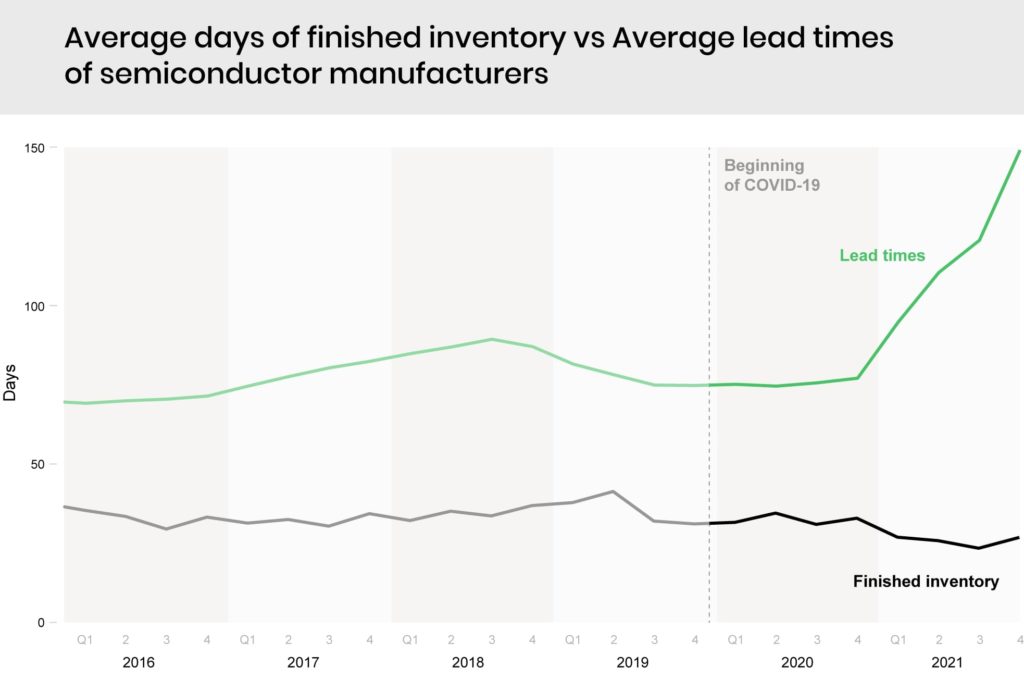 Longer Lead Times
Avnet Silica found that 70 percent of automotive manufacturers announced line stoppages in 2021. Out of these automotive manufacturers, 45 percent cited supply chain issues as the reason for halted production. Simultaneously, the average lead time increased steeply to about 150 days by the end of Q4 in 2021.
"The automotive industry relied on a 'just in time' mentality for many years and they got away with that because it always worked," Ransom said. "That has fundamentally changed. It's not 'what do I need to build in the next two weeks,' which was basically how the automotive industry operated. Now we are talking about what we need to build in 2026 and beyond."
How Much Is COVID Responsible For?
COVID-19 cannot claim all the fractures running along the supply chain. A quick list of the disruptions in the past two years would include a fire at a major semiconductor plant, shipping container shortages, the Suez Canal blockage, the port of Los Angeles becoming backlogged, and more. 
"I wouldn't say it's all because of COVID-19," Ransom explained. "You have things like 5G rollout and massive amounts of electrification of the vehicle, which drives demand way ahead of supply. However, COVID was really the straw that broke the camel's back and flipped the supply chain on its head."
Future of The Supply Chain
The Avnet Silica study shows some early signs of supply chain issues easing. The hope, as stated by Ransom, is that new best practices and standards will emerge to form a stronger, more connected supply chain. Semiconductor stock levels are rising along with collaboration between companies for the purpose of reconstructing the supply chain. Ransom observes a new trend he calls "OEM Orchestration" where automakers take a more active role further down the supply chain. Whether by joining in on negotiations or helping source the material for the product, that collaboration points towards a fundamental shift in how the supply chain operates. 
"The first step is to stop seeing the supply chain purely as a means for driving cost reduction. I think that is starting to happen now," Ransom said. "Incorporating longer-term planning as part of supply chain management is something that will ultimately help avoid these kinds of issues in the future."
Cover Photo: John F. Martin.