BMW i Ventures has announced its lead investment in Fox Robotics, creators of the Fox Bot automated forklift. According to a press release from BMW i Ventures, the oversubscribed funding round totaled $20 million, while additional new investors include Zebra Technologies, Japan Airlines & Translink Innovation Fund, and Foothill Ventures. Existing investors Menlo Ventures, ENIAC Ventures, and SignalFire also participated in the round.
Concurrent with the closing of the round, Till Reuter, former CEO of KUKA, and David Fuller, former CTO of KUKA and current CEO of Artificial, will join the company as independent board directors.
"Supply chain efficiency and resiliency are top of mind for many companies today. Fox Robotics' autonomous forklifts allow customers to handle loads quicker and safer while increasing overall workplace productivity," said Kasper Sage, Managing Partner at BMW i Ventures. "We're excited for Fox Robotics' next phase of growth, bringing intelligent automation solutions to the global supply chain."
Meet The Fox Bot
As described by Fox Robotics, the Fox Bot automated forklift is equipped with sensors and software to enable self-driving with precise navigation in any environment where pallets are present. The Fox Box can be up and running in an hour, can pull at least 25 pallets per hour, and can be programmed to recognize "no-go" zones. If necessary, the Fox Bot can be operated manually. Max payload is 3,000 lbs.
DHL Supply Chain, the global and North American contract logistics leader within Deutsche Post DHL Group, was Fox's first customer and is deploying its technology across a network of warehouses.
 "At DHL Supply Chain, a key focus has been our Accelerated Digitization Strategy which seeks to nurture and deploy innovative technology solutions at scale. For this program to be successful, it is important that we establish strategic partnerships with companies like Fox where we can collaborate to develop solutions that address the unique challenges of the logistics industry," said Sally Miller, Chief Information Office, DHL Supply Chain North America. "Over the past three years, we've worked closely with Fox testing and sharing operational knowledge, resulting in a product that delivers true value for our customers and warehouse associates."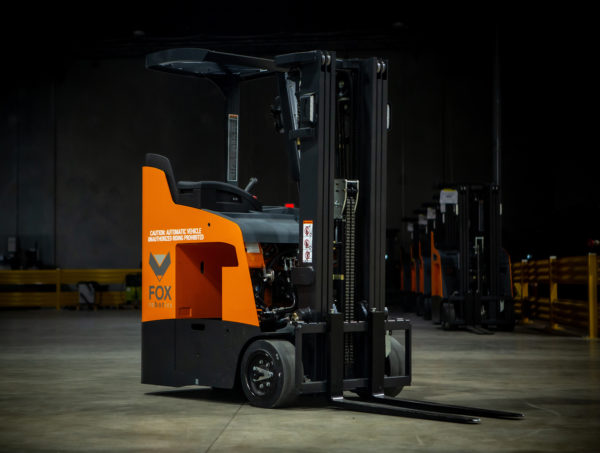 Commercial Applications
The press release from BMW i Ventures notes that although autonomous technology is not ready yet for mainstream deployment, it can be utilized in shipping, warehousing, and other commercial environments. For its part, Fox Robotics retrofits an otherwise standard forklift with deep learning systems that leverage cameras and LiDAR sensors to detect pallets, boxes, and other items. According to Fox Robotics, the Fox Bot can help companies save up to 30 minutes per trailer for loading and unloading. A single operator can manage anywhere from six to eight forklifts.
"At KUKA, we successfully optimized the production side with robots, and now Fox is well positioned to do the same thing with pallet movement," Reuter added. "It's almost hard to believe how effective they are even when you see them up and running right in front of you."