General Motors has announced a plan to turn its Detroit-Hamtramck assembly plant into a facility dedicated entirely to electric vehicle production. GM will attach the moniker "Factory ZERO" to the Detroit-Hamtramck plant, representing the direction the automaker wants to move in terms of future mobility. The name reflects GM's vision of a future with zero crashes, zero emissions, and zero congestion.
"Factory ZERO is the next battleground in the EV race and will be GM's flagship assembly plant in our journey to an all-electric future," said Gerald Johnson, GM Executive Vice President of Global Manufacturing. "The electric trucks and SUVs that will be built here will help transform GM and the automotive industry."
Substantial Investment
GM is investing 2.2 billion (the largest amount ever for the automaker in a single plant) for a complete retooling of Detroit-Hamtramck to build electric vehicles at scale. So far, GM has confirmed the production of the new Hummer EV and Cruise Origin at Detroit-Hamtramck. Both vehicles will utilize the automaker's Ultium battery platform, which GM has deemed the "heart" of its future EV lineup.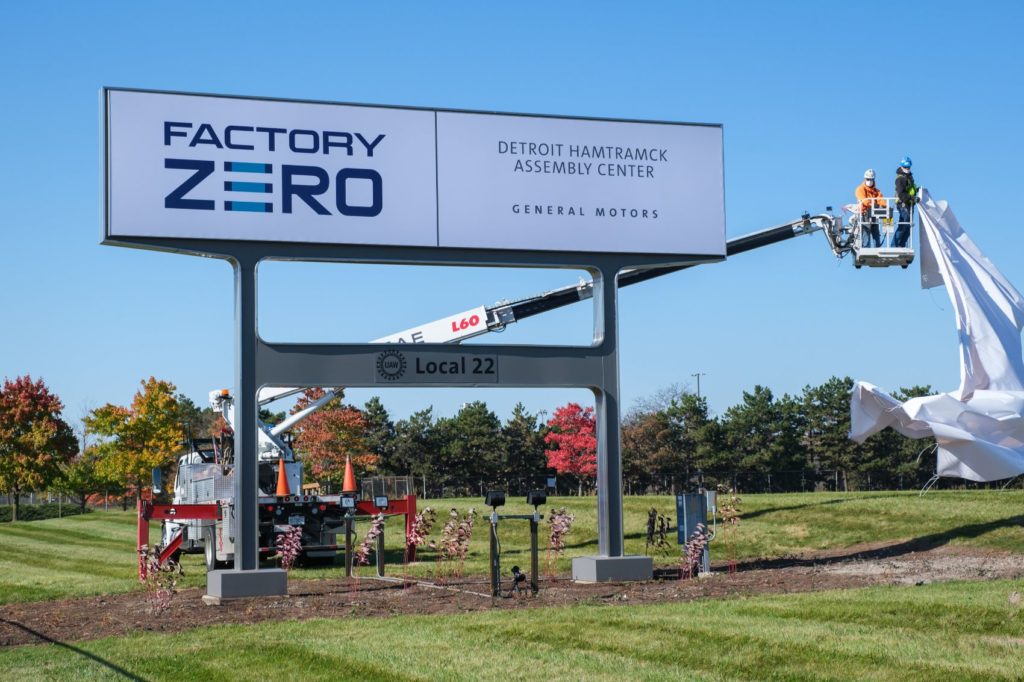 Commitment to Sustainability
Sustainable operations will be at the core of Factory ZERO, according to GM. For example, treated stormwater will be used in the cooling towers and the fire suppression system. And during the retooling and renovation process, otherwise wasted concrete has been repurposed into roadways. The site also features a 16.5-acre wildlife habitat home to monarchs, foxes, and turkeys. The effort has been recognized by the Wildlife Habitat Council. 
GM is using Factory ZERO as a platform to sourcing 100 percent of its U.S. facilities with renewable energy by 2030, and all global facilities by 2040. All DTE-supplied GM facilities in southeast Michigan, including Factory ZERO, will be powered by renewable energy by 2023. The factory also features a 30-kilowatt solar carport and 516-kilowatt ground-mount photovoltaic solar array from DTE.
"This manufacturing plant will be the epitome of GM's vision by sustainably manufacturing electric and shared autonomous vehicles that can help reduce crashes, emissions, and congestion," said Dane Parker, GM Chief Sustainability Officer.
A Storied Past
When it's fully operational, GM says Factory ZERO will provide 2,200 good-paying U.S. manufacturing jobs. Although the news is positive for Michigan, the story of Detroit-Hamtramck is not always a pleasant one in the state's wider history. The plant's development in the early 80s hinged on a controversial use of eminent domain, of which the Michigan Supreme Court would later side with General Motors. The remaining citizens of Poletown (the area where Detroit-Hamtramck assembly is located) were forced to vacate their homes to make way for the facility.
Controversy was sparked again when GM announced in late 2018 Detroit-Hamtramck would close along with its facility in Lordstown, Ohio. After backlash from local Detroiters, GM reversed course and announced in January new plans for Detroit-Hamtramck.