Hyundai Motor Group (HMG) announced its future roadmap for software-defined vehicles during the Unlock the Software Age online forum. The South Korean auto giant and its subsidiaries will invest 18 trillion won ($13 billion) to accelerate software-defined vehicle development by 2030. Part of the funding will go to a new Global Software Center to develop integrated software and hardware technologies to enhance the safety, security, driving performance, and over-the-air update (OTA) capabilities of new Hyundai vehicles and EVs.
"Creating visionary vehicles empowered with the ability to evolve through software will enable customers to keep their vehicles up to date with the latest features and technology long after they have left the factory," said Chung Kook Park, President and Head of R&D Division, Hyundai Motor Group.
OTA Updates Standard by 2025
More specifically, all new Hyundai and Kia vehicles will come with standard OTA update capability by 2025. The service covers all new electric and conventional gas-powered cars across the Hyundai Group's portfolio, giving its customers the power to remotely upgrade the functionality and performance of their vehicles without visiting a dealership.
From 2023 onwards, Hyundai will start introducing Connected Car Services (CCS) and Feature on Demand (FoD) to give customers the freedom to select certain vehicle features and functions that best meet their needs. "By transforming all vehicles to software-defined vehicles by 2025, Hyundai Motor Group will completely redefine the concept of the automobile and take the lead in ushering in a never-before-experienced era of mobility," Park added.
Next-Gen EV Platforms
The new Hyundai Ioniq 5, Kia EV6, Genesis GV60, and the incoming Hyundai Ioniq 6 all share HMG's dedicated E-GMP (Electric Global Modular Platform) architecture. Future vehicles under the Hyundai umbrella will ride on two brand-new Integrated Modular Architecture (IMA) platforms: eM and eS. The former is for new electric cars across all segments and will support Level 3 or higher autonomous driving and OTA capabilities. Hyundai claims its new eM EV platform could offer a 50 percent improvement in driving range over its existing crop of electric cars.
Meanwhile, the eS platform has a skateboard design and is exclusive for Purpose Built Vehicles (PBVs) running on electric power. The flexible and modular structure provides custom-built solutions for B2B companies in the delivery, car-hailing, and logistics industries.
"These new platforms are evolving under our Integrated Modular Architecture, which will lead to further standardization and modularization of core components of electric vehicles (such as batteries and motors) while offering advantages in sectors additional to electric vehicles," said Paul Choo, Executive Vice President and Head of the Electronics & Infotainment Development Center at HMG.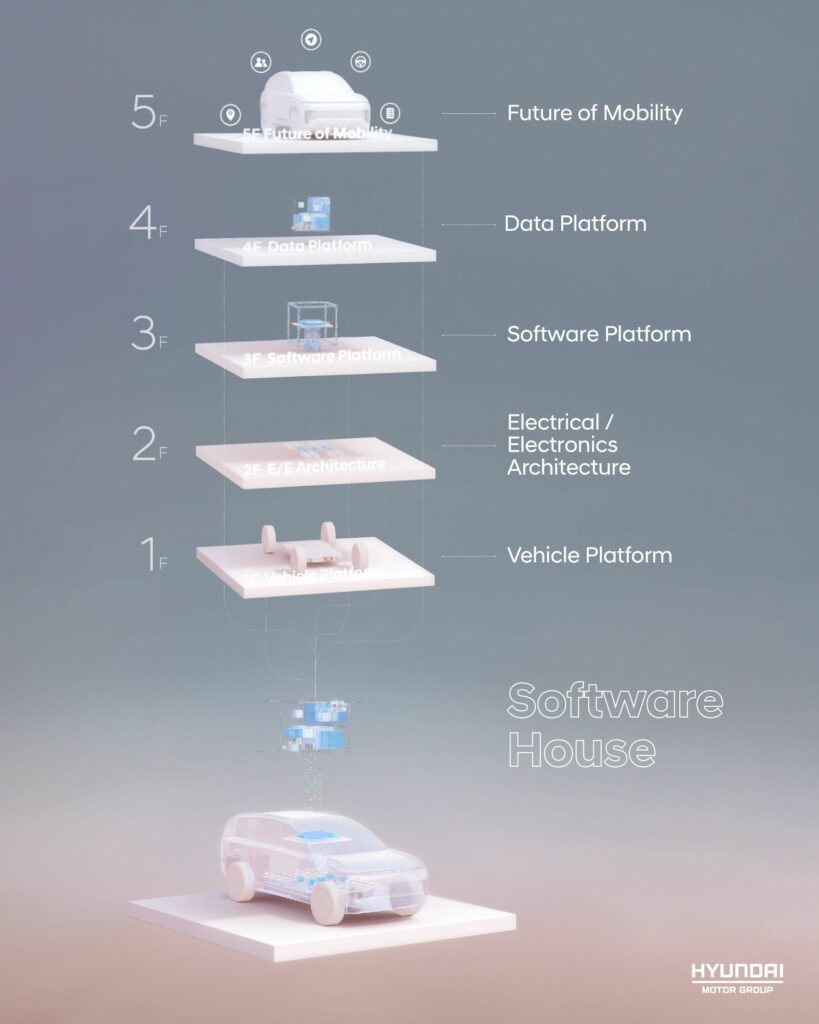 Connected Car Operating System
The brain of the entire operation is Hyundai's ccOS or Connected Car Operating System. Hyundai has partnered with AI hardware and software expert NVIDIA in optimizing the ccOS software to the NVIDIA DRIVE semiconductor.
It's worth noting that all Hyundai, Kia, and Genesis vehicles from 2022 onward come with an updated in-vehicle infotainment system powered by NVIDIA DRIVE. Hyundai adds that its newest ccOS software has ultra-rapid data processing and analyzing capabilities to handle all vehicle functions, including advanced safety gear like radars, cameras, and LiDARs. Moreover, the system has enough processing power to handle Level 3 autonomous driving.
"This year, the Group will apply an advanced Highway Driving Pilot (HDP) on the Genesis G90, which is a Level 3 technology for autonomous driving based on the second-generation integrated controller," said Woongjun Jang, Senior Vice President and Head of the Autonomous Driving Center of Hyundai Motor Group. "The Group is also developing its Remote Parking Pilot (RPP) for Level 3 autonomous driving."
Finally, HMG is working on its third-gen integrated controller to accelerate the development of Level 4 and Level 5 autonomy. Equipped with next-gen semiconductors and a higher-performance CPU, future EVs can benefit from better heat dissipation, lesser noise, and optimized production costs.