Do modern ADAS systems assist or interfere with the process of driving? That's the question after new research from AAA finds that active safety features currently on the market experience a high rate of performance-related issues. AAA selected a handful of common ADAS systems on popular vehicles today, subjecting them to 4,000 miles of real-world driving. On average, these systems recorded a performance-related issue every eight miles. The new research from AAA echoes past findings on ADAS technology by the organization.
"AAA has repeatedly found that active driving assistance systems do not perform consistently, especially in real-world scenarios," explained Greg Brannon, Director of Automotive Engineering and Industry Relations for AAA. "Manufacturers need to work toward more dependable technology, including improving lane-keeping assistance and providing more adequate alerts."
Methodology & Vehicles Tested
AAA conducted closed-course evaluations and real-world testing in partnership with the Automobile Club of Southern California's Automotive Research Center. Closed-course testing was conducted on surface streets at the GoMentum Station in Concord, California, operated by AAA Northern California, Nevada and Utah. All testing at the facility was performed on dry asphalt with no potholes or significant road irregularities. Using this and other predetermined criteria, AAA selected the following vehicles for testing:
The ADAS technology on each vehicle needed to meet Level 2 criteria defined by the SAE. In order to be considered a Level 2 system by SAE standard J3016, that system must provide sustained lateral and longitudinal vehicle motion control within its operational design domain. At the end of the evaluations, AAA's test drivers concluded that combining longitudinal and lateral control into a single system did not significantly enhance the driving experience for the majority of encountered scenarios.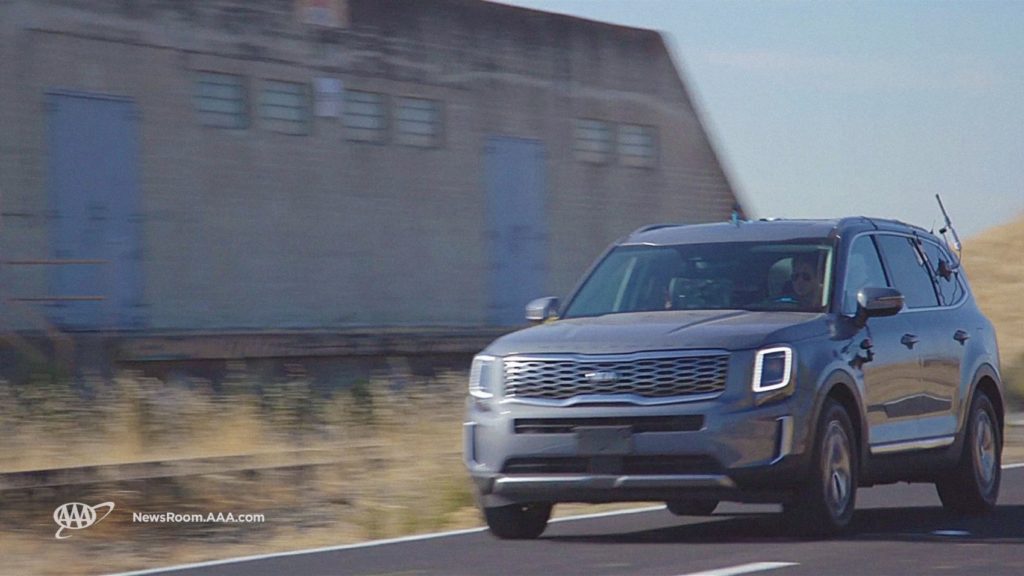 Lane-Keeping Systems Struggle
AAA tested the functionality of these systems to determine how well they respond to everyday situations. On public roadways, nearly three-quarters (73 percent) of errors were attributed to lane departure warning and lane-keeping assist systems. Test drivers said their vehicles had trouble staying on their intended path or would stray too close to other cars or roadway objects like guardrails and cement barriers.
Furthermore, ADAS systems that combine multiple functions like steering, braking, and acceleration tended to disengage too quickly. AAA researchers noted there is very little time for drivers to react as they are "handed back" control of their car almost instantly. Based on testing in everyday driving environments, AAA recommends automakers limit their rollout of ADAS technology until the functionality is improved to provide a more consistent and safer driving experience.
"Active driving assistance systems are designed to assist the driver and help make the roads safer, but the fact is, these systems are in the early stages of their development," Brannon said. "With the number of issues we experienced in testing, it is unclear how these systems enhance the driving experience in their current form."
Closed-course testing for these systems was better overall, although issues arose when approaching a simulated disabled or stalled vehicle, known as a Soft Car 360. In these tests, a collision happened over 65 percent of the time at an average speed of 25 mph.
Key Findings & Recommendations
According to AAA, the evaluated systems performed according to expectations derived from the owner's manuals during closed-course evaluations. On dry pavement with clear markings, all systems consistently traversed the testing lane with lateral offsets relative to the lane center.
During 4,000 miles worth of roadway evaluations, 521 total events were recorded, resulting in a performance-related issue every eight miles. For additional context, a scenic drive down Route 66 may result in as many as 265 performance disruptions, most of which (73 percent) would stem from lane-keeping assist systems.
AAA and other industry partners say today's ADAS systems still require constant driver supervision. As a result, automakers should slow down and refine the technology before seeking more significant implementation initiatives. Doing so, according to AAA, will have more benefits in the future.
"In the long run, a bad experience with current technology may set back public acceptance of more fully automated vehicles in the future," Brannon said.