Japanese auto giant Toyota and the brand's Collaborative Safety Research Center (CSRC) in Ann Arbor, Michigan, are investing in a new series of automotive safety projects, including a study of human diversity in injury biomechanics. The CSRC has pledged $30 million to its latest five-year safety research project and has partnered with the nation's top universities and research centers (like the University of Massachusetts – Amherst, the University of Michigan Transportation Research Institute, Virginia Tech Transportation Institute, and the Children's Hospital of Philadelphia among others) to study the diverse safety needs of future cars and mobility solutions.
After announcing nine new safety projects under its latest research umbrella in April 2022, Toyota and the CSRC have revealed four additional projects to study and analyze safer mobility options for various applications, physical characteristics, and levels of accessibility. "As we continue to pursue the needs of industry around automotive safety, these new projects will help us better understand human driving behavior, ways to integrate medical technology, and crash protection for a diverse population of physical characteristics," said Danil Prokhorov, Director of Toyota's CSRC and Future Research Department (FRD).
Future Automotive Safety Projects
The CSRC will partner with Michigan Medical School, University of California San Diego, University of Nebraska Medical Center, Iowa State University, and University of Wisconsin-Madison with this latest round of research projects, which include:
Biomechanical factors for an ankle injury (considering population diversity and equity).
Assessing alcohol and drug impairments using driver monitoring systems.
Investigation of mechanisms leading to sudden medical emergencies.
Effectiveness of driver management systems for driver attention.
The first new study is fascinating since there are differences reported between males and females that suffer ankle injuries in a crash. Researchers will utilize computer modeling, medical imaging data, and tissue experiments to investigate ankle injury scenarios across various population groups and biological genders – leading to better car designs and safety features that will reduce ankle injuries in an accident.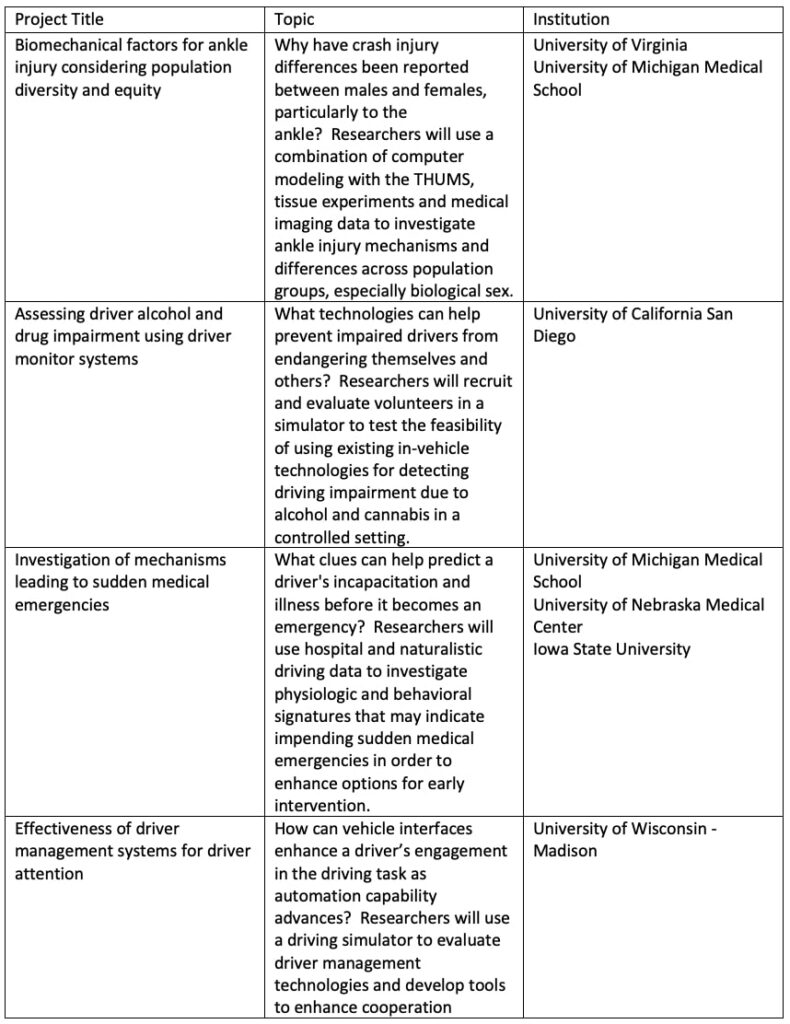 Exploring All Safety Aspects
In addition to these four new safety projects, Toyota and CSRC are pursuing other research investigations like risky driving behaviors across different cultures, relationships between child passengers and crash trends, and the differences in safety perceptions across socioeconomic groups.
Toyota established the Collaborative Safety Research Center in 2011 to conduct traffic safety analysis by partnering with hospitals, universities, and other institutions. The CSRC has received more than $85 million since its inception to develop new tools, testing procedures, and advanced driver assistance systems.