Israeli startup TriEye has announced a collaboration with DENSO to evaluate a world-first technology in Sparrow. Both unique in name and application, Sparrow is the world's first CMOS-based camera with Short-Wave Infrared (SWIR) sensing technology.
"We are proud and delighted to announce our collaboration with DENSO which marks a meaningful step forward in delivering our mission of solving the low visibility challenge," said Avi Bakal, TriEye's Co-Founder and CEO, "The joint work has been greatly beneficial since day one, bringing together DENSO's innovative approach and market experience with TriEye's groundbreaking technology."
What is the Low Visibility Challenge?
According to the National Safety Council, while we do only one-quarter of our driving after dark, 50 percent of traffic deaths happen at night. "Traveling at night will have its own challenges versus during the day," said Ian Hoey of the California Highway Patrol's Office of Community Outreach and Media Relations. "Some hazards at night include reduced visibility and the potential for increased wildlife activity in the roadways."
In addition to nighttime driving, changing weather patterns can be a challenge for today's ADAS systems. According to the U.S. Department of Transportation, over 70 percent of the nation's roads are in areas of the country that regularly experience snowfall. "Contrary to popular belief, we do not see as many crashes in the winter months," explained Maureen Vogel, Spokeswoman for the National Safety Council. "However, those we do see tend to be more serious."
TriEye says Sparrow's SWIR technology enhances visibility at night and during adverse weather. The sensor is particularly effective, according to TriEye, at identifying things like black ice, dark clothed pedestrians, and cyclists – all under low-light or other common low visibility conditions. In addition, TriEye's SWIR camera can be integrated as a standard visible camera. It can reuse existing visible image AI algorithms, which saves the effort of recollecting and annotating millions of miles.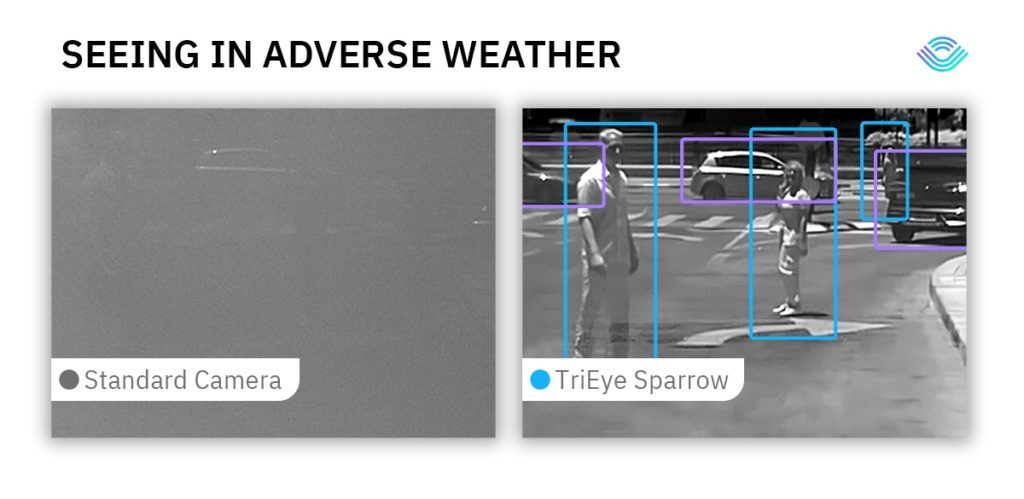 Mission-Critical Data
Porsche is also joining DENSO in the evaluation of Sparrow. TriEye says the evaluations by these two respected companies will deliver "mission-critical" image data under a wide range of scenarios. According to TriEye, this mission-critical data is made possible by leveraging the unique physical properties of the SWIR spectrum.
News of the Sparrow SWIR camera follows an earlier announcement by TriEye about a $19M Series A funding round, led by Intel Capital, with the participation of Porsche Ventures and Grove Ventures. Beyond ADAS applications, TriEye recently delivered samples of Sparrow to their non-automotive clients.