Volkswagen Group and Microsoft have announced a partnership focused on developing new autonomous driving solutions via a cloud-based platform. The plan calls for VW's Car.Software organization to collaborate with Microsoft to build a cloud-based Automated Driving Platform on Microsoft Azure. According to both companies, since the Automated Driving Platform will be leveraging Azure, it will allow Car.Software to increase ADAS efficiency and other automated functions for vehicles across all VW Group brands.
"As we transform Volkswagen Group into a digital mobility provider, we are looking to continuously increase the efficiency of our software development," explained Dirk Hilgenberg, CEO of the Car.Software Organization. "We are building the Automated Driving Platform with Microsoft to simplify our developers' work through one scalable and data-based engineering environment."
"This is the next evolution of our foundational work with the Volkswagen Group to enhance their transformation as a software-driven mobility provider," said Scott Guthrie, executive vice president, Cloud + AI at Microsoft. "The power of Microsoft Azure and its compute, data, and AI capabilities will enable Volkswagen to deliver secure and reliable automated driving solutions to their customers faster."
Large-Scale Computational Capabilities
VW and Microsoft are behind the idea that next-generation ADAS technology and, eventually, fully self-driving cars can improve roadway safety, relieve congestion, and even make mobility more comfortable and accessible. However, both VW and Microsoft acknowledge the challenges ahead as they seek to enable technology partners that will ultimately build tools and services to enhance the viability of different ADAS and autonomous driving innovations.
"Building these solutions requires large-scale computational capabilities. Petabytes of data from road and weather conditions to obstacle detection and driver behavior need to be managed every day for the training, simulation, and validation of AD functions," the companies said in a statement. "Machine learning algorithms that learn from billions of real and simulated miles driven are key to connected driving experiences."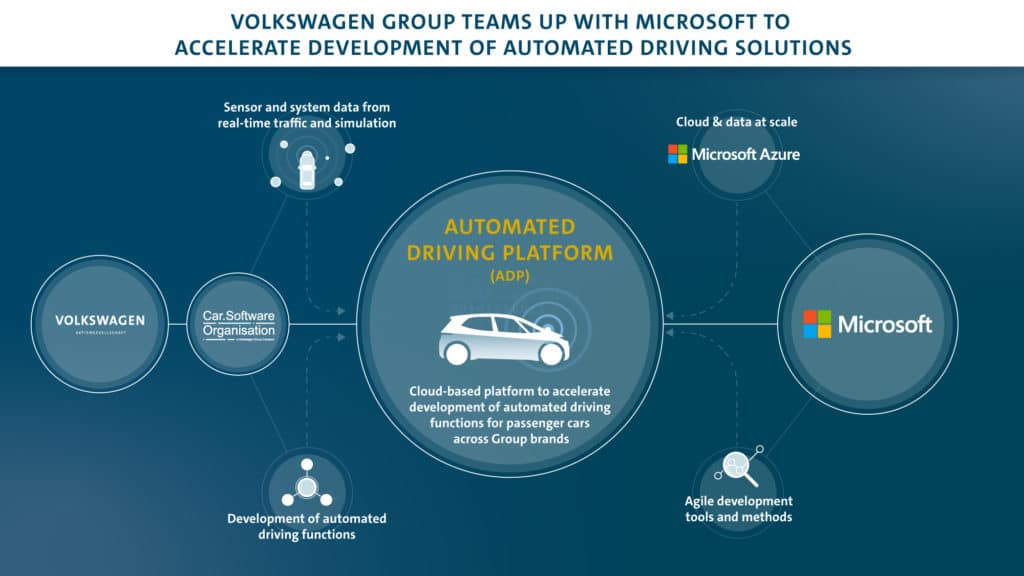 One Development Platform
Car.Software will address these challenges together with Microsoft by simplifying the developer experience and leveraging the "learnings from miles driven" through one database comprising of real-time traffic data from VW vehicles and additional simulation data. Microsoft Azure compute, data, and machine learning services and Microsoft's overall experience will simultaneously enable a singular environment for Car.Software developers globally. According to VW and Microsoft, development cycles are expected to go from months to weeks.
"By combining our comprehensive expertise in the development of connected driving solutions with Microsoft's cloud and software engineering know-how, we will accelerate the delivery of safe and comfortable mobility services," Hilgenberg said.
Volkswagen Automotive Cloud
Since 2018, Volkswagen and Microsoft have worked together on the Volkswagen Automotive Cloud. The platform is intended to integrate all the digital services and mobility offerings across VW Group brands and models. The Volkswagen Automotive Cloud engineering team, based in Seattle, has enabled data exchange between the vehicles and the cloud through Azure edge services. The cloud connectivity is also enabling VW to deliver vehicle updates and new features independently of the vehicle hardware to improve the customer experience.
The first test fleets connected to the Volkswagen Automotive Cloud are expected to arrive this year (a production rollout is planned for next year). Car.Software will integrate both the Automated Driving Platform and Volkswagen Automotive Cloud at that time.