Audi of America is working with Spoke, Qualcomm, and Commsignia to develop cellular vehicle-to-everything (C-V2X) technology for cyclists and vulnerable road users (VRUs). The companies are now engaged in C-V2X demonstrations while exploring new solutions to make Audi cars more "aware" of cyclists and VRUs. According to Audi's press release, the tests will also validate Spoke's software and hardware suite, which provides communication and alerts between drivers and cyclists.
Audi C-V2X: Improving Safety For All
The German automaker started developing C-V2X technology in 2020 after the U.S. Federal Communications Commission (FCC) agreed to allocate a portion of its 5.9 GHz cellular band for C-V2X applications in a November 2020 ruling. The ruling allows C-V2X to host standardized communications between vehicles and infrastructure.
Not long after, Audi partnered with American Tower Corporation, Qualcomm, and the Virginia Department of Transportation to deploy C-V2X on Virginia's roadways to help improve worker safety in highway work zones. The tests were a success as Audi announced that C-V2X deployment showed real-world safety benefits for drivers and roadside workers less than a year after initial deployment. Audi also partnered with Temple and Applied Information to deploy C-V2X in school zones in late 2020.
Expanding Efforts
In November 2021, Congress passed the Infrastructure Investment and Jobs Act to provide funding opportunities to deploy connected vehicle technologies and improve research on safety for all road users, including pedestrians, bicyclists, and other VRUs. According to recent data from the National Highway Traffic Safety Administration (NHTSA), there were 846 bicycle fatalities from motor-vehicle-related accidents in 2019, a 36 percent increase since 2010. Meanwhile, NHTSA reports a 4.3 percent rise in on-road cycling injuries, with around 49,000 casualties in 2019.
Furthermore, the Department of Transportation's (DOT) National Roadway Safety Strategy (released in January 2022) notes "we face a crisis on our roadways" and "almost 95 percent of our nation's transportation deaths occur on America's streets, roads, and highways," and the numbers are rising.
Audi claims C-V2X will become available to about 5.3 million vehicles, work zones, railway crossings, bicycles, and other vehicles by 2023. The numbers will rise to 61 million devices by 2028 to connect 20,000 crosswalks, 60,000 school zones, 216,000 school buses, and 45 million smartphones. The connected ecosystem between drivers and the outside world is expected to improve safety for all.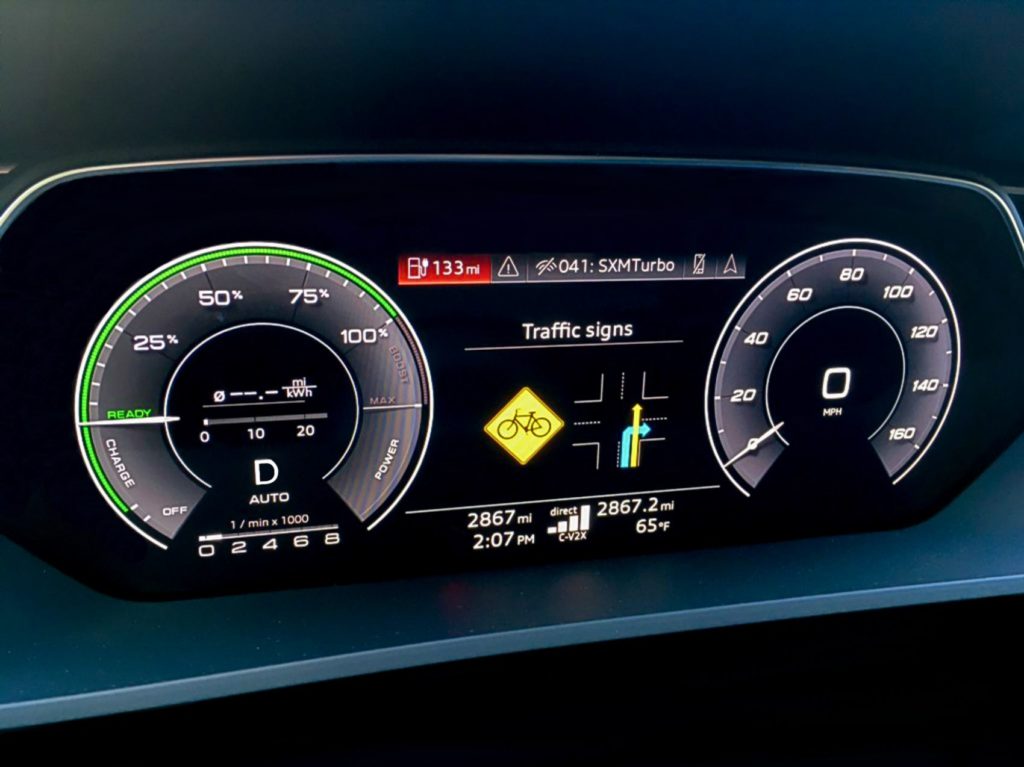 C-V2X Test Vehicle
Audi is developing updated hardware and software for its e-tron Sportback test vehicle. The all-electric crossover SUV has direct vehicle-to-bicycle communication that captures two signals: short-range (that works without a cellular network) and longer-range LTE signals from cellular towers to identify bicycles on the road. Audi claims the vehicle will be able to read its surroundings and identify nearby cyclists using the Spoke Safety connectivity suite. The system can even detect bicycles concealed from the driver's view.
Audi held the first public demonstration of the Spoke connected bicycle technology with the e-tron Sportback at the PeopleForBikes Bicycle Leadership Conference in Dana Point, California, last March. The vehicle will also see action at the 2022 Sea Otter Classic in Monterey, California, from April 7th to 10th.