Olli will now be living and working in Lake Nona, Florida. Olli being the electric and fully autonomous, 3D-printed shuttle from Phoenix-based Local Motors. Olli's arrival in Lake Nona, a master-planned community, overseen by Tavistock Development Company, is the result of a new partnership between Beep and Local Motors. Beep, an autonomous Mobility-as-a-Service provider, is at home in Lake Nona.  
Lake Nona officials have given the green light for Beep and Local Motors to place Olli 1.0, a first generation of the autonomous shuttle, on area roadways for testing. For the time being, Beep and Local Motors will introduce the community to the new platform with Olli 1.0 but conduct further testing with an Olli 2.0, a second-generation shuttle, by late Q1 of 2021. 
Testing Olli Around Lake Nona
Beep and Local Motors have an ample testing environment in Lake Nona, and engineers should have no problem gathering useful data about how a growing community interacts with autonomous modes of transportation. Lake Nona is a cultural and business hub, replete with parks, hotels, and restaurants, research and development centers, retail and entertainment outlets, and residential neighborhoods. Some of Lake Nona's core economic tenants are founded on the need for new mobility solutions and supporting those solutions with technological advances like 5G connectivity.
In other words, Lake Nona is an ideal proving ground.
"Lake Nona is a living lab," explained Joe Moye, CEO of Beep. "Being able to add Olli to our fleet allows Beep to prove out these technologies and provide passengers with the most advanced autonomous platforms that will enhance their experience onboard."
"As a U.S. manufacturer, we have been committed to testing and operating on American public roads," added Vikrant Aggarwal, President of Local Motors. "We've been testing and validating Olli's capabilities for years, and this deployment at Lake Nona will only further prove the safety and reliability of Olli."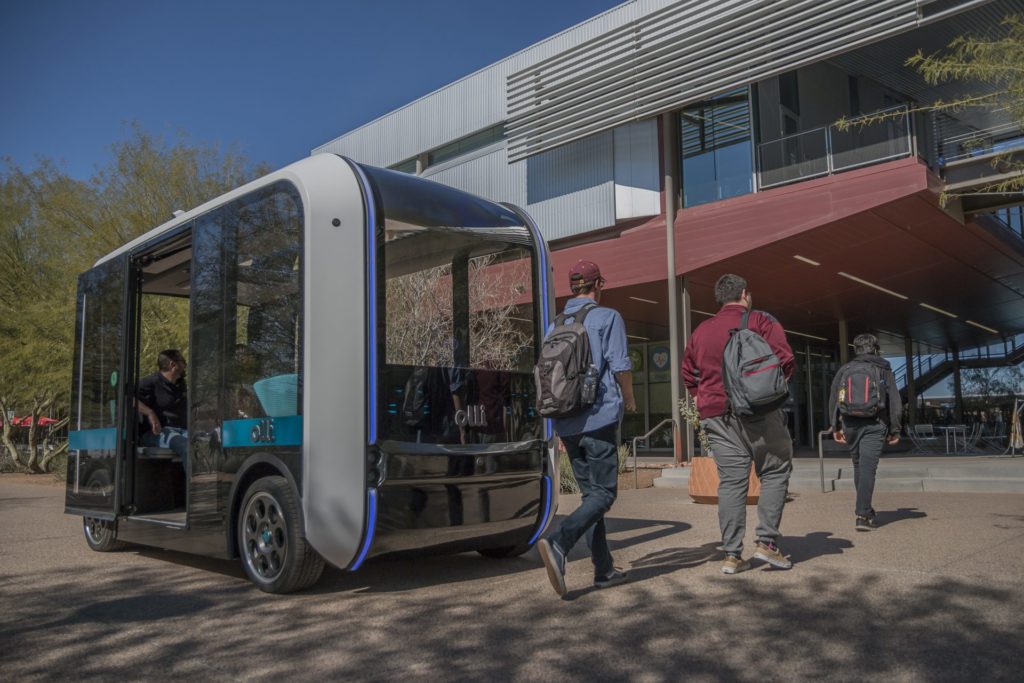 Lake Nona & Autonomous Shuttles
Olli will be in familiar territory as Lake Nona residents are already accustomed to autonomous shuttles. Beep has been operating them since September 2019. The current shuttles run daily on the same fixed route with stops at the Lake Nona Town Center (on Lake Nona Blvd. across the street from Boxi Park), Pixon (behind Island Fin Poke Co.), and Laureate Park Village Center. Each shuttle holds up to 10 passengers and has a maximum speed of 15 mph. 
"In Lake Nona, we're focused on creating infrastructure that enables tomorrow's ideas to become a reality," explained Rasesh Thakkar, Tavistock Group Senior Managing Director. "The success of the Move Nona autonomous shuttle program, powered by our partners at Beep, is a great example of what's possible when forward-thinking concepts have an opportunity to be tested and refined." 
"Adding Olli to our existing deployment where we are headquartered only furthers our commitment to continued safe testing and operation on public roads," Moye said.
About Olli
Local Motors manufactures Olli in Knoxville, Tennessee, with one of the world's largest 3D-printers (Olli is 80 percent 3D-printed). Two electric motors reside at Olli's rear wheels and provide roughly 180 lb-ft. of torque for a top speed of 25 mph. Olli is nearly 13 feet long, seven feet wide, and just over eight feet high. Curb weight is 5,850 lbs. and total capacity is 1,350 lbs. After a charge time (440 V) of 1.5 hours, average range is between 25 and 40 miles, depending on load capacity and AC usage.  
Robotic Research's AutoDrive autonomy kit helps Olli perceive and navigate its environment. The full, 360-degree sensor array includes a network of LiDAR, radar, GPS, and cameras. "We're excited to welcome Local Motors and the Olli shuttle into our innovation ecosystem as we continue to define the future of mobility here in Lake Nona," Thakkar said. 
In time, Beep and Local Motors want to expand beyond Lake Nona. Olli's success in the Central Florida community may indeed be a precursor for that. "Beep has been a pioneer in autonomy, and safe transportation is more needed than ever," Aggarwal added. "We're looking forward to working together to bring our shuttles to communities throughout the U.S."