Plus, formerly known as Plus.ai, is making headway in the Chinese market with its automated driving technology. Cupertino-based Plus recently announced an expanded partnership with the Full Truck Alliance (FTA), a Chinese startup in the Southwestern Guizhou province known as the "Uber of Trucks" (the business model has attracted significant investments from Alphabet Inc. and SoftBank Group). The expanded partnership will help facilitate the upcoming mass production of the FAW J7+ truck, powered by the Plus automated driving system.
"Since we started in Silicon Valley back in 2016, our focus has been on implementing autonomous technology into long haul trucking," explained Shawn Kerrigan, COO and co-founder of Plus. "Our partnership with FTA builds towards a future where automated trucks help create exceptional operational value for the long haul trucking industry with improved safety, fuel efficiency, uptime, and driver comfort."
Full Truck Alliance & Plus Partnership
The partnership is a natural pairing, with Plus developing the automated trucks and the Full Truck Alliance selling these trucks on their platform and providing new-truck sales services to its users. Kerrigan and his team are laser-focused in their approach, working diligently to create relationships with companies like the Full Truck Alliance and FAW (the world's and China's largest heavy truck maker) to bring new and promising innovations to the market. The forthcoming FAW J7+ trucks will be sold through FTA's Chinese sales network, which recorded transactions between 10 million truckers and five million shippers in 2020.
"We started here in the U.S., but we saw a great opportunity to expand into China," Kerrigan said. "Today, we have operations in both countries and are taking a broad look at global applications for this type of technology."
"As a strategic investor in Plus, we have long believed in the team and its ability to execute on being the first to commercialize automated trucks," added Tianye Miao, Senior Vice President, Full Truck Alliance. "We are excited to see mass production of the Plus automated trucking system start in 2021, and to realize our vision of bringing this transformational technology to the millions of truckers and shippers on our platform."
Achieving Important Milestones
In November of 2020, the FAW J7+ truck, equipped with the Plus automated driving system, successfully passed the national certification test at the China Automotive Technology & Research Center. The test, which included meeting key safety and performance requirements, is China's first independent certification of an automated truck.
"This is an important milestone in terms of being on that path to commercialization because it means it's no longer a demo model, but rather a real product that customers can buy," Kerrigan explained. "I'm proud of our team because this certification is an important step on that commercialization path."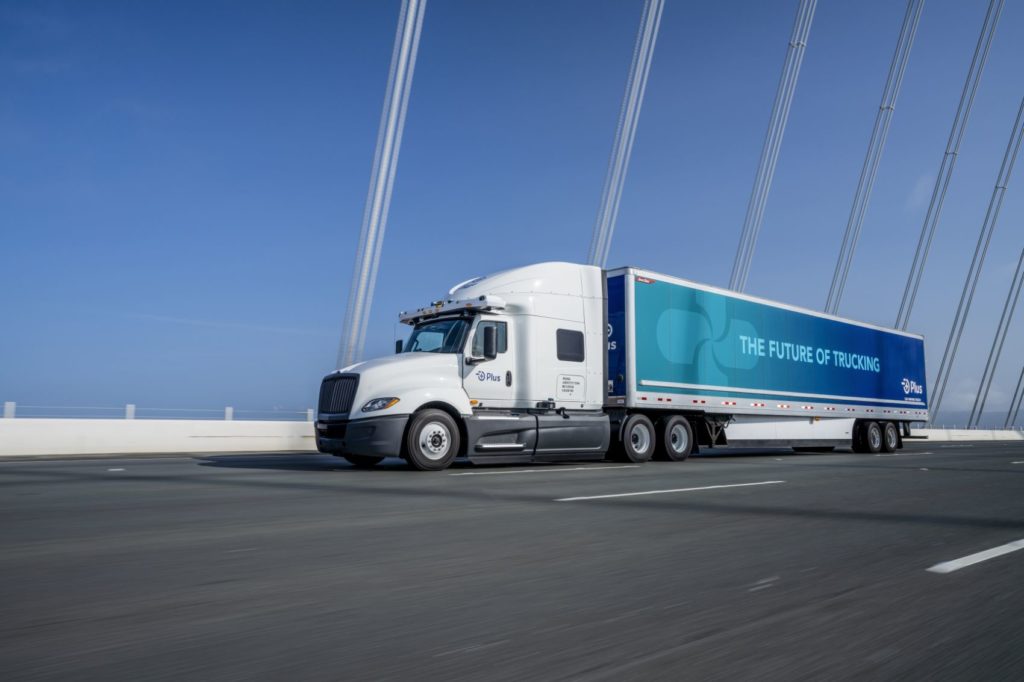 Manufacturing & Future Goals
Production of the FAW J7+ truck is expected to begin in the first half of 2021. Once the trucks are operational, Plus will use the data accumulated from the real-world driving miles to refine its systems (which are deep-learning-based and employ sensor fusion). Eventually, Plus hopes to prove the safety and reliability of its technology to the point where the trucks can operate without a driver in certain conditions and situations.
"This is the beginning of a multi-step process, and step one is the successful deployment of a fully functional and safe driver-assistance product for the trucking industry," Kerrigan said. "During the pandemic, we have seen the importance of trucking and freight to our overall economy, and we think the benefits this technology can bring to that sector are really tremendous."