Hyundai Motor Group has deployed a pair of Ioniq 5 EVs for the pilot launch of its RoboRide autonomous car-hailing service. The EVs come standard with Level 4 technology developed in-house by Hyundai and Korean startup Jin Mobility's AI-powered i.M. platform. RoboRide is the first of its type in South Korea and will initially operate throughout the Gangnam district in Seoul, South Korea.
"We will put our utmost effort into creating synergies through this pilot service," said Le Seong-wook, CEO of Jin Mobility. "We've strengthened our capabilities by working on research and development with relevant institutions."
All Systems Go
Hyundai started testing autonomous vehicles in 2019. After obtaining a temporary autonomous driving operation permit from the Ministry of Land, Infrastructure, and Transport (MOLIT) of Korea, Hyundai's RoboRide pilot system got the green light to navigate the streets of Gangnam. Hyundai and Jin Mobility partnered with the Seoul Metropolitan Government to create a system that connects traffic signals to autonomous vehicles to enhance road safety. Hyundai has added its proprietary remote vehicle assist system to monitor the vehicle's route, driving status, and autonomous systems.
"At Hyundai Motor Group, we are developing Level 4 autonomous driving technology based on the internally developed Advanced Driver Assistance System, whose functionality and safety are verified through mass production and successful commercial launch," said Woongjun Jang, Senior Vice President and Head of the Autonomous Driving Center of Hyundai Motor Group. "We expect this RoboRide pilot service will be an important inflection point that will enable us to internalize autonomous driving technology."
Hyundai said its Ioniq 5 RoboRide vehicles can perceive, make decisions, and control their driving status. Furthermore, remote assistance enables changing lanes when autonomous driving is impossible. The human safety driver would only intervene under "limited conditions."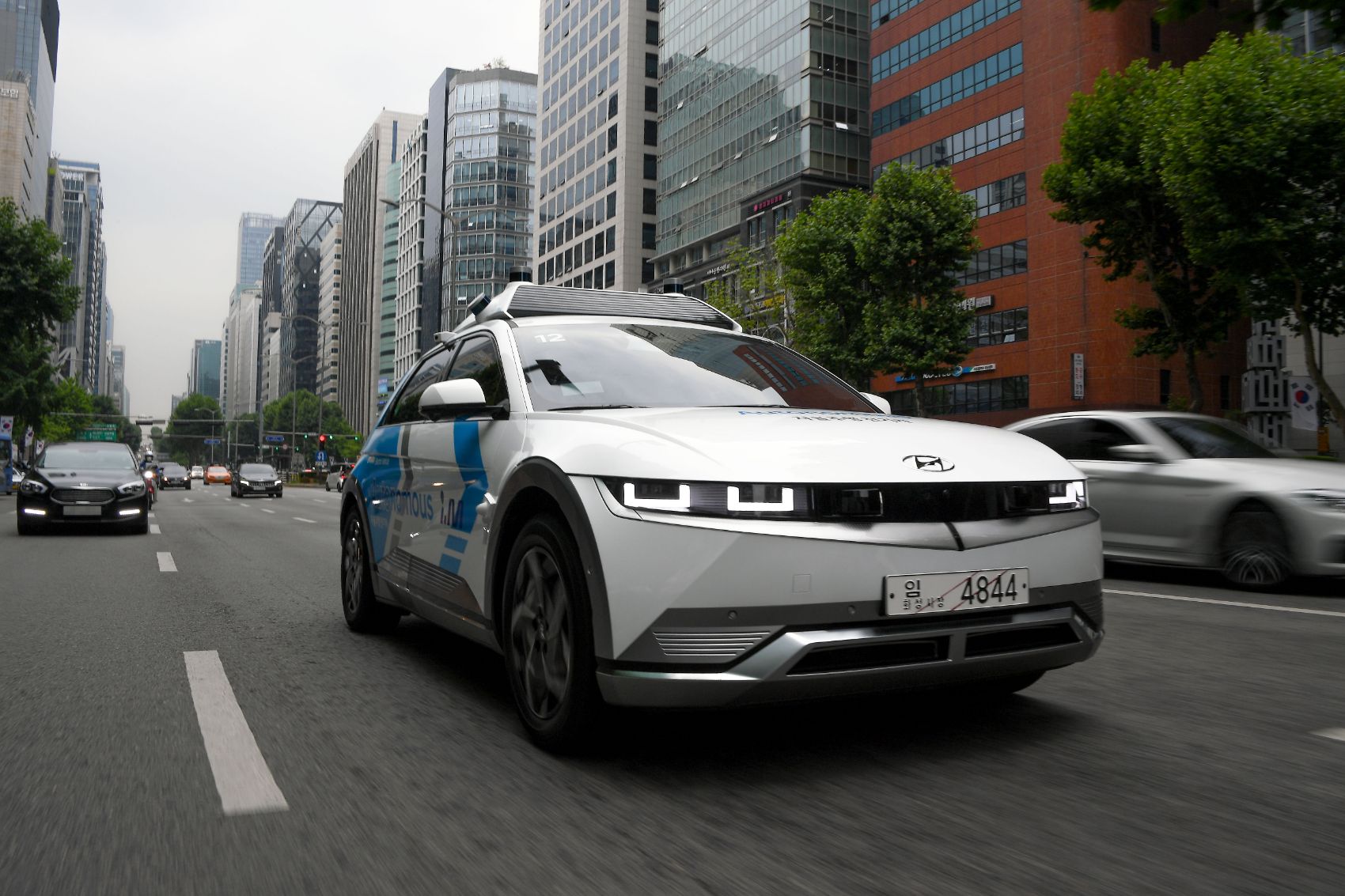 Open Monday Thru Friday
Hyundai's RoboRide autonomous taxi service will operate Monday to Friday from 10 a.m. to 4 p.m., and up to three passengers can go for a ride. The first customers to try RoboRide were Won Hee-ryong, Minister of MOLIT Korea, and the honorable Oh Se-hoon, Mayor of Seoul. Hyundai and Jin Mobility are planning to operate a RoboRide demonstration service for selected internal personnel in the coming months. The service will slowly expand to accommodate general customers soon.
"Starting with the RoboRide pilot service in collaboration with the Hyundai Motor Group, we look forward to leading the future mobility scene," Seong-wook said.