Plus (formerly Plus.ai) has announced it will equip the next generation of its autonomous truck driving platform with NVIDIA DRIVE...
Read More
Watch for the automotive power electronics market to continue to boom through 2027. The $3.6 billion amassed in 2019 is just...
Read More
Opsys Tech has announced the next generation of its automotive-grade LiDAR, one that combines the advantages of flash LiDAR –...
Read More
Rain and fog can make life difficult for the best drivers; ask any F1 racer. But it isn't just humans...
Read More
dSPACE and LeddarTech have entered into a partnership to jointly facilitate the development of new LiDAR technologies for autonomous driving....
Read More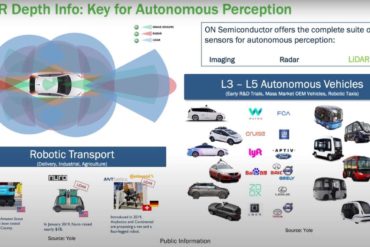 AutoVision News Managing Editor and AutoSens Insights host Carl Anthony talks with Wade Appelman, VP of the SensL Division at...
Read More
OmniVision Technologies, Inc., Ambarella, Inc., and Smart Eye have announced a new and innovative solution for dual-mode camera applications. As...
Read More